Freedom--something we all take for granted--is something one man, who was wrongfully convicted and imprisoned will value for the rest of his life, and he plans to spend the rest of his life helping others achieve it.
Elmer Daniels, who WDEL first reported was released from Howard R. Young Correctional Institution Thursday, December 20, 2018--one day after his 57th birthday--was sentenced to life in prison for the rape of a 15-year-old girl in Wilmington decades ago.
"I'm not going to talk about hate 'cause it doesn't change anything," said Daniels. "But what I am going to talk about are the victims; there were a lot of victims in this issue. My family became victims; I became a victim, and I pray that there are no more victims. Get it right. The justice system is broken."
Despite the decades that passed, Daniels said he always knew one day, he'd be free.
"I never once thought that I would not be free because hey, you can lock up my body, but my mind is always working. In the darkest room, the smallest glimmer of light, that was my hope--and I just needed somebody to believe the same way that I did," said Daniels.  
That somebody was Philadelphia attorney and Delawarean Emeka Igwe. They met a few years back--in a moment both Daniels and Igwe have referred to as destiny--at an an expungement clinic, for the brief time that Daniels was free from prison on probation. He was quickly sent back to prison after losing employment when a law enforcement officer informed his employer he was a convicted sex offender.  A second violation came when Daniels refused to admit his guilt as required to complete court-ordered sex offender classes.
Through a lengthy investigation and documents preserved by Daniels--not the state--Igwe and private investigator Terence Jones, proved that Daniels was innocent, noting several red flags were ignored throughout the prosecution of this case.
"He's not getting off on a technicality, he's getting off because he is, in fact, innocent.  He's not getting off because of flawed testimony, it was in fact, false testimony," Igwe said.
"It's painfully obvious that Mr. Daniels was an innocent man who was wrongfully convicted," said Jones.
Igwe said the state's key witness lied multiple times and was charged with hindering the prosecution. They threatened to lock him up for this crime unless he told the truth.
"That's when for the first time this 15-year-old white male stated it was 'someone named Elmer,' who he saw approach them on the train tracks, and he said he knew it was Elmer because they were in the same eighth grade math class together."
Through an investigation, Igwe determined that Daniels and the witness didn't even attend the same school. Daniels was in the tenth grade at the former Wilmington High School in 1978, and the state's key witness was in eighth grade at Bayard Middle School.
"How easy would it have been for the [former] state prosecutor Batholomew Dalton to go and get the [school] transcripts to prove that my client was not in the same eighth grade math class, as this 15-year-old male, who already had admittedly lied four different times?" asked Igwe.  "That wasn't done, and it was left to us 36 years later."
Jones also said fingerprints recovered from the victim's neck, a beer can, and notebooks were put into evidence and sent to an FBI crime lab for testing, but never brought up at trial.
Igwe said fingerprints lifted from the victim's neck could not be tested; fingerprints found on the notebook and the beer can did not belong to Mr. Daniels, according to Igwe.
"A jury never heard that information," said Igwe.
Faulty testimony by then-FBI agent Michael P. Malone, who testified across the country in forensic evidence, was also uncovered.
"According to Mr. Malone, when he looked at Mr. Daniels' case, he said it was a 'double match.' There was a piece of African American hair that was found in underwear belonging to the victim, and there was a Caucasian hair that was found on pants seized from my client's house. According to the false testimony of Michael P. Malone, the hair on the victim's underwear matched my client, and the hair on my client's pants belonged to the victim. He said it was a double-match, and in all his years of testifying, he's 'never seen a case of a double-match.'"
A single strand of hair cannot be used to positively match to a person's identity.
Igwe and Jones pointed to an investigation by the FBI and the U.S. Department of Justice that reviewed testimony of FBI lab examiners and determined that 26 of 28 investigators, including Malone, had testified falsely.
"You literally have hundreds--if not thousands of people--across this nation, who are sitting in jail, some who've gone to death row. Some who are doing life sentences based on the false testimony of Michael P. Malone," Igwe claimed.
On January 31, 2018, the FBI and the U.S. DOJ reviewed Daniels' case and wrote to Delaware Attorney General Matt Denn to inform him that agents had testified "beyond the means of science" in Mr. Daniels' case.
"In layman's terms, he lied," said Igwe.
At the time of trial, Daniels also had a strong alibi, according to Igwe.
"He had alibi witnesses that had him at a local recreation center, where he signed his name into a book that showed he wasn't anywhere near the scene of the crime," he said.
A court-appointed psychiatrist in the case also took steps to write to the judge to express that Mr. Daniels did not fit the victim's description of the suspect, Igwe noted.
"The victim stated the assailant had bitten fingernails all the way down to the cuticles, and he was prepared to testify on behalf of Mr. Daniels that he had well-manicured nails...that have not been habitually bitten."  
The psychiatrist also noted differences in Daniels' nose from the suspect's description.  
While not admitting Daniels is innocent, the state filed a Motion to Dismiss the Indictment against Daniels, which was accepted by a judge, and Daniels was immediately freed.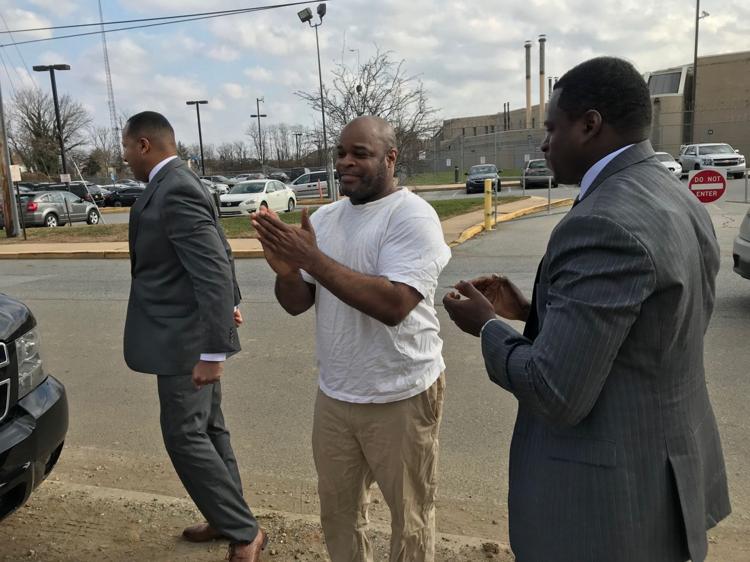 Delaware Department of Justice spokesman Carl Kanefsky said data was not available on how many motions to dismiss an indictment the state attorney general's office had filed, but called it a "rarity."  The Delaware DOJ had no further comment on the motion or the case.
"The state of Delaware resisted us every step of the way in trying to exonerate Mr. Daniels. Mr Daniels' release was not due to the benevolence of the State of Delaware; it was not due to any empathy they had for him; it was because of the evidence we presented to them, they had no choice," said Igwe.
Since gaining his freedom, Daniels said he hasn't had much time process it all.
"But it feels food, feels good," he said. "Am I happy? Always have been. Patience is a very beautiful thing...so am I angry? No. Hurt? Yes. They took something that they can never give me back...[at age] 18, where were you? Where are you now? I can't identify with any of that."
Daniels hopes, in the future, to be a voice for criminal justice reform through a forthcoming nonprofit, Absolute Justice.  The organization's mission will advocate for and help the wrongfully convicted seek exoneration.  
They'll push for an evidence preservation law in cases of serious felonies in Delaware. In Mr. Daniels' case, all DNA was destroyed, according to Igwe.
"At one point, there existed hair, semen, blood, evidence, all things that contain DNA. You hear of cases all the time from the sixties, from the seventies, where people are exonerated based on DNA, but in Mr. Daniels' case, the state of Delaware took away any chance to scientifically exonerate him, by destroying the evidence, shortly after he was convicted, at a time when he was actively pursuing appeals," Igwe asserted.
Now, the real culprit in the decades-old rape can never be found.  
"Because of their actions, whoever this real rapist is got away with his rape, he may still be out there, he may have had other victims.  If DNA evidence existed, we could find out who the real culprit who raped this poor, unfortunate 15-year-old female," said Igwe.
Delaware is also one of 17 states without compensation for the wrongfully convicted. Absolute Justice will seek to change what Igwe called the "grave injustice" that continues.
"They let Mr. Daniels out on December 13, 2018, with nothing but a T-shirt and the pants that he had on. No one from the state of Delaware has reached out to him--not even as much of an apology for what happened to him. They left him without basic necessities--food, housing.  Mr. Daniels has a medical condition; he has diabetes--they gave him less than a week's supply of his insulin and diabetic medicine."
Daniels, whose freedom was snatched at such a young age, doesn't know how to drive; he also was surprised by the world beyond bars.
"I remember when bread was 65 cents, $2.50 you could fill your tank...my younger brother came to pick me up...and I got into his car, and he was talking. He was behind the wheel, he's talking, and I'm looking at him--he's not talking to me. So I said, 'Who you talking to?' And he said, 'Siri,'....that's when I realized a lot had changed."
A GoFundMe for Daniels has also been established.  Igwe and Daniels also plan to pursue a civil lawsuit.  
"Justice is not just having Mr. Daniels released.  Justice is having those who did this to him accountable, whether that's the state of Delaware, whether that's the Wilmington Police, whether that's the FBI, whether that's the United States government, Mr. Daniels is due compensation. No amount of compensation, no amount of money can compensate him for the 39 years--as he articulated--all the years that he lost, the lives that have been broken, the relationships that need to be mended...but he's due an apology, and he's due swift compensation."