Roman Shankaras said he's tired of hearing that he beat a murder charge in the death of Lt. Steven Floyd in a riot at the James T. Vaughn Correctional Center in Smyrna. He said he was innocent all along.
"I enjoy this nuance of freedom. At the end of the day, I still have this stigma," he said. "I was dragged through the mud through media, and the stigma follows. Even though I was found not guilty, for some reason, it's translating to the masses, to the people, that I got off, instead of me being not guilty, innocent."
The 32-year-old from Wilmington just found a place to live and is aiming to get his driver's license in a few weeks. He plans to spend this summer working with his longtime fiancee Lillian Oliver at a summer camp for underprivileged youth. He's also working to secure a second job at a construction and roofing business. He also hopes to get married.
"She wants the cake and party," he said with a smile. "I'm happy do it."
Shankaras, whose seven-year sentence for robbery and riot was slated to be up shortly after the Feb. 1, 2017 prison takeover, sat down with WDEL for an in-depth interview. He's the first inmate who's been acquitted in the activities of the Vaughn prison uprising to be freed from prison. Others have remaining time on their sentence. 
On Monday, Shankaras told WDEL he found out he was indicted by listening to the radio.
"I was sitting in the cell, and somebody said, 'Cut the radio on, they said they got the people and they gonna name 'em after the break'...it was on the news at first, but they didn't show nobody. At that point, I figured, I go to work release in November. The next month, somebody banged on the door and said, 'Yo Rome, they said your name. They said your name.' Next thing you know, you see the CERT come, and they just came on me, arrested me."
"You hear people yell to the another guy, 'He was just getting ready to go home.' My first thing was am I going to lose my loved ones over this? Because I let them know I was coming out to be productive...so when that happened...I was supposed to come home and speak about the school-to-prison pipeline...my primary concern was...will I be left alone in here? Will I be excommunicated and left alone? That was probably the scariest thing for me."
Flashback to Feb. 1 2017: 'Perpetuating the Violence'
Shankaras said he wasn't privy to plans about a violent riot and, instead, was only aware of a peaceful protest, wherein inmates would stay in the yard to stand up against what they called poor conditions and a lack of programs in the prison.
On Feb. 1, 2017, Shankaras said he did stay out in the yard when Code 1 was called. He said, when he did come inside, all signs of chaos were gone, and he went straight to his cell, where he remained. He admitted he gave up lockerboxes to help inmates block entries and exits.
"They come up the tier: 'Slide your boxes out, cover your windows, that's it.' You kick it out, if they were to tell me, 'yo stack it,' I'm going to do it. We have no more security, it's just completely lawless, so, it's like, who's not going to listen to them? So I can be confused as participating in the riot if I was stacking a box, when the whole thing is no, we're under duress, and ain't nobody going to tell them no."
When authorities breached the makeshift wall the next day, Shankaras described the terrifying moments that followed--moments that are now the subject of civil litigation filed by Dover attorney Steve Hampton, on behalf of dozens of inmates.
"When they came in, you hear, like, saws, the machinery, they was cutting through one door, and bombs like boom, boom, boom. They came in: 'In your room, in your room! You move, you die! I'll blow your head off, make my day.' You start hearing somebody dead. 'Our sergeant is dead, our sergeant is dead.' And it was just like 'f*** 'em up.'"
A lawsuit alleges inmates were brutally beaten and tortured. Shankaras is the first inmate to speak publicly about that.
"I know it's going to happen to me because you hear 'em assaulting other people. They're screaming 'I didn't do nothing. What did I do?'
So you hear 'Shut the f*** up, shut up.' And you hear it, I'm in cell 5 and they at cell 1, so you know it's coming. But you just are overwhelmed, you're anxious, you're nervous, you're frightened, your adrenaline is pumping, so you just can't move because they're talking about killing people. In my mind I got six months left, what the hell, can I die in here?"
Shankaras said, since the riot, DOC has perpetuated violence against inmates.
"They beat me, they took food...pulled some food off the bed, smashed it all on me, kicked me, stomped me, and they took this, I don't know what it was, they sprayed me, of course, so I couldn't see, so they took this, I don't know what it was, but it was an object, and they was maybe attempting to--in at attempt to sodomize me. Why you hitting back there? They hit the bone on the top of my buttocks, but it was like he was attempting to do something back there to violate me," he described.
Shankaras said his ankle still clicks, from how correctional officers and troopers twisted it to rip his sneakers off.
A 'Challenging' Prosecution
Since the riot, he said each day under DOC custody was torturous, until Shankaras heard the words "not guilty" in the courtroom just a few weeks ago.
"For the first time in my life, I was overwhelmed to the point of tears. I was never so happy at a point in time that I teared up," he said.
Shankaras, who had been dubbed the "shotcaller" of the riot in his first trial, which was abruptly halted due to a conflict with his attorney Jason Antoine, and a "puppet master" in the second trial laughed at the thought.
"I tell a bunch of lifers--the apex convicts of the prison--I'm going to tell you what to do, you gotta come to me," he laughed.
He called the investigation into the riot "horrible" and that gossip among the inmates is what the jury is now hearing on the witness stand.
"They should feel guilty. The quality of the witnesses that they had, the interviews that they're doing. They'll stop 'em from time to time and say, 'I don't want to know what somebody told you, unless they told you, just tell me what you say.' But at that point [the inmate] had already mixed everything up...when they get on the stand it's just a mixture of all of it. It's rough. You don't know what's what...you don't know the truth," he said. "What happened to a lie detector? Pull it out, do it before you move forward with this person or try to give them a deal. Make that part of the conditions of the plea agreement or getting up here to say this about people."
Shankaras told WDEL Antoine urged him to take a deal.
"The proffer came...he said, 'yo, they may get out of here. Be smart, be smart, because Royal Downs cooperated. Get your deal, first-come, first-served get the best deals,'" he said. "If I took the proffer and even indulged or entertained what was going on, I could've took everything I heard and just said, 'Yo, he told me.' And there I am home. I go home, testified, straight home....But me, I wasn't raised that way. So the paradox is I go out, I get free, but yet I'm still imprisoned for the lies I told and the souls I possibly buried in prison for the rest of they life, not knowing if it was actually true."
He was offered 20 years to plead guilty to second-degree murder, despite, he says, prosecutors knowing he was nowhere near Floyd when Floyd was murdered. He said he knew he had to fight the charges.
He alleged prosecutors knew he was outside in the prison yard when Floyd was being beaten and locked in a mop closet.
"Don't even lift a finger, but second-degree murder somehow," he said.
Shankaras told WDEL he liked Floyd.
"He actually created the opportunity for me to get the job. He hired me, to get the kitchen job. To me, he was just regular, by the book, he never wrote nobody up that I knew of. I never had to write a grievance on him," he said. "He was just normal. There was way worse people, like worse-worse, that they still got working in that place."
With no cameras and very little physical evidence--much of it destroyed by fire and water in the riot--prosecutors have been forced to rely on contradictory inmate testimony. Inmates' testimony has also changed from trial to trial as well, WDEL observed from the courtroom.
Shankaras alleged prosecutors know people are lying on the stand.
"The state has been spoiled rotten through cooperators, no mater if they're telling the truth. To me these guys was not no 'rat' or no 'snitch', they're just straight up liars."
Prosecutors have insisted no deals were cut, save for their star witness Royal Downs, who pleaded guilty to a count of riot in a secret deal that was discovered and revealed at trial. Despite Downs' voice being heard during leaked hostage negotiations, in exchange for his testimony, Downs stood to receive between zero and three additional years on his life sentence for murder in Maryland. It was also revealed at trial that a witness in Downs' Maryland murder case may be recanting, potentially opening up the door for his freedom.
"Everything was ran through me? He's so phony, it's just that...if I spend my time dwelling on hating him, it's going to cloud my judgement, and I'm going to make a mistake. So my thing is, okay, let's go out there, this is what he's saying, let's bring up everything that contradicts that."
Hinging on Hope
Shankaras doesn't think deals were offered. He said inmates' hope for even better conditions was enough to get them to say anything.
"Five years can go by and DOJ, they really mean it; they really mean we in open court saying, 'We ain't giving these guys no deal.' Technically they are right, but they have something called 4217 in prison, where DOC begins to vouch for you, and they alleviate these conditions you're under, and they can make it extremely easy for you, they can put in a solid character letter for you, to get a modified sentence. One hand washes the other.
"They're housed, the witnesses, in Gander Hill [Howard Young Correctional Center]--about 23 to 25 of them, right now, and you're wondering why their stories is morphing? Are they communicating in Gander Hill? They come back, and I'm pretty sure they're like 'Yo, this is what I said on the stand. They came at me, they caught me like this....' so are they actually strategizing for the next trial?"
It was also revealed in court that inmates also have access to news articles and other media, referencing the trial.
Delaware Department of Correction spokeswoman Jayme Gravell offered no comment, citing pending civil litigation.
The Delaware Department of Justice called the Vaughn cases incredibly challenging to prosecute. They called Shankaras' claims ludicrous.
"I cannot stress enough that these aspersions about our prosecutors are baseless and outrageous. Prosecutors do not pressure defendants or witnesses to lie; doing so would constitute an enormous ethical breach for the prosecutor and would risk a miscarriage of justice for the system," said DOJ spokesman Mat Marshall. "A prosecutor's objective is not to manufacture guilt, but to ascertain the truth and to secure justice for victims – in this case, for an innocent officer who was murdered."
Marshall added Shankaras was given his Miranda warning at the courthouse and asked if he wanted to make a statement, as were all inmates from C building.
"He asked for an attorney, and thus was not interviewed. All further discussions about charges and pleas were between prosecutors and defense counsel, which is routine. Shankaras' attorney did inquire about a plea, and was provided an opportunity to make a statement to prosecutors, which he declined. Shankaras was ultimately offered a plea, which was rejected and which was put on the record the day jury selection began," Marshall said in an email.
'Incriminating' Kites Unique to Shankaras Case
A key piece of evidence in the case against Shankaras were incriminating kites, or prison letters written by Shankaras, which he said Downs coerced him into writing.
"He gets people to do things, he gets people to write things. He's manufactured a whole thing saying copy this word-for-word.' He was already a celebrity in the prison, he was already top, he's over-the-top now, and it's just so what? I was desperate because I'm one in, the guards is running around in masks, beating people up, I know I was scared of that--getting beat up again--I can see through observation that the guards are scared of him, so at this point, there goes my safe haven."
Shankaras said, at the time, he thought the notes would remain anonymous, and he hadn't thought about a handwriting expert linking the notes to him. Shankaras also believed Downs was planning to take the fall for the riot, and the notes would help him. Downs hung onto the notes, as a sort of insurance policy and only turned them into prosecutors when it best suited him.
"But when you sign on that dotted line with him there's always a catch. There's always a price to pay...and I know this guy's tricky, but the desperation clouded me to think properly," he said.
In closing arguments, prosecutors argued there's no way Shankaras was that stupid after spending so much time in a place like Vaughn.
"The prosecutors are out-of-touch with reality when it comes to prison...this is not how prison works. You out of touch with the reality of prison. There's guys in there 30 years, who still have to take orders, who still aren't safe, who still gets their commissary taking from the, guys sending them to beat 'em up or take whatever they got...they don't know what's going on," said Shankaras.
The Real Mastermind of the Riot
Whether Downs is the true mastermind of the riot, Shankaras said he doesn't know.
"I know they were scared of him; I never really seen guards scared of an inmate...I knew his power, especially after the riot. I told you he was some type of celebrity after that," said Shankaras. "If he was the mastermind and is--a person like that--if they believe he folded at the top, everyone else is going to freak out that believed they guilty for this stuff, and they'll plea out. That's how that work, but since we're all strangers...they didn't get that reaction. Seventeen to 18 people, one person cooperated. You don't think anybody else wanted to? It's rare. That's rare. You got a mixture of guys, some guys gonna go home, some guys got a lot of time, and guys that don't know each other, it's a perfect melting pot for you, 'You, you, you, you did it, he did it,' everybody just start shooting at each other, and it's a house of cards, but it wasn't. This happened to be anomaly."
After several failed convictions, prosecutors the charges against several inmates, who were slated to be tried for the murder of Floyd. Another inmate, Kelly Gibbs, who was preparing to plead guilty in the riot, hung himself in his cell on Thanksgiving Day.
Two inmates-- Lawrence "Smoke" Michaels and Alejandro Rodriguez-Ortiz--are still slated to head to trial in the fall. Shankaras said those charges should also be dropped.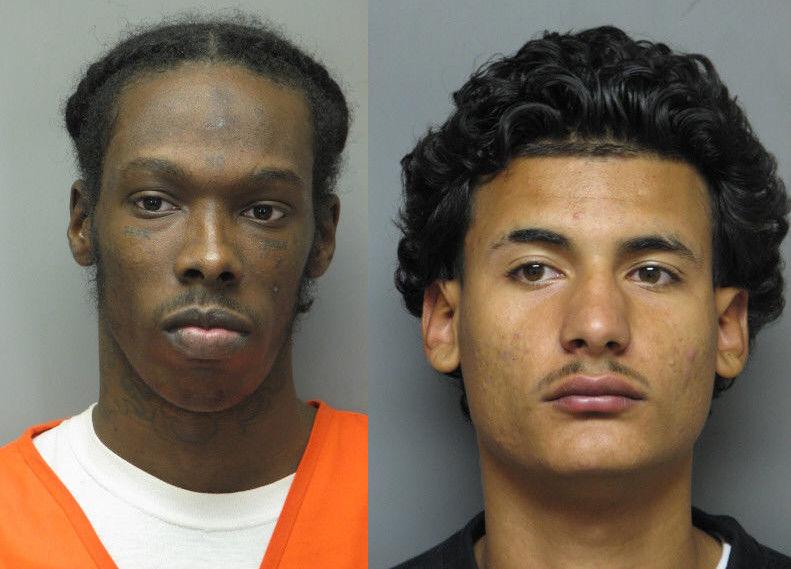 Despite the trials, still more than two years later, we don't know who brutally beat and stabbed Floyd, locked him in a mop closet, and let him died.
"Everything, the trial it came out, [Royal Downs], they know what's going on--DOC, DOJ, they knew what they brought...they got the same paperwork I got, they knew what they brought. They should feel ashamed. They should feel guilty."