Outside a shuttered Legislative Hall in Dover, the Reverend Al Sharpton rallied for police reform alongside a small group.
He specifically pushed for passage of Senate Bill 149 which seeks to amend the Law Enforcement Officers Bill of Rights, which as written, shields police from public scrutiny in investigations into use of force and potential disciplinary outcomes. The measure, sponsored by Senate Majority Whip Tizzy Lockman (D-Wilmington), also seeks to create citizen review boards.
"If you have nothing to hide then open up the files, make it open scrutiny by the citizens that pay you so that people can see what is going on," said Sharpton. "When you do not have oversight of police by the community, you have the overlooking of justice by law enforcement that breaks the law."
Sharpton stood alongside Keandra McDole, the sister of Jeremy McDole, a man who was in a wheelchair when he was fatally shot by Wilmington Police in 2015 as well as Lakeisha Nix, the sister of Lymond Moses, who was shot and killed in April by New Castle County Police officers, who were out of their jurisdiction at the time of the fatal shooting. The group held signs that said: "Shine a light on police misconduct, reform LEOBOR now," "Civil rights. Police rights. Human rights," and "Police Accountability Now."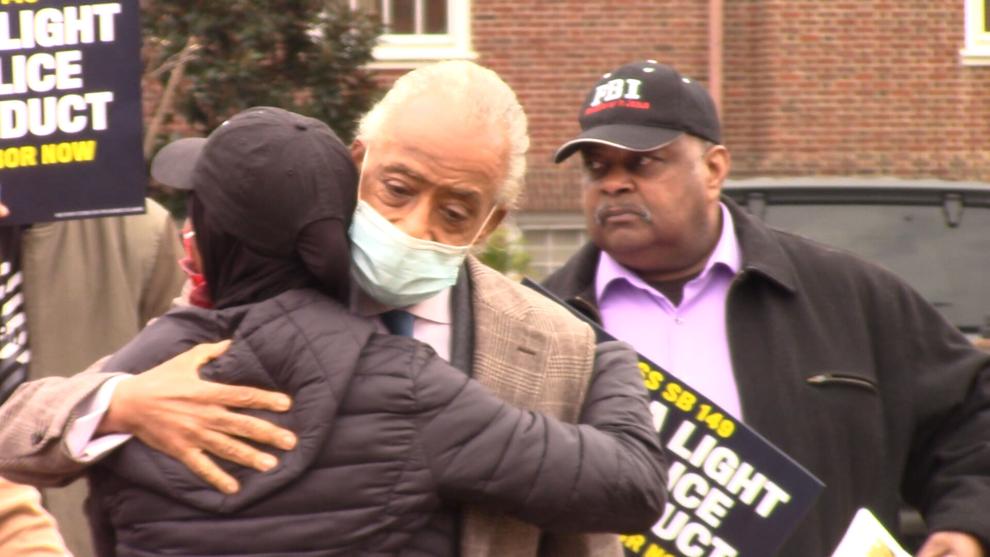 McDole called for a federal investigation into all police agencies in Delaware.
"The Delaware Way--everybody knows--it's sickening. Why hasn't any officer been charged in anything that they have done in the state of Delaware?" McDole asked. "It's time for Delaware to get it together."
SB 149 did not pass in the last legislative session as proponents had hoped. The bill is likely to see amendments when lawmakers return for session in January. 
Nix called for SB149 to be passed as it was originally proposed--without amendments.
"It's been 10 months and nine days and we still don't know the name of the officers who murdered Lymond. It's been 10 months and nine days, and we still don't have any clear answers as to what punishments, if any, these officers will face for their wrongdoing," said Nix. "These officers are being protected by bias investigations due to the incestuous relationship between the police community, the Department of Justice, and our legislators So do I want SB 149 passed as it was initially proposed--without the amendments--that includes giving the police departments the option to have community oversights or the ability to be on the boards? Yes, I do."
"How many more bodies have to drop until Delaware sees the urgency for these bold amendments, if not the repeal of LEOBOR?" she asked.
Sharpton said if reform starts in Delaware, it can jumpstart reform nationwide.
"It has to start in Delaware. You cannot sit by and allow these cases to where the police become the judge and jury of their own actions," said Sharpton. "We stand with these families, and we stand with SB 149, and we will come back with numbers, if it necessary, when the session opens in January," said Sharpton. 
"It seems to me, ironic, if not insulting, that you have the nerve to name a street after Martin Luther King, while the people of Martin Luther King are being abused by police, and you are not holding them accountable. You should take the sign down if you're not going to live up the principles of Martin Luther King," said Sharpton to a small round of applause.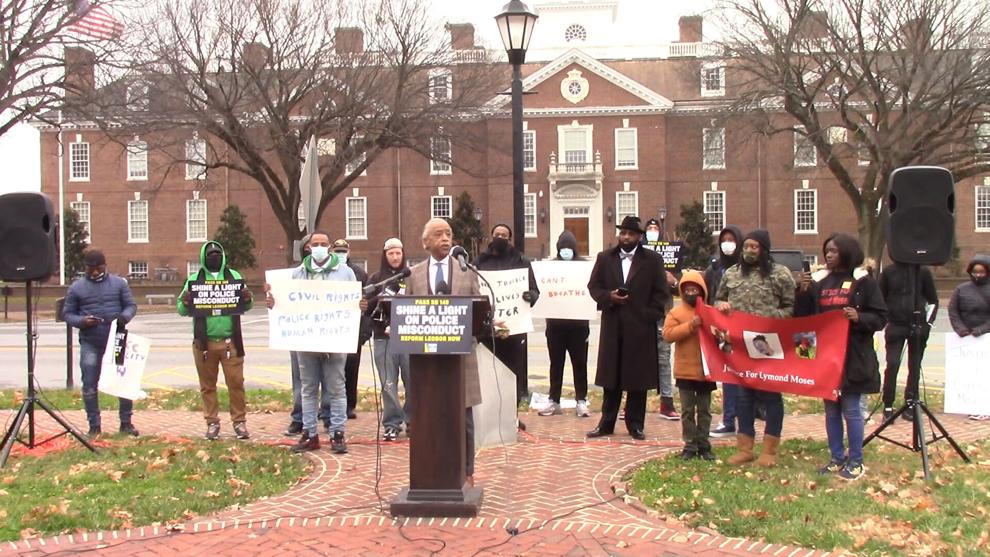 Monday's small rally on Legislative Mall was hosted by Citizens for a Pro-Business Delaware, whose website said they stand for good-government and common-sense legislation to promote judicial transparency and accountability in the Delaware court system. The group is made up of, in part, and funded by employees of TransPerfect, which has been involved a years-long, and at times contentious public dispute with Delaware's Chancery Court over the sale of the translation company.
Matt Munsil with the public relations firm, Tusk Strategies, who spoke on behalf of Citizens for a Pro-Business Delaware, which hosted the police reform rally, said Sharpton was not paid for Monday's appearance. 
He added Lockman was invited to attend the rally, but said they never heard from her regarding the invite.
Through a spokesman, Senator Lockman said she was unaware of the rally.
The ACLU of Delaware was initially headlined as part of the rally for police reform, originally scheduled for last week, but the event was postponed so Sharpton could attend President Joe Biden's infrastructure bill signing.
At Monday's rally, there was no mention of the ACLU of Delaware. A spokeswoman did not return WDEL's request for comment.