Anna Marie Leo of Bellefonte has lived through it all.  
The 89-year-old dance instructor remembers paying a piano player $5 an hour to provide music for her classes; she remembers vinyl records.
"I swore, I'd never get off of that," she said. "Well, I did. I went to 45s. From that, we went to little cassette tapes. Much later we went to mini-cassettes, then we went to the CD players, then we went to the phone."
When the coronavirus outbreak first hit Delaware, she feared kids would have to forgo their dance classes. Eleven-year-old Annie Rosenthal of Brandywine Hundred, who's been basically dancing her entire life, told WDEL she was disappointed by the thought.
"I was mad, and kind of sad, because I was really excited for this year because I was [moving] up different levels, and it got more challenging," said Rosenthal. "I was excited for that. It was hard when I found out that I may not be doing tap."
Rosenthal's disappointment was short-lived.
Now, amid the pandemic, Leo brought the Anna Marie Dance Studio live dance classes to Zoom, so kids like Annie--and adults--can keep some kind of normalcy. 
"Not in my lifetime would I have even known that something like this existed," she said. "They can see me, and I can see them, and I can say 'you just did the wrong thing, let's try it again.' And it works!"  
Leo is on oxygen and sits at her desk with a whistle around her neck, instructing the kids virtually. She ran her own dance studio for 60-some years until she sold it to her great-niece, Ashley.
"I don't dance a whole lot...but I sit, and I talk to them, and I can point, and I can demonstrate with my feet, and then I'll pick a child who's doing it really well, and I'll say: 'Watch Janie, she's got it just the way I want it.' And once in awhile I'll stand up and do a step or two for them."
Virtual dance instruction is helping keep a sense of normalcy for Leo too. While half of Delaware's deaths from the current outbreak are in the elderly in long-term care homes, Leo said hasn't left the house in several weeks. She's very concerned about contracting COVID-19 due to her age and underlying health conditions like COPD [chronic obstructive pulmonary disease] and diabetes.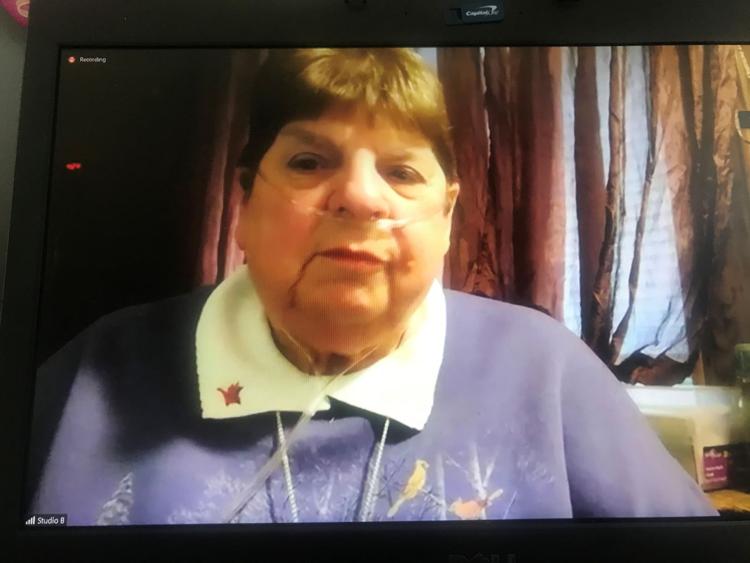 "I am one of those prime targets for it, and I am being as careful as I am...I don't go anywhere," she said. "I'm very scared for my own health, absolutely.."
She never imagined she'd live through something like this.
"The only quarantine I ever remember is my children when they had measles, or mumps or chicken pox, but nothing like this. I've never seen anything like it...and I break down every once in awhile. I stay brave, and then I'll see something on the TV, and I break down and I cry, and I pray a lot."
But dancing helps soothe her nerves during these uneasy times. She stays busy at home teaching five classes per week, including tap and ballet, for both adults and children.
"In a way, I feel it has a little advantage...in that it's almost like a private lesson. You're in your own home, the teacher is talking to you; I can see them. I can make corrections. They can see the other kids, so they're really still getting, in my estimation, a very good lesson."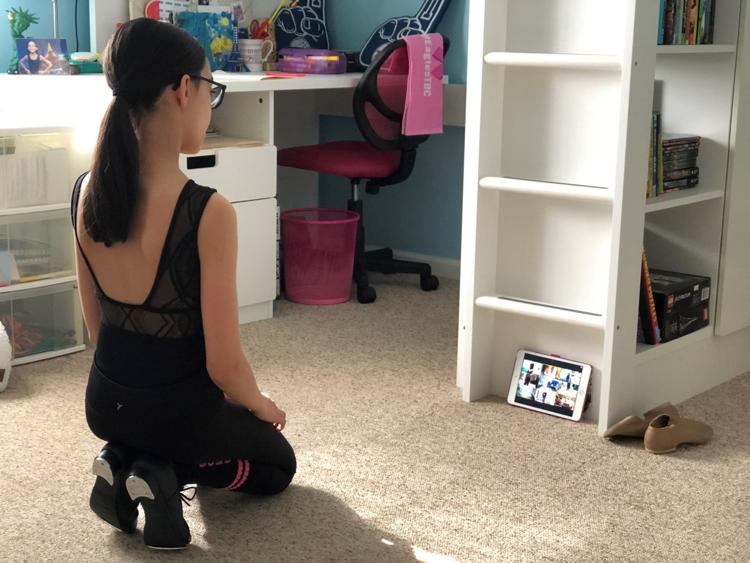 Rosenthal takes ballet, tap, and jazz in her bedroom. Her favorite class via Zoom is tap, and she believes she's getting a good lesson too.
"The first class was weird, but when I got to the second class, I felt a little more comfortable because I was more familiar with the space I had," she told WDEL. "I like tap because...sometimes with the space I have, it's better with tap because I'm not moving around as much." 
Plus kids don't have to feel as self-conscious as they might in the same physical space as their peers.
"I don't have to look across the room and see Annie doing it right, and I'm doing it wrong," said Leo about her students' mindset in the virtual classroom.
Rosenthal said Leo taught her grandmother, and she likes following in her footsteps.
"[Leo] will stop the class and have you do a particular step and on Zoom, she'll use her hands instead of her feet," she said about the adaptation.
Leo admitted keeping kids' attention remotely requires some creativity on the part of the teacher as she watches kids dance in their kitchen, the garage, their bedroom, or even tapping on carpet.
"You can't hear their taps--but at least they're doing it," she said."Make the rhythm of the sound of your name with your tap shoes--like if your name is Anna Marie--do shuffle, ball, change...I told them that next week...to bring a drawing of a picture of their costume the way they think it would look at the recital, so I'm trying to come up with other things that are not stand there and dance the whole time but are still related to dance."
And Leo puts that whistle around her neck to good use.
"That whistle goes with me wherever I go, it was given to me by a student when she was 15 years old as a birthday present. And she knew I liked Mickey Mouse. It's an old Steamboat Willie whistle."
Without the virtual offering, Leo wonders what kids would do with their newfound free time away from their peers.
"I think there would be a lot of boredom. I think they would be giving their parents a lot of trouble," she said. "I think they're happy. I think they're happy to see me each week, I think they're happy to dance, and keep their relationship with their fellow classmates."
Despite loving the virtual instruction, Leo looks forward to the day the studio reopens, though she admits, she may extend her absence a little longer due to her heightened risks of contracting the virus. She noted Zoom could continue even once life gets back to normal because some parents and kids could be hesitant to share space so closely.
"We're all in this together, and hopefully, it is bringing 90 percent of us together. I think there's still 10 percent ignorant of it--like all those kids on the beach, or people having parties and meetings. I hope they wake up soon to realize they need to be included with us in the distancing."