With a major spike in cases of the novel coronavirus COVID-19 among younger persons at the Delaware beaches, the governor has halted bar service at the beach ahead of the holiday weekend and delayed the state's move to Phase 3 "indefinitely."
Restaurants can remain open, but must close their bar-area for seating and standing, according to the 23rd Modification to the State of Emergency. Bars may be open to prepare drinks for table service.  
Beaches will also remain open at 60 percent capacity, which will be strictly enforced at state park beaches, according to DNREC.
The state noted that individuals ages 18-to-34 are now testing positive for the virus at more rapid rates; many of them are asymptomatic. The uptick comes after the Delaware Division of Public Health first noticed a smaller outbreak among teens tied to senior week activities in Dewey and Rehoboth beaches, announced on June 19. At last check as many as eight teens, from two separate Dewey Beach rentals, had contracted COVID-19, according to public health officials.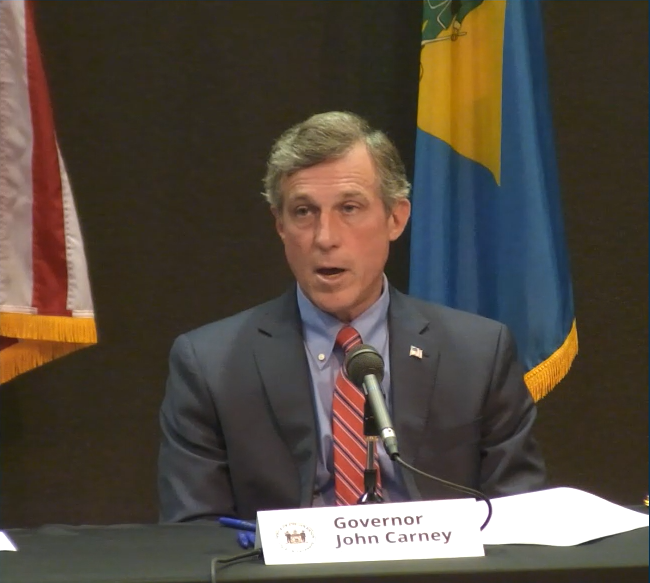 "Over the last couple of weeks we have experienced an uptick, a resurgence of COVID-19 positive cases in the beach areas. Specifically...we've had an outbreak among bars, restaurants, social activities in Delaware beaches. We also have witnessed across our state--but in particular, in the beach communities--complacency with respect to mask wearing and social distancing. And as a result of this uptick and concern that we see from other states--Texas, Georgia, Florida, California, [Arizona] and many other states across our country that didn't see the decline in cases that we've seen...we don't want to see that. And in order to stop that, we're not going to move to Phase III indefinitely," he said. "We're going to delay Phase III indefinitely until we get a better handle on where this surges is coming from and to try to make sure we nip it in the bud so it doesn't turn into a full blown rebound. We're trying to, again, protect the most vulnerable populations which are our seniors populations."
Carney said this increase is something that needs to be addressed immediately and judiciously, so the state doesn't lose any of the ground it's made in the fight against COVID-19 so far. One step in that fight, he said, includes the indefinite closure of bars within beach communities beginning July 3, 2020. 
"A lot of these young adults in the beach communities live together; they work in similar kinds of establishments; they play together, and they're infecting one another with COVID-19," he said. 
He said the beach outbreak isn't "quite as serious" as the one seen, earlier in the COVID-19 crisis, during the shutdown at the poultry plants in Sussex County.
"But we need to stop it before it reaches more people," he said.
He's encouraging all Delawareans, even those who are symptom-free, to get tested.
"Know your COVID status," he said.
Division of Public Health Director Karyl Rattay said the majority of new cases young people, between the ages of 18 and 25.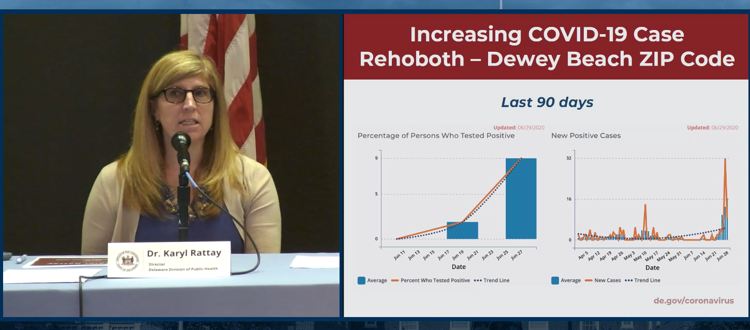 "I'm going to start today with talking a little bit about our what we know about the beach situation," she said. "We began to talk about the beach situation a couple of weeks ago when we learned about several clusters of cases related to senior week, and since then we've actually seen a spike in cases among 17- and 18-year-olds. We also, since that time, learned of several lifeguards, as well as a number of restaurant, bar employees who have become positive. Additionally, our data are clearly showing an increase in cases among residents of the beach community, which often are not the same as those who have visited, who are working in the beach community, but those older homeowners residents in the beach community are also seeing increases in COVID-19 case."
A total of five lifeguards--three from Rehoboth and two from state park beaches--have tested positive for COVID-19. Rehoboth Beach Police said all of its lifeguards are being tested, and so far, rates do not affect.
While the percent of positive cases in New Castle and Kent counties remains flat, the picture is bleaker at the beaches. Anything above 5% is cause for concern, Rattay said. On Tuesday, the state announced a 9.5% percent of positive cases in coastal communities after 102 persons tested positive out of 1,081 tests in Rehoboth.
"That's a real red flag," she said. "You need to look very closely at what's going on. So in sum...social distancing and lack of face coverings on the beach is certainly problematic, and although face coverings are only recommended on the beach, you really need to be wearing a face covering if you're not at least six feet away from people who are not in your household."
The doctor did note there were several establishments the administration noticed were taking recommendations very seriously. Some coastal restaurants like the Starboard, Woody's, and the Blue Hen closed and had all of their employees tested while others like Iron Hill in Rehoboth moved to an outdoor-dining-only model.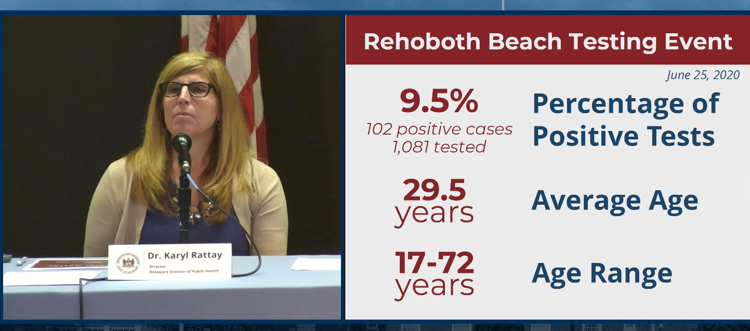 "It is hard for...establishments to control these crowds and to get people to do the right thing, quite frankly, so it's up to everybody to do the right things and essential distancing and wearing face coverings."
Rattay said if you want to assist officials with enforcement so bars and restaurants can remain open, establishments or individuals in them violating the pandemic safety protocols can be reported to HSPContact@Delaware.gov. 
"We are really stepping up enforcement actions, and always our first step in DPH is to provide information and education," Rattay said. "We want to help people to do the right thing. But depending on the situation, inspections or follow-up inspections will take place. As far as punitive actions, certain establishments may be reverted to Phase I restrictions, fines may come into play--which would be $1,000 for each violation. So, for example, if you have five staff who are not wearing face coverings that could be $5,000. Closure could take place, or referral to law enforcement, depending on the circumstances."
Carney was less forgiving on business owners not following the rules set fort as part of combating the pandemic, and said it's everybody's responsibility to keep their neighbors safe. 
"This ought to be a wake up call for all of us, as we've seen this outburst in eastern Sussex County, to make sure that we stamp it out, we put out the fire before it starts in spreads, and that we take advantage of all the sacrifices that people have made over the last three months," he said. "Business owners, restaurant owners can't just say, 'I can't control anybody,' without doing anything...And that's really a challenging part."
At this time, the governor said he's not considering a ban on in-person dining.
"We really need to really approach enforcement a little bit more aggressively," he said. "I think they get it that--they were shut down for a significant period of time, that if it gets a lot worse, then we might end up there. Right now, we want to manage it with extensive testing, contact tracing, and isolation, and really emphasizing the need to follow the guidance with respect to the requirements with respect to mask-wearing and social distancing.
"We just don't want this to get out of control, and we can stop it. The virus isn't going to go away--there's no vaccine...we've got to stamp it down ourselves with our own behavior," he said. "Too many people have suffered too much for us to see a dramatic uptick."
Read the full 23rd Modification to the State of Emergency: