A new program at the University of Delaware's STAR Campus is giving disabled children a chance to be mobile and last week, they received help from Newark city employees.
"This is a phenomenal program with the University of Delaware students and the city of Newark," said Michele Minkiewicz of Middletown, the mother of one-year-old, Finn.
Minkiewicz said her son has Noonan Syndrome, which renders him with low muscle tone. She did say he just mastered sitting up, and the modified power wheels will help him move around.
The Assistive Medical Technology Club from UD along with almost 80 Newark city employees helped refine 10 power wheels cars for 9 children with various disabilities and a fleet car for the Meadowood Public School on Friday, November 2, 2018.
"I think that's the best part, it's not us helping our friends or anyone else like that, it's helping strangers, people that we haven't met before today, so, I think that makes it extra meaningful," said Acting Newark City Manager Tom Coleman.
Coleman became aware of the Go Baby Go initiative while touring the University of Delaware STAR campus. Through Go Baby Go, volunteer organizations modify the power wheels cars children with disabilities, and it gives the kids mobility and a chance to interact with other children in an upright position when they normally might not be able.
Coleman came up with the idea to help area children and support the Go Baby Go, and city staff raised about $2,000 toward the purchase of the vehicles and materials needed to modify the toy vehicles.
"It's truly wonderful that people are just so willing to do that for these kids," said Lauren Lombardi, the mother of two-year-old Declan who has cerebral palsy. She added is was good to see everyone getting along and smiling, including Declan, who was smiling when they went into the room where the build was taking place.
The families being helped were from Delaware and Maryland.
"Having all of these people step out of their comfort zones, and just kind of learn a new thing to help somebody else that's really great, we're really kind of humbled by the whole experience," said Brittany Anderson of Elkton, Maryland.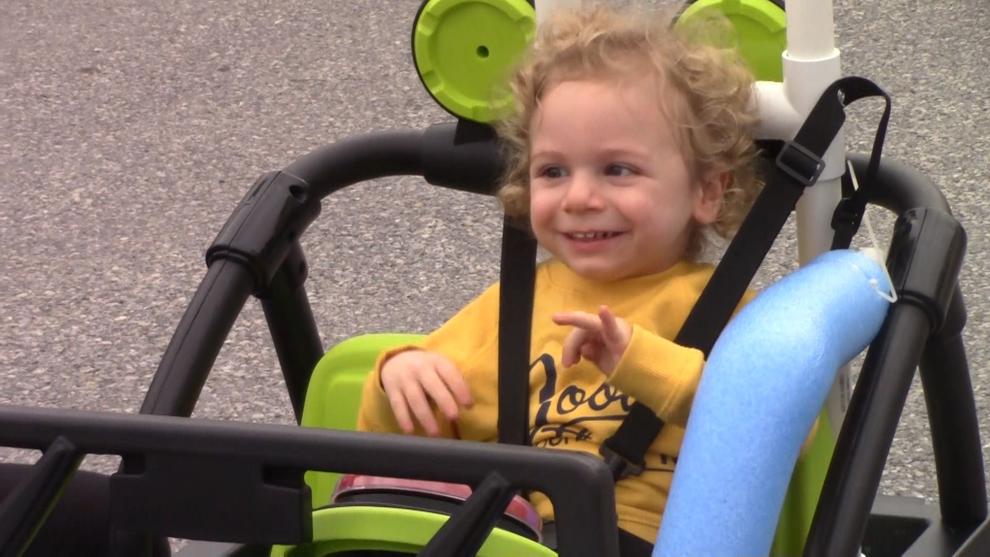 Her son, Bennett is two-years-old, and he has congenital CMV which caused him to have cerebral palsy as well as left arm and leg weakness. He also has epilepsy, and developmental issues. He just started crawling. Bennett was among the kids getting to try out his new toy after he it modified, and he enjoyed himself at times with also a big smile.
Three-year-old T.J. Park is paralyzed from the waist down, and he was driving his new "Jeep" around the Newark Maintenance yard. His grandmother Janine said T.J. will be able to drive on their six acre land, and they might provide him with a four-legged canine partner to ride shotgun with him.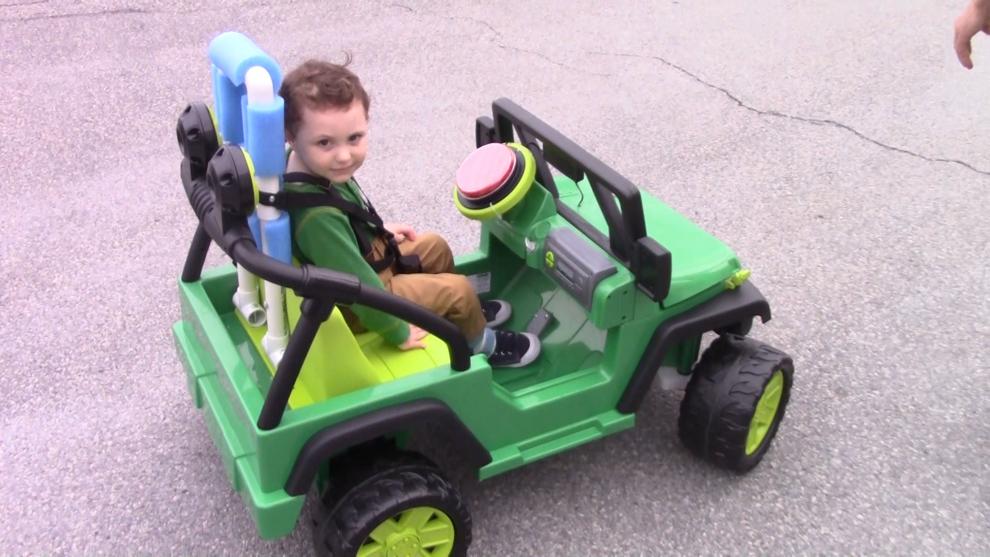 Nina Jones says the vehicle will help her one-year-son, Tristen, who not only has Down Syndrome, but at eight weeks, he had open heart surgery.
"This car will help strengthen his legs and hopefully give him the strength and encouragement he needs to be able to walk, pull up, ride this car," said Jones.
Jones received a different vehicle than most of the kids, as he got a motorized tricycle.
"It's really nice to see her being able to get in something that she controls and to be able to make it to go real fast, and go from point A to point B like exactly how she wants to go instead of having to be slow about it or take her time and think about," said Morgan Schea about her daughter Everly, 2, who has low muscle tone. "I saw the freedom on her face, it's pretty cute, pretty cool, it's a good feeling."
It was a good feeling for everyone at the Newark Maintenance yard on Friday.