Delaware's new Law Enforcement Accountability Task Force held its introductory meeting via Zoom Thursday.
The task force was formed amid calls by the Delaware Legislative Black Caucus in the wake of the police killing of George Floyd in Minneapolis.
"We are in unrepresented times, and we are facing unprecedented challenges, but we are here to meet those challenges," said the task force's co-chair Rep. Franklin Cooke.
"Cops who violate police rights need to be held accountable. Period. No excuses," said Cooke. "Bad cops should not be wearing uniforms; however, none of that excuses the horrific stories we have seen in the media and read about throughout the years."
Cooke said the task force will delve deep into the root issues of systemic racism, identify solutions, and recommend changes. Cooke urged involvement from "all corners of society."
"I know there's going to be temptation to pass judgement on this group and declare defeat before we even get started; my request to everyone is simple--judge this task force by its actions and the work we produce," he said. "We want to hear your voices. "We need and want input from the public. We are not operating in a vacuum."
Cooke said he wanted to hold meetings in the Dover-area, but noted meetings will mostly be held virtually. All meetings will be public with comment accepted live during virtual Zoom meetings. They can also email leotaskforce@delaware.gov.
Deputy attorney general Darryl Parson, who serves as the task force's co-chair, didn't call for a blanket endorsement of the group's actions.
"Four hundred years of discrimination, prejudice, inequality, and fear will not be overcome in the next six months," he said. "A little healthy skepticism is a positive thing. But I do encourage you to think expansively and aggressively about how things should be. How should police and communities of color ideally interact? How are stereotypes broken? How are those lessons taught, and how do those messages become statewide mantras for all communities?"
At its meeting Thursday, the group established four subcommittees:
Use of force in imminent danger
Workforce development
Community policing and engagement
Transparency and accountability
The use of force sub-committee will assess the feasibility and viability for statutorily created use of force standard and implementation of an imminent danger policy to encourage officers to deploy all tactics necessary to avoid using deadly force. New Castle County Police Chief Col. Vaughn Bond and Attorney General Kathy Jennings will co-chair that subcommittee.
The workforce development subcommittee will evaluate recruitment and hiring practices of law enforcement agencies. It will also address training for officers, including deescalation. Sherese Brewington-Carr will chair the subcommittee, and Pastor Frank Burton Jr. will serve as vice-chair.
The community policing and engagement subcommittee will examine community policing policies and public safety outrage. Among its chairs, Michelle Taylor, CEO of of United Way. 
The transparency and accountability task force will reform disciplinary processes for law enforcement officers to allow for greater accountability for misconduct and potentially amending the Law Enforcement Officers Bill of Rights and establishing civilian review boards. No chair of the subcommittee was named. Ray Armstrong will serve as vice chair.
Subcommittees will make policy recommendations to the full task force before it issues its final report. Members of individual subcommittees are still being finalized, but would be complete by Monday, Cooke said.
Cooke said the task force will examine what other states are doing in terms of use of force policies and steps they're taking to stop systemic racism in policing.
"The [Law Enforcement] Officers Bill of Rights, that's very very important that we look [at that] and really dig down into and come up with a compromise and things that we need to do to make this whole thing go forward," he said.
State Senator Brian Pettyjohn (R-Georgetown) called for real data surrounding use of force, racism, and any type of police brutality in the state.
"Whether they're claims substantiated or unsubstantiated...I want to make sure that we have that good information right away...so that we can really start to make an impact and engage what the problem is," he said.
Cooke promised data would be provided by the Department of Justice and the FBI.
"That we truly get true numbers and have transparency and integrity in these numbers--I'm not going to look at numbers just made up," he said.
Brewington-Carr also asked for data surrounding of all funding sources that contribute to policing, both federal and state.
Attorney General Kathy Jennings, who's previously called for changes to the "sacrosanct" Law Enforcement Officers Bill of Rights, said the task force's work needs to be balanced between public safety and fairness in our justice system.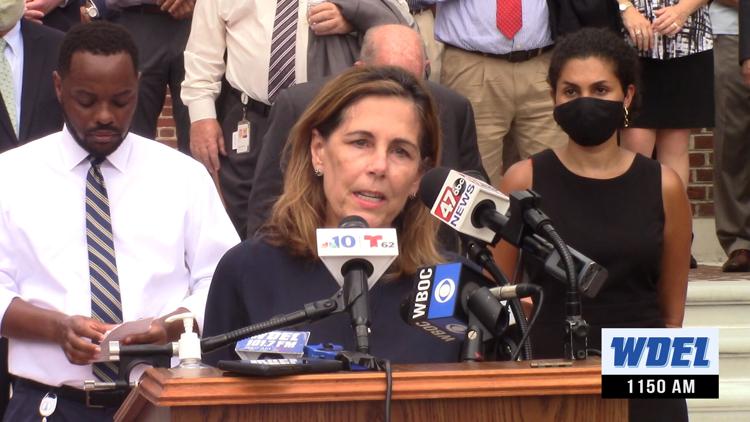 "We've spent the last months looking at best practices across the country, talking to policing experts, police chiefs, former police chiefs and how their jurisdictions are addressing these issues and have addressed them in past years, so I want to propose that we bring those to the task force, generally, and that we bring them to the subcommittees as appropriate...as soon as possible."
During public comment, Ken Abraham, former deputy attorney general, who became a prison advocate after serving time behind bars, recommended the task force create a subcommittee to investigate alleged wrongdoing by Delaware Department of Correction staff.
Peter Murray recommended police forces have full-time mental health first response units, funded by the state.
"Instead of putting that burden on the police,"  Murray said.
When it comes to that healthy dose of skepticism Parson mentioned, activist Coby Owens, who led the largest Black Lives Matter protest in Delaware, brought his. He said he's disappointed that the task force lacks young persons who've been on the ground, leading the recent movement. 
"I think one of the things that was said by the co-chair, Rep. Cooke 'we want everyone's input; we want everyone's involvement in this.' I think we should give them the power to be on this task force...and have a say," he said.
He also called for a true end to chokeholds--unlike legislation passed by the state, New Castle County, and Dover police--which includes exceptions when law enforcement life is in danger.
"It should have been banned flat-out," he said. "I hope that this task force is not just for show. I hope that you actually listen to the community activists."