Delaware is focused on the future of the state when its ready to "reopen the economy," according to Governor John Carney Tuesday. 
"Fortunately, we entered this unprecedented situation in good financial position, which will enable us to react as well as possible to that," Carney said. "The conversation that I increasingly will be engaged in will be with members of the public with workers with businesses, large and small, and terms of how we can reopen the economy here in our state."
Carney was joined Tuesday by Delaware Department of Labor Secretary Cerron Cade and Office of Management and Budget Director Mike Jackson. 
"We've got some very difficult decisions ahead of us," Carney said. "The bottom line, as I say all the time is we have to have a healthier community before we can make our economy healthy again--and it's not a choice of one over the other, we have to have both, but a healthy community at some level has to be present first before we can have a recovering and healthy economy. We'll try to really strike the balance between the two...most importantly, what's the testing program and planning going to look like that will enable us to move from a period in time where we've closed a large portion of Delaware's economy and asked people to stay at home and to stay sheltered to a world where we're moving back to work in a cautious kind of way, and cognizant of the need for for social distancing and the fact that the virus will still be present in our community?"
As public officials eyeball Delaware's potential for moving to reopen the economy, there are strict federal guidelines for which Delaware must judge its potential for a clean reopening or the state can risk backsliding into further danger.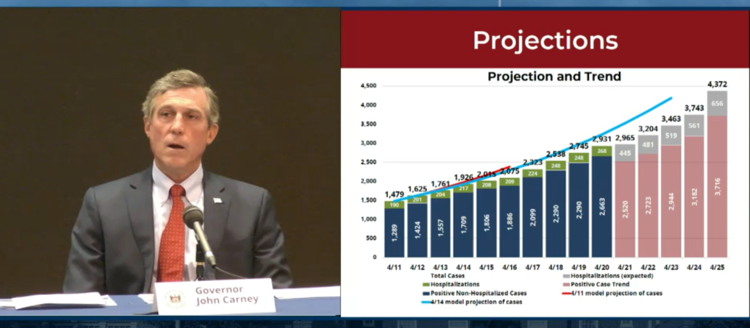 "What are we really looking at going forward is the new cases by day. So, the CDC recommendation is that a state will be in position to start moving to Phase One under a certain set of conditions. One of those conditions, is that they've that they've peaked, and they're in the on the downward slope, in terms of the number of new cases each day. And so you can see on this bar chart that we are on a downward decline in terms of the number of new cases each day, even though, obviously, with each new case the cumulative number is going to increase. But the additional number to get to the starting line has to be 14 days of declining cases, and so we'll be looking at this."
For the last three days, Delaware has seen cases increase less and less---that's one criteria that can be used to support the gradual process of reopening the state in time, but the governor has not committed to exactly what data he'll use due to problems with data and testing.
"We'll come with our own Delaware-specific plan that will use the guidance from the CDC for reopening in Delaware. The first thing we need to do is to sort out the data that we'll use to make that decision," he said. "It'll be difficult to arrive at a set of numbers because testing plan and program that we've followed over the last six weeks has not been consistent day to day, and more importantly, the results don't come back on a predictable basis. We've had turnaround times as long as 10 days, two weeks, and as short as three days--not including the tests that we're able to turn around in 24 hours here at the state public health lab."
Carney also stressed the need for hospital capacity.
"The state has to have in place enough hospital capacity, which I think we're showing and demonstrating that we do have, to accommodate any kind of surge that might come back in the future...We're not there yet. I would say over the next few days or a week, we should have more to say about the resources that we have to do that," he said.
But he added, most importantly, a robust testing capacity must also exist to support reopening.
"More widespread testing of both people that are symptomatic and asymptomatic, and a stricter adherence to isolation for those that are identified as COVID-19 positive as well as people that they would have come in contact with--so a very rigorous contact-tracking program with public health workers reaching out to reach those individuals and encourage them to get tested or to quarantine themselves--that's a really important part of it. We're not there yet. I'd say over the next few days or week we should have more to say about the resources that we have to do that."
Carney said most states do not have that capacity right now and remain competition with one another to get the necessary testing kits.
Carney called reopening the "hardest decision" he'll have to make, and as other states move to reopen, Carney said he'll feel added pressure to reopen too. But he vowed:
"States that are reopening without following the CDC guidance--that's not going to happen here--if I have anything to do with it, and these protest movements that are showing up around the country saying we don't really care about what the CDC says or what the situation on the ground says, that's just not helpful. And so we're going to see that, I expect, and by the way, legitimate concerns for the need to get back to work by both workers and business folks, and I understand that. I hear the anguish in their voices. I hear the same amount of anguish in people's voices when they say, 'Don't do it too soon. Protect me and my family.' And that's what we're going to try to do."
It's been said many times that Delaware's opening will be gradual with measures in place that mitigate spread of the virus. The governor said he's considering a mandate on wearing masks in public places, like the grocery store, where social distancing can be difficult. Neighboring states like Maryland and Pennsylvania have mandated emergency restrictions like this.
"We've already recommended that folks where masks when they go in public in areas where it's difficult to observe social distancing. I anticipate we'll see more of that...mandatory face mask-wearing for individuals out in the public, that's something that we will look at.
When WDEL asked whether the beaches in Sussex County would be open by Memorial Day, Carney wasn't too confident.
"A lot of things are going to have to fall in our favor in order to get there. I'd like nothing more than to be able to do that, but it's really hard to see given the guidance that we have, where that'll be a reality, but we'll see."
His biggest concern once again fell back on testing.
"Being able to deliver twice the number of tests that we're doing today and having a core of health care workers that are going out there and tracking contacts for each COVID-19 positive person that's tested. That's going to be a hard thing to do in a month, and that's what we would have to do to meet that. But the sooner we can get there, the happier I will be, the happier every Delawareans will be--and I know that. And we're going to do everything we can, and everybody should do everything that they can to put us in a position to gradually reopen, send people back to work, go back out to places other than the grocery store or the doctor's office in a sage way--maybe with a mask on--but we're only going to be able to get there if we continue over the next two weeks, and month, and longer to stay at home, to practice hygiene--washing hands, disinfecting surfaces--protecting your neighbors, and ultimately, saving lives."
Staggering unemployment and a grim state budget picture
Delaware's historic unemployment claims have eclipsed the average number of claims 10 to 15 times over, and are a cost the state has to absorb in order to help those who need it.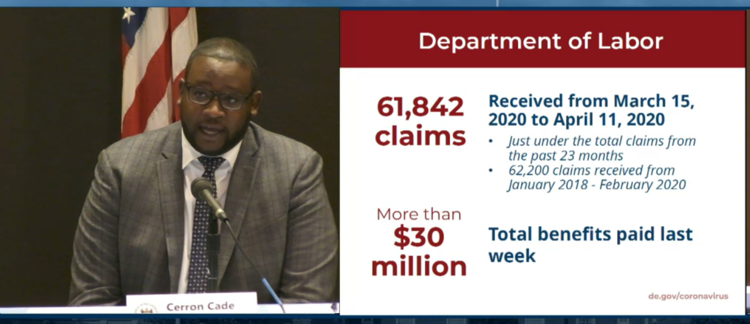 "The first slide that we have kind of highlights the volume that we've seen: 61,842. That number is what we have received in claims starting March 15, when this crisis began. So, in less than a month, we have received 61,842 claims, which is very, very close to what we've received in the last two years combined in unemployment. This is a staggering number, I know, as compared to what we've processed in the past. What we paid out in unemployment benefits to eligible workers...that's $30 million that we have paid--and that's not a typo. To be clear, to give you some context, the average amount that we would pay in unemployment on a weekly basis would fall typically between $1.5 to $3 million as a high for a week."
That's now the weekly number. 
"Whoa," Carney said, appearing shocked by the increase.  
"Definitely, a very high volume of claims," said Cade. "That 61,842 number is also reflective of individuals who applied for benefits, but may not have been eligible--so that full number doesn't include everyone who's eligible for benefits...as well as people who were not. So at the time, individuals, who were independent contractors or self-employed workers, who remain eligible by the CARES Act, a lot of those workers applied for benefits, but were unfortunately, at the time denied, because the state--in direction of the federal government--needs to stand-up a specific program for those workers, so that's an important point to note, as it probably represents about 20 percent of the claims up there."
Factoring in that number, Cade said, the vast majority of workers who are qualified and eligible for ebenfits have received their unemployment benefits to date.
"We're still no where where we need to be," he said.
Got unemployment questions?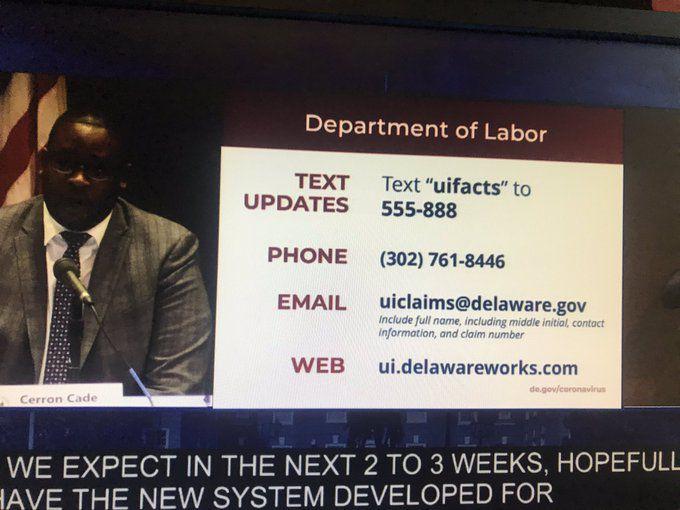 And people aren't the only ones suffering. Budget director Jackson said the state's budgetary projections have diminished by upwards of three-quarters of a billion dollars. Delaware is staring down a grim budgetary picture with a two-year revenue loss of nearly $785 million.
"Obviously, there's a significant decrease from the time at which the budget was submitted, where the financial plan at that period of time was proposing a modest budget growth of just under 4%...there has been a significant change...primarily driven by much of what is occurring in the economy today and the majority of those decreases in revenue are related to our personal income tax collections as well as our corporate income tax collections and, really, just to put it into perspective to show that the size of the increase: we have a current operating budget that is just at $4.4 billion that is being implemented, as we speak today...The decrease in revenues itself is going to require not only adjustments in the in the current year budget of being able to continue to pay for state government operations, but also in the financial plan that was introduced to the General Assembly in January. So, really, what we're confronted with is is a two-year problem of being able to fund our current year budget and being able to develop a budget for fiscal year 2021 in an environment where our revenue forecast is extremely uncertain."
People, however, are Delaware's biggest asset--and Jackson said Carney pointed to Medicaid increased costs amid the coronavirus pandemic would be an added stressor on the economy.
"People represent the lion's share of our of our services and these are your teachers, these are your state police troopers, these are your correctional officers. These are your social service workers, these are your family service workers, and they are a fairly significant part of our part of our budget. But the other piece is also Medicaid, which is healthcare for those who are less fortunate, and being able to provide services not just for their healthcare, but also in long-term care facilities, dental services, and whatnot, and that represents almost 20% of our budget.
In light of high personnel costs, Carney wouldn't rule out state employees suffering financial impacts in light of the situation: 
"Our focus will be on protecting our state employees, just as small businesses and others have have done with the effects of revenue loss and operations," the governor said. "But we're going to have to take whatever measures are necessary, obviously, to close the gap. We can not deficit spend, obviously, [but] we can borrow money for capital projects, and that's something we'll be thinking about doing to help get more construction projects and putting other people back to work, but it'll probably be the biggest challenge for us, because we've got to pay our Medicaid expenses."
Certain things the state wouldn't consider just yet, according to Jackson, is touching the savings account, which currently helps maintain Delaware's financial rating. 
"The Budget Stabilization Fund--which was enacted in the current year's budget where the leadership of the governor and the General Assembly set aside $126.3 million as a savings account--it's vastly different than our 'rainy day fund' but that is an option to be considered for fiscal year 2020. Would it be enough to cover the full shortfall for this fiscal year? No, it won't be. We're actually actively working through what our options are to be able to put us in a positive position by the next time our revenue estimating committee meets in May. I feel comfortable and confident that we would be able to to get there, [though] the forecast that was provided [Monday] remains uncertain, and it'll continue to shift, so we may have to continue to take stronger action as we move through this fiscal year. When I would say is that the savings account itself is an option, [while] the rainy day fund, you probably wouldn't draw down on because it might affect the state's overall bond rating, which is to say we would exhaust all of our resources before we look to address and use our rainy day fund, whether it's for fiscal year 2020 or fiscal year 2021."
The Office of Management and Budget told WDEL Budget Reserve Account, commonly referred to as the "rainy day fund" contains $252.4 million, but there are restrictions on its usage. The Delaware Constitution requires the General Assembly, by a three-fifths vote--in each House to appropriate Budget Reserve Account funds for any "unanticipated deficit in any given fiscal year or to provide funds required as a result of any revenue reduction enacted by the General Assembly."
But Bert Scoglietti with OMB points out:
"Like any savings account, these funds are one-time and should not be used for ongoing spending. Also the funds must be returned to the BRA to the extent that the state has excess unencumbered funds at the end of a fiscal year," he said.