Diner en Blanc is returning to Wilmington this summer.
The worldwide event, held for 31 years in 90 cities across several countries, is coming to Wilmington on September 14, 2019. The date was announced at a preview party Sunday at the new DECO food hall in downtown Wilmington.
Kim Beecher, who's one of three hosts of the Wilmington event, is anticipating 2,000 people at this year's event. The venue remains a coveted secret.
"The venue will never divulged, and that's the mystery of it, and why people like attending...it's something they just don't have the control over so the mystery that surrounds it, and where you're going to arrive and to see how decorated it is...it's just absolutely beautiful," said Beecher.
But this year's event will stand-out from last year's inaugural Diner en Blanc.
"Think Cirque du Soleil-type performers, we're going to have a band, a DJ, and all types of local artists that will be from the Wilmington area."
Attendees of the event must dress in all white from head-to-toe--and that's stark white, not off-white.
"The only pops of color that are allowed would be in your flowers, in your table decorations, or pops of metallic, such as gold, silver, or copper in your accessories or in your shoes, something simple," she said.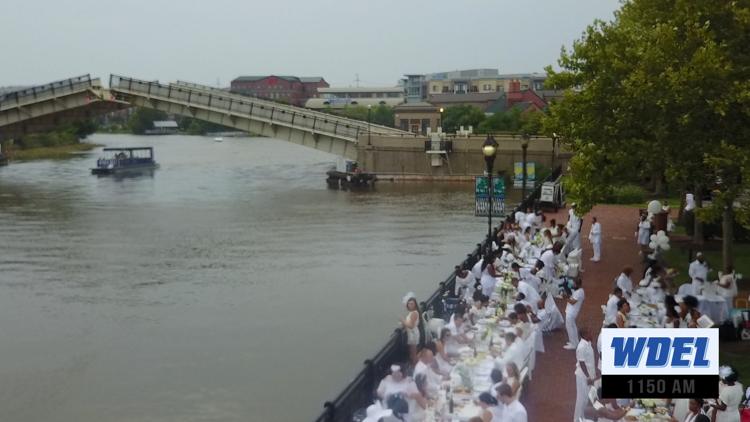 But Beecher is hoping, like this year's atmosphere, attendees will take their style to the next level, especially since returning attendees may have more discretionary income to spend, as they presumably already own the white chairs, table, and linens.  
"We want people to go over the top. We want them to dress in their best, but we want them to be so creative that it's not Halloween-ish, but they're coming up with masks, with head-dress, with boas, and really taking it over the top." she said.
Caterers for the event haven't yet been announced, but Diner en Blanc is hoping to expand on options this year.  Last year's exclusive caterer, Margeaux, a French restaurant in downtown Wilmington, has since shuttered its doors.  
"We're talking with multiple caterers and restaurants, and we want to be able to offer our guests many choices and at different tiers in pricing," Beecher said.  
Diner en Blanc, last year, held in late August, attracted 1,100 people, according to event organizers.