A Coatesville, Pennsylvania, man was arrested in connection with a decades-old rape due to advances in DNA technology.
Newark Police arrested Jeffrey A. King, 55, in connection with a 1993 rape following a two-year, reopened investigation. 
Police said King sexually assaulted a 22-year-old woman as she walked along Barksdale Road near King William Street at 2:42 a.m. on August 4, 1993. Police said King fled from the scene with some of the victim's property and clothing.
The victim immediately called police and had a rape kit conducted. But despite witness interviews, tips, and a sketch, King was never identified as a suspect.
In 2017, as part of the Sexual Assault Kit Initiative (SAKI), the case was reopened and the kit was sent to a private lab that confirmed male DNA.
"That DNA was sent back to the Delaware Division of Forensic Science, where they developed a profile of the DNA," Lt. Andrew Rubin with Newark Police.
But no match was found through the CODIS system.
"The DNA was then sent to a private lab called Parabon, and that private lab was able to look at that DNA and give us information about the ancestry of the person who's DNA it was, along with their eye color, hair color, and skin tone, and that DNA was sent to known private databases of DNA, and they responded to us with a list of people whose DNA could be similar to the DNA that was located in this kit," said Rubin.
On that list of people: King, who police said was 28 years old at the time of the alleged rape and someone who had connections to the Newark area. Police then put King under surveillance.
"We were able to find a discarded item," said Rubin. "And we took that and sent that to our Delaware Division of Forensic Science, where they were able to get DNA off that discarded item, and that DNA matched to the DNA found in the sexual assault kit in 1993."
It's unclear whether King had submitted his DNA voluntarily, or another family member had.  
"It's private databases, where people have voluntarily submitted for whatever private purpose," said Rubin.
King was arrested on October 3, 2019, after being indicted for two counts first-degree unlawful sexual intercourse--what the crime of rape was called in 1993. He's now free after posting $50,000 cash bail. Police couldn't comment on King's alleged criminal history and whether he may be tied to any other sexual assaults.
Attorney General Kathy Jennings pointed to "dogged" work on the part of the Newark Police Department for solving this case.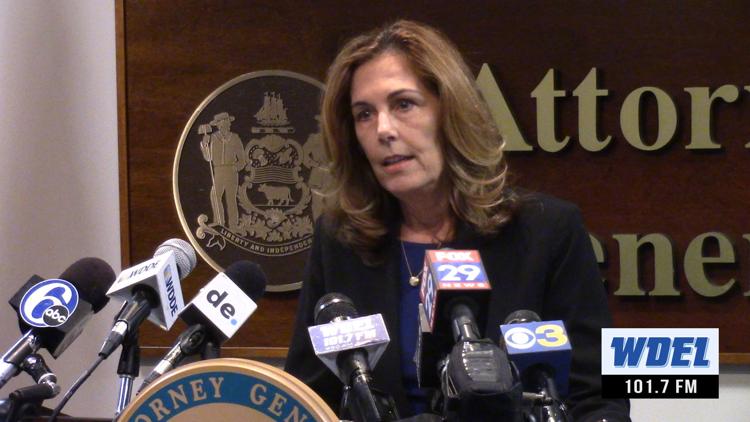 "It serves as a reminder that cases like this are never closed. We never stop seeking justice for the survivors of rape and sexual assault," she said. 
"We've had a pending case for 26 years that we're able to bring closure on, anytime we can close a case for a victim, it just makes their ability to move on with their life much easier," Rubin said.
She added cases like this one have been revisited through the SAKI initiative through the Delaware Criminal Justice Council.
"It is an initiative that is showing amazing results," she said.  
Since 2015, more than 800 kits have been tested and returned under the initiative.
"There is no backlog in Delaware; 821 kits have been sent for testing and been returned, so all the kits have been and are at various stages of investigation and review," said Michael Kelli, SAKI coordinator with the Delaware Criminal Justice Council.
King's arrest marks the third, statewide, resulting from retested rape kits, Kelli said.
Jennings noted cases of rape and sexual assault are extremely painful for survivors, who experience significant trauma, but they're also difficult to prove in court. She highlighted the victim's bravery in this case and issued a call to other potential victims: 
"This case involves a survivor, who 26 years ago came forward and told authorities what happened to her. That was a start, [but] there can be no investigation, or prosecution, or conviction in a rape or sexual assault without the survivor who steps into the daunting world of the criminal justice system comes forward and works with us to ensure that justice is done, and that people in our state are safer for it," she said. "The victim in this case no doubt faced the physical, emotional, and mental challenges that all rape victims do, but I can tell you she is truly a rape survivor, and has gone on to live the life, so many of us, would hope for her. She, like Newark Police, did not ever give up."