A meeting over conditions at the Wilmington Housing Authority's Park View Apartments property never took place as organizers' frustrations over not being admitted into initial portions of a closed-door meeting ignited into a physical altercation between residents and a Wilmington Housing Authority employee, who was ultimately charged in the incident.
The exchange took place before the October 22, 2020, meeting, where senior citizens were set to express their concerns, ever really got underway. After initially being denied entry to even the building, where the meeting was promoted to take place in the Park View common room, security eventually acquiesced after County Executive Matt Meyer and Wilmington City Council President-elect Trippi Congo showed up. 
The meeting grew out of a social media post created by community activist Jeff Day, who visited the facility the day prior and posted what he found while on a tour with co-organizers Carl Webster and Miraim Larkin.
"I really don't know why should we have to keep after you to do what you know that you're supposed to do?" said Larkin. "Why is this building in such bad shape that it's taking so long to do anything? I mean, the little things that you could do, you don't do. So now I was told today, they're going to hire another maintenance man, and 'they're working on it.' But nobody wants to work on anything until you bring it to the forefront. It's unfortunate, because our goal is to help everyone here to have a decent place to live."
Certain elevators in the building haven't been functioning for upwards of five years, residents complained. Day said written complaints, including certified letters, a petition, and additional efforts have all gone ignored. 
"In the last 24 to 48 hours, they did a lot of cosmetics here because of this meeting. They did a lot of cosmetics to fix it up to make it look like, 'Oh, this is a beautiful building.' But there's some repairs that need to be done," Webster said. "So that's the issue at-hand. And we, as the senior residents, put a petition together to ask to meet. We've been avoided."
The day before the meeting, Wilmington Housing Authority Executive Director John Hill issued a statement to residents, obtained by WDEL, that the meeting was not for residents: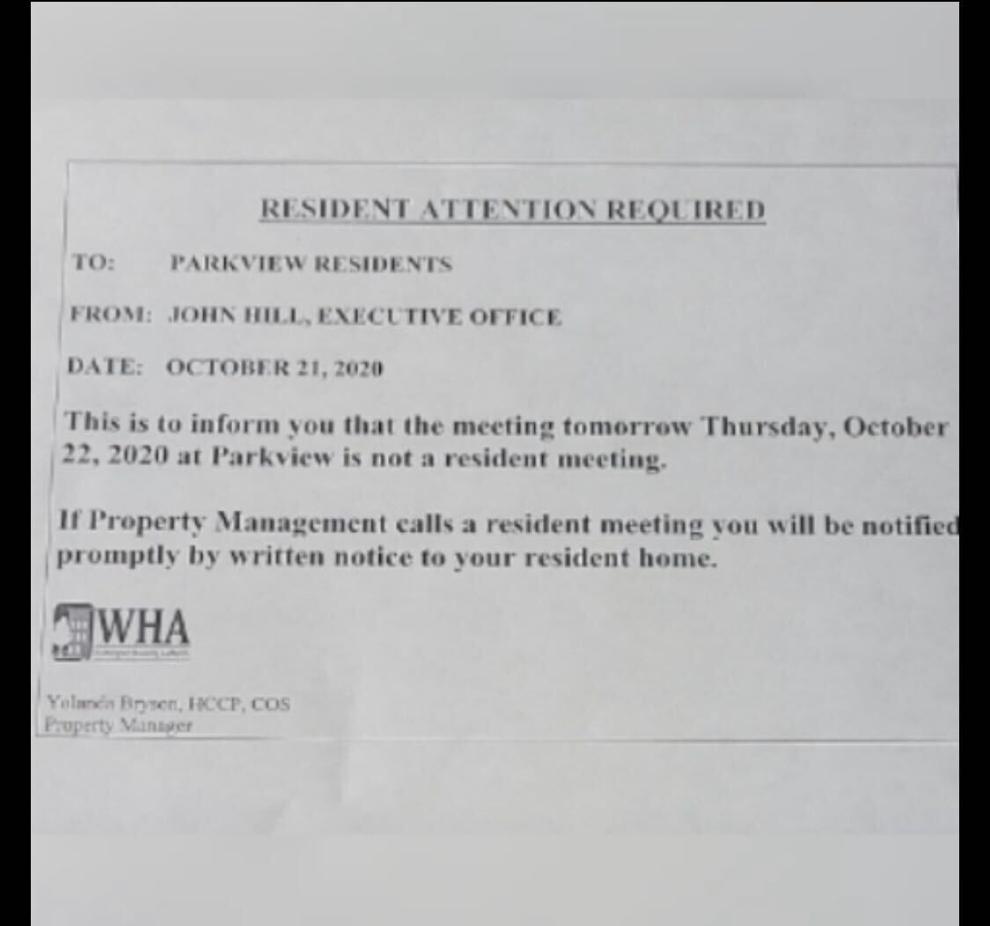 And on the day of the meeting, despite eventual admission to the building, residents and organizers were restricted to the hallway while an initial closed-door meeting with elected officials took place. When Day attempted to gain entry to the building, tensions exploded, with Operations Manager Andrew Johnson of the WHA demanding he let go of the door and stop trying to gain entry. The dispute is shown on video captured by WDEL.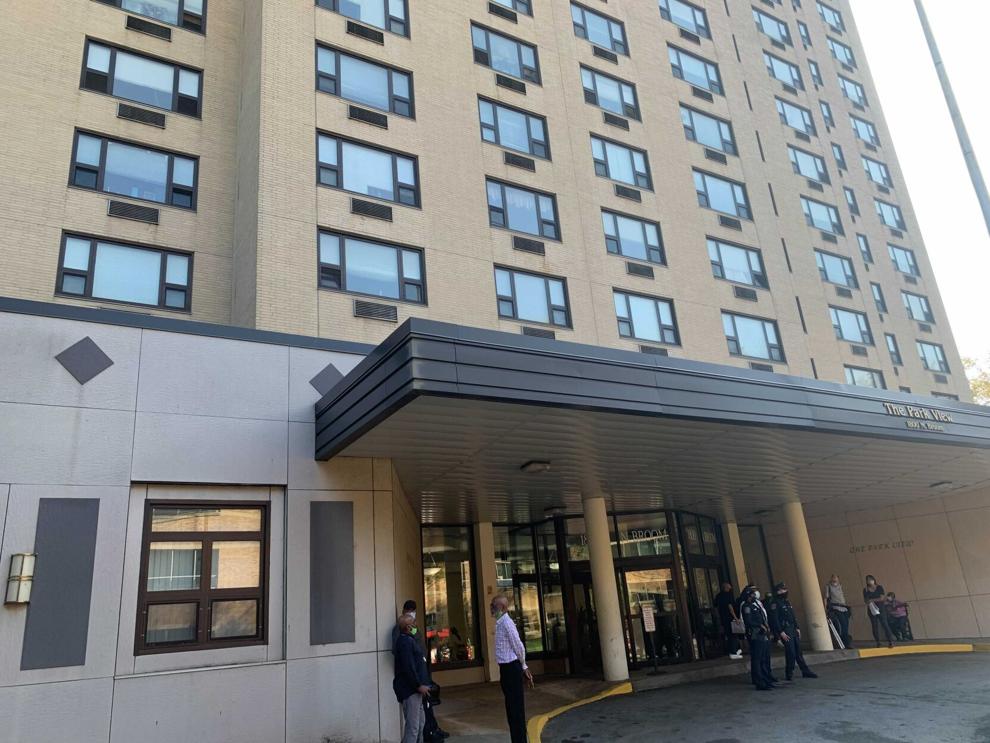 Pushing, shoving, and punches led to police intervention. Authorities had been on-hand at the request of management, an officer out front of the building explained, and eventually 61-year-old Johnson was charged with one count of offensive touching. 
The residents did eventually hear from Wilmington Housing Authority Board of Commissioners Executive Secretary Steven Washington, who apologized to them for deteriorating conditions in the building and that they feel their concerns have not been heard or addressed. 
"I did apologize to them on behalf of WHA because I am a commissioner, and I want them to know that I'm behind them 100%, and I'm here to support them as well as the WHA, who will be here to support them," Washington said. "We have to build a better line of communication; we have to include our residents in the decision-making processes prior to, not thereafter, the decision is made."
Day, who was struck several times in the head while trying to restrain Johnson, said words are easy, but he'd be following up with the residents to ensure progress is made.
 "I know a lot of people who saw the pictures in the video that I posted from the other day; that didn't look like things were getting taken care of," Day said. "I'm going to be following up with the residents here to make sure these words translate to actions...A lot of people say a lot of kind words. A lot of people don't follow those words with actions."