The woman accused of setting a Canby Park row home ablaze in 2016, killing three Wilmington firefighters and injuring several more, has pleaded guilty to charges of murder and arson.    
Beatriz Fana-Ruiz entered into a plea agreement with the state, admitting to second-degree murder, first-degree arson, and first-degree assault, for starting a fire that killed Wilmington firefighters Lt. Christopher Leach, senior firefighters Jerry Fickes and Ardythe "Ardy" Hope.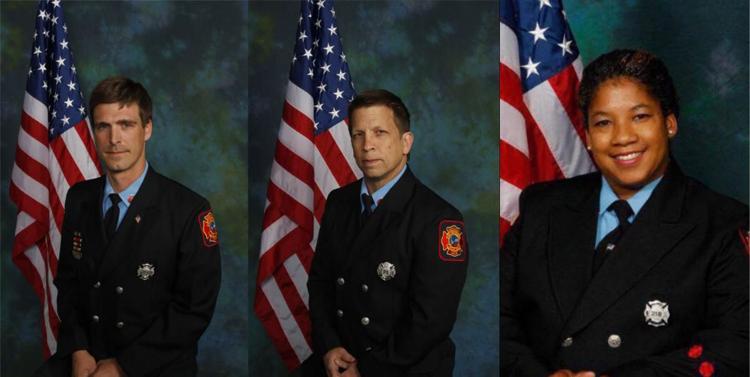 Firefighter Brad Speakman was badly injured in the blaze and retired from the Wilmington Fire Department after a long recovery.
Senior firefighter Terry Tate and Lt. John Cawthray also suffered injuries in the September 24, 2016, fire that Fana-Ruiz intentionally set because she was mad at her stepmother over being forced to live in the basement. In court, it was revealed Fana-Ruiz was high on Xanax and drunk on alcohol when she used body spray as an accelerant and lit a piece of paper ablaze to set her step-mother's wooden dollhouse ablaze.
That fire quickly spread to the rest of the home.  
Firefighters Leach, Fickes, and Hope entered that row home upon the belief that victims were trapped inside. No one was inside the home when the first-floor collapsed, sending them directly into flames on the floor below. Leach and Fickes died at the scene, while Hope suffered severe burns over 70 percent of her body; she died two months later--just four months shy of her impending retirement.  
The firefighters and their families are represented in a civil lawsuit filed against the city of Wilmington. Their attorney Tom Neuberger called this plea a lack of justice and likened it to the state's failure to secure many convictions in the prison riot that killed correctional officer Lt. Steven Floyd.
"So again the criminal justice system will have failed in the death of four public safety officers, with a correctional officer and now three firefighters" he said. "The only hope for justice now is on the civil side of the justice system, with our court case in federal court for the survivors and families of the deceased.  In federal court, our legal team found justice for Steve Floyd, and after eight months, we are awaiting a court ruling on whether justice may be available in federal court against the city for allowing these unnecessary deaths."
The city has vowed to aggressively fight the lawsuit with Mayor Mike Purzycki said the city has already paid $11 million to affected victims and families in medical bills.
Fana-Ruiz's guilty plea came just days after a judge set restrictions on expert testimony regarding whether Fana-Ruiz's confession that she started the fire was forced or false. The judge also determined there was no evidence that her Miranda rights were violated. 
She'll be sentenced in December and faces between 17 years and life in prison. Upon release from prison, she'll be deported to the Dominican Republic, despite public defenders saying she had immigrated here legally. 
Prosecutor John Downs declined comment pending sentencing, but the Delaware Attorney General's Office issued a statement following the plea hearing:
"While her motivation in setting the fire was a reaction to her living conditions and was not intended to physically harm anyone, her actions were reckless, dangerous, and tragically, fatal. After talking with the families of all the victims and taking into consideration their views and the interest of justice, the State and Fana-Ruiz have agreed on a plea that will include a lengthy jail sentence for her reckless action and require drug and alcohol treatment.

Nothing will ever salve the pain of the victim's families or their co-workers. The defendant's guilty plea completes the criminal prosecution that will allow those affected to close this chapter of the tragedy that began on September 24, 2016."
Fana-Ruiz's public defenders, Kevin O'Connell and Misty Seemans, also declined comment outside the courthouse, pending sentencing.  
The small courtroom was packed with firefighters, including International Association of Firefighters Local 1590 Union President Joe Leonetti Jr., who called this a "first step" towards closure and justice.  
"I don't think it's my right to make an opinion on whether I think [the sentence is] harsh enough or not harsh enough...it's not about her today, it's not about the city, it's not about negotiations, it's about remembering the sacrifices that our fallen brothers and sisters made, and the sacrifices their families made, and the injured--mentally and physically, and the guys who do goo work everyday, put this uniform on, and are ready to make that sacrifice again for the city of Wilmington," he told WDEL.
Leonetti said the community and the brotherhood helped the department during difficult times.  
"We still struggle everyday, three years, sometimes it feels like 20 years ago, and sometimes it feels just like yesterday, we have good days and bad days, and we're just trying to move on and do the best we can and make this job safer so we don't have to go through this tragedy again." 
Wilmington Fire Chief Michael Donohue had no comment.  
Speakman was also in the courtroom, in the first row, his wife beside him.  
"I don't think justice will ever be served. We can't get Chris, Ardy, and Jerry back. So she's going to spend a lot of time in jail, and I think we came to a reasonable deal, but that'll never bring any of them back," he said.  
Speakman, who's still undergoing surgery and other rehabilitative efforts, wants to move on with his life.
"I'm going to focus on being with my family and trying to move past this, and support the other families anyway I can," he told WDEL. "I'm going to try and forget her name and forget all about her."