Jim Gardiner, 58, has been out the Coast Guard since the eighties, but described the transition back into civilian life as "difficult."
He's since worked as a machinist and in the dental field, but never in a field he could say he truly loved.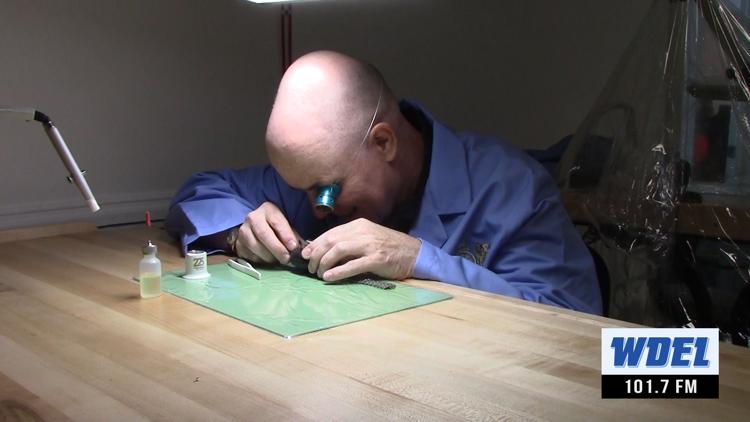 "A lot of the jobs, going from job to job, things that happened in the military kind of contributed to not being able to hold one job," explained Gardiner. "Up until now, I've only been able to be in low-end jobs, low-paying jobs."
The Binghamton, New York, veteran read about the Veterans Watchmaker Initiative (VWI) online.
"I had my bags packed, and I was ready to go," he said. "I've been interested in watches, or in clocks, for a longtime as a hobby."
Gardiner is staying in transitional veterans housing in Middletown as he prepares to start a 14-month apprenticeship class with the VWI. Under the instruction of VWI founder and visionary Sam Cannan and Rick Aubin, a Bulova-trained watchmaker from New York, a handful of veterans are learning the unique and lost art of repairing watches.
The program is the only of its kind in the nation focused solely on the benefit of veterans. Cannon based the business out of Odessa and, after years of his hard work, his dream is finally a reality.
"It's been a long time; it's been seven years to make this happen," said Cannan.
WDEL has chronicled Cannan's steps since 2015, starting with what, in the beginning, seemed to be a lofty idea. Cannan's vision came from the Joseph Bulova School of Watchmaking which debuted during World War II. That school broke ground in 1944, with the first students enrolling after the war. Cannan reached out to Joy Bulova, the widow of the last living Bulova, to ask whether he could bring the dream back to life.
"I've met people that have shared the vision, and I've met people who said I was crazy--and that's OK, because I'm sure Bill Gates heard that. Oddly enough, Henry Ford, who started as a watchmaker, probably heard that in his lifetime, too," said Cannan.
The former Baltimore police-officer-turned-master-watchmaker, who got his expert training in Switzerland, has made it his life goal to help disabled veterans. After trying to establish his dream in several states--including New York, where he was offered a prison in which to base the school but declined because he felt veterans deserved better--Cannan settled on Delaware. He received a building along Route 13 donated by New Castle County, and almost everything inside the building was gifted, too.
"We had to make certain things that are standard in the industry that are expensive to buy, so we had to fabricate what we could to make these things from scraps that we have," said Cannan. "And other companies have stepped up to provide high-tech equipment."
Even the chairs and bookshelves were donated from Temple University. After one year of renovations, the building is a far cry from the garage bays that formerly stood on the property. Now, the small building is home to classrooms equipped with ergonomic chairs, mechanical desks that move to accommodate wheelchairs, bright LED lighting, and a military museum.
But it's the technical skills that are taught in those classrooms that will have the ability to change veterans' lives.
Lynn Gipson, 66, a Vietnam veteran who served in the Army and recently retired in Middletown, heard about the class through a brochure he found at the Wilmington VA; he's excited to take part in the classes that will get underway later this week after Wednesday's ribbon-cutting.
"I love watches; just [want] to see how they're made, see if I can do the program," he said. "When you get older, you want to keep your brain sharp, you want to keep your limbs going, you want to challenge yourself--that's why I took the program."
"When they're excited about it, that overcomes almost everything, and when they concentrate on this, they don't think about their pain anymore, they don't think about their problems anymore," said Cannan. "Having walked that path, that's all the payment I need."
Cannan eventually hopes to expand the program to include housing for disabled veterans so that those from across the country can also participate.
"We just picked up an applicant from New Orleans and one from LA, and we have them from as far away as Dubai," he said.
Gipson wishes a program like this existed in the seventies when he got home from Vietnam.
"The transition has been slow," he said. "So if they would've had a program like this back then, that would've been a good thing."
For others, the opportunity comes just in time to chart a new path for their life.
"I'm excited, I almost think I figured out what I'm going to do with my life when I grow up: this," said Gardiner with a smile.
"When I stumbled into this...it was the only thing that I wanted to do...being a watchmaker took me around the world, and when you think about turning screws in something no one ever sees but another watchmaker...you love what you do," said Cannan. "You never work a day in your life."
A bulletin board in VWI's hallway boasts dozens and dozens of jobs for watchmakers and jewelry repair technicians all over the world.
"If I get this skill, this skill should put me up into a bracket that I've never been in before in my life, and I'll just be able to pick my city, and get a job, and I'll be set," said Gardiner. "I'm definitely going to be probably looking at overseas somewhere."
"Anything you pursue that's positive has a chance to change your life," said Gipson. "It's important to me to keep my mind open and to keep learning. It's hard for Vietnam vets. We came back, a lot of us got wounded, a lot of us are homeless, a lot of us are not doing good, so I want to be one of the guys that...I'm still active, I'm still involved with my life in spite of the Vietnam experience."
For Cannan, he's not doing this for money--in fact, he doesn't get paid a dime; he's doing this because he says it's the right thing to do.
"The rewards I get are in seeing that change when the light goes on, and they say, 'Wow, I can do this, and I can control my own destiny for once in a long time.'"