An accountant-turned-teacher takes her travels to the classroom in an effort to make her students global citizens.
Wendy Turner has taught at Mount Pleasant Elementary School in Brandywine Hundred for the past nine years.
"The age of the kids--they're really curious and full of wonder so you can bring them anything."
Turner, who was named Teacher of the Year in Delaware in 2017, is seizing that curiosity to instill a love of travel and other cultures in her second grade class.
"I teach seven- and eight-year-olds--they're very focused on themselves--so you want them to know that there is a community and a world at large beyond the space that they're in, beyond their classroom, beyond their neighborhood."
She connects her kids to other cultures through literature and through technology. Using Empatico, they connected with a class in Nigeria--something she called a "gift."
"We have the most incredible teacher over there, Oluwaseun Kayode. He is a fellow for Teach for Nigeria, and what they do is they go in and teach in under-served communities for two years because they want to make equitable education a priority in Nigeria," she explained. "It really ignites curiosity in them, and I think it will prepare them for the larger complex world out there. The world is growing smaller because of technology and how we're all so interrelated with trade and everything so I want my students to be prepared for that."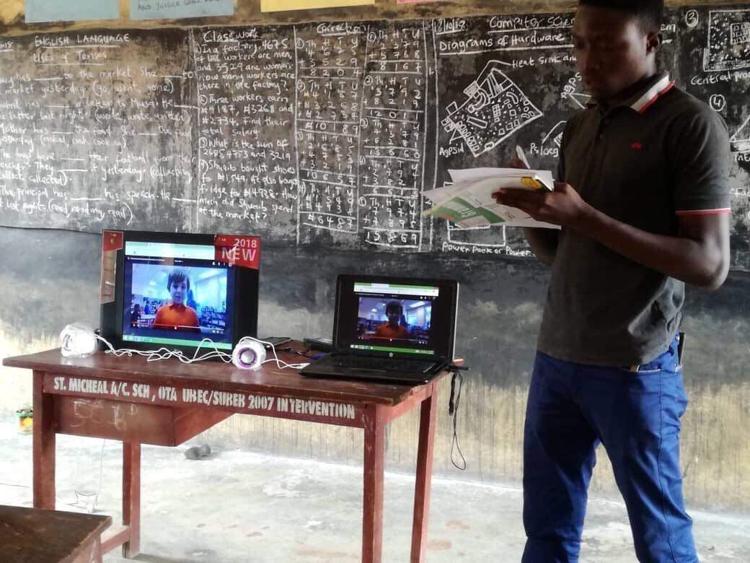 Kids, even those from the FaceTime generation, were shocked that they could connect with a classroom 5,000 miles away.
"There was such joy whenever we were watching a video from that other class--kids waving, kids smiling. And despite our physical distance and our cultures being different; they learned that there were are so many commonalities. They learned that we both like to sing and dance; they learned that they all like to read; they learn that they say a pledge in their class in the morning just like we do. They have classroom jobs-- Their class taught us about Nigerian elections when they were held and connected it to the fact that we have elections here in the U.S.," she said.
Happiness is your first live video chat w/ your @EmpaticoOrg connection in #Nigeria w/ @kayoluwaseundav and his amazing 4th graders. We discussed Nigerian elections and presidents, plastic pollution in the US and Africa and we DANCED together! #sparkjoy #SparkEmpathy #GlobalEd pic.twitter.com/LgyIJ0Rk6R

— Wendy Turner, M.Ed (@mrswendymturner) March 19, 2019
"After our exchanges, I would always do an emotional debriefing, 'well, how do you feel right now?' They were ecstatic; they felt excited, they felt happy, they felt amazed. One little boy told me, he said: 'I didn't think I cared about kids in Nigeria, but I love them. I love seeing them.'"
Turner noted her class is extremely culturally diverse--with students whose parents were born in Argentina, India, Korea, and China as well as students who are African American and Caucasian.
"They noticed that all of the kids in Nigeria were of one race--African--while we were a diverse group of races, and they marveled at that. When you start to say words like 'culture' and 'race' in your classroom it just opens up conversations that are really powerful and necessary for kids to have today in this world."
Prior to these virtual cultural exchanges, Turner said some kids told her they didn't know where Africa was on a map.
"So they've increased their knowledge of geography. They were insatiably curious about everything that we were doing and seeing. We did a reading project in our classroom, and we read our story to them over a video exchange, and they were beaming with pride because they were happy they could share a work product.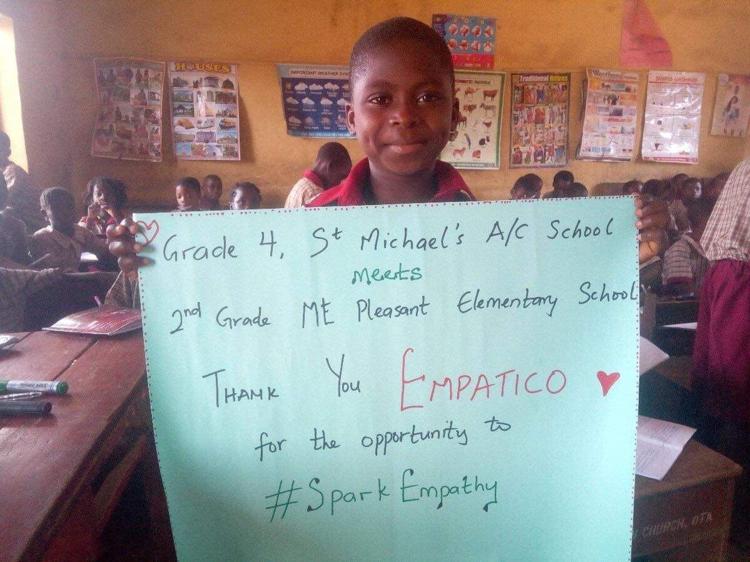 The kids in Africa, in Nigeria, they taught us a local dance that they know. So our kids taught the other students in Africa how to do the floss, so that's something mainstream, fun here in the U.S.," she said. "One student came to me he said, 'I went to the library with my mom this weekend, and I got out this book about Nigeria that I want to share with the class--so I just know they're thinking and doing things that they never would've done before."
"It's nothing short of amazing to think that there's 20-something kids here in suburban Wilmington, Delaware, who have a really positive idea of kids all the way over in Africa in a different country, different culture, 5,000 miles away. I think it's stunning to be able to create that through this Empatico video exchange tool."
And others had interesting questions aimed at creating a better understanding.
They were really interested in the fact that they could speak English, and they wanted to know if they spoke only English, and I said no they actually have tribal languages. So some of the kids in my class actually speak multiple languages--so they connected on that," she said. "A lot of the kids had really short hair and we were wondering why...and they kind of sleuthing out that maybe it was very hot there and that's why it made sense. So I could see those critical thinking and inferencing skills going on.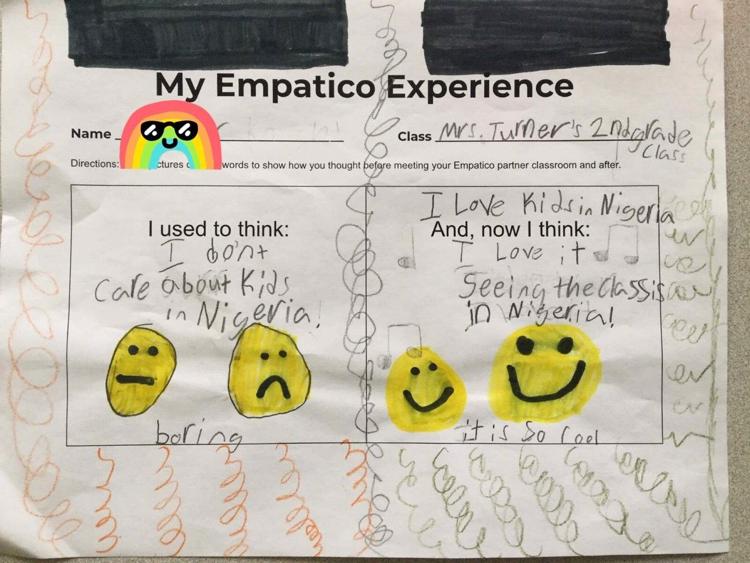 Turner is in South Africa right now along with fellow teachers from all 50 states as part of the National Education Association's Foundation's international study experience. We spoke with her the day before she left, and while she won't get to visit Oluwaseun Kayode in Nigeria, she'll be a lot closer when they connect via Empatico, and she shares her digital cultural exchange with teachers from across the country.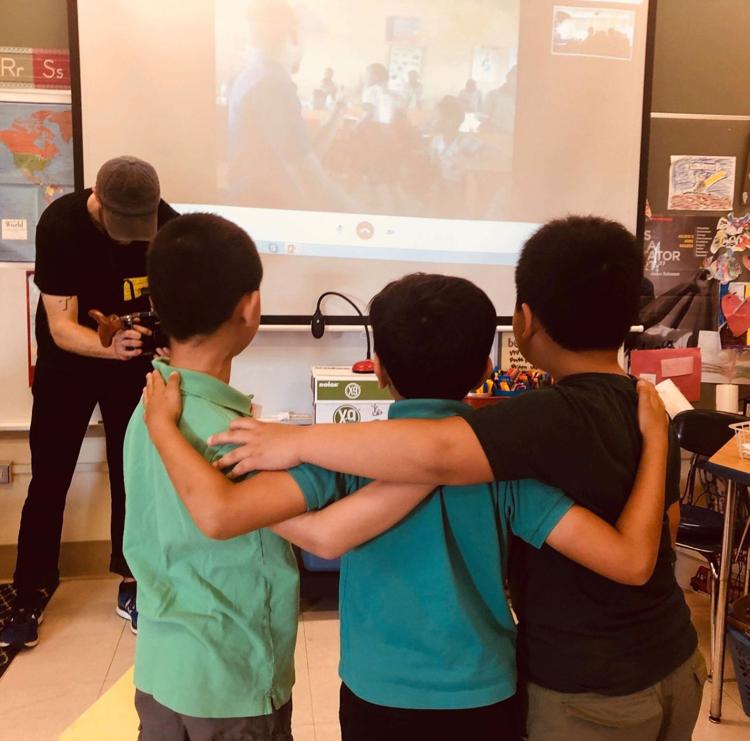 "I think while the impact is broad, and significant, and wonderful on kids, the impact on me has been really significant, so I'm really grateful for that," she said.
She'll also travel to Johannesburg and go on a safari. But she's most looking forward to visiting schools.
"I love connecting with teachers around the country and around the world and just talking to them. 'What's your biggest challenge, what's a strategy you use?'" she asked. "In changing careers...looking for that human reward, having these human interactions for me is so powerful, so we're visiting three or four different schools at all different levels--primary to elementary--while we're there."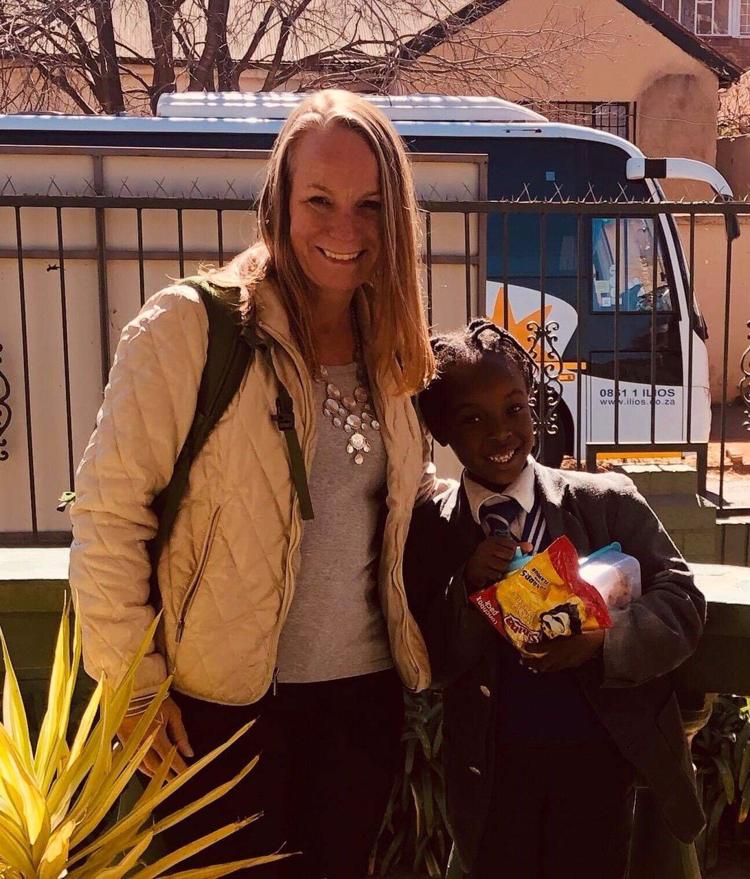 Turner said in going there, she wants to honor what's happened in South Africa. She read Nelson Mandella's autobiography, Long Walk to Freedom, in preparation for her trip.
"Understanding Apartheid, and what they went through relatively recently, we have a lot of things going on with race in our country; we have a history of segregation, and I think something we want kids to do is entertain perspectives, so having me be over there, be in a place where they went through something even more intense and difficult will be something that I will not take likely," she said. "I think it'll be great to talk around a table with other teachers and say, 'What's hard for you? How do you solve your problems? How do you connect with each other? How can we connect together, possibly?'"
Turner is always taking her travels straight to the classroom.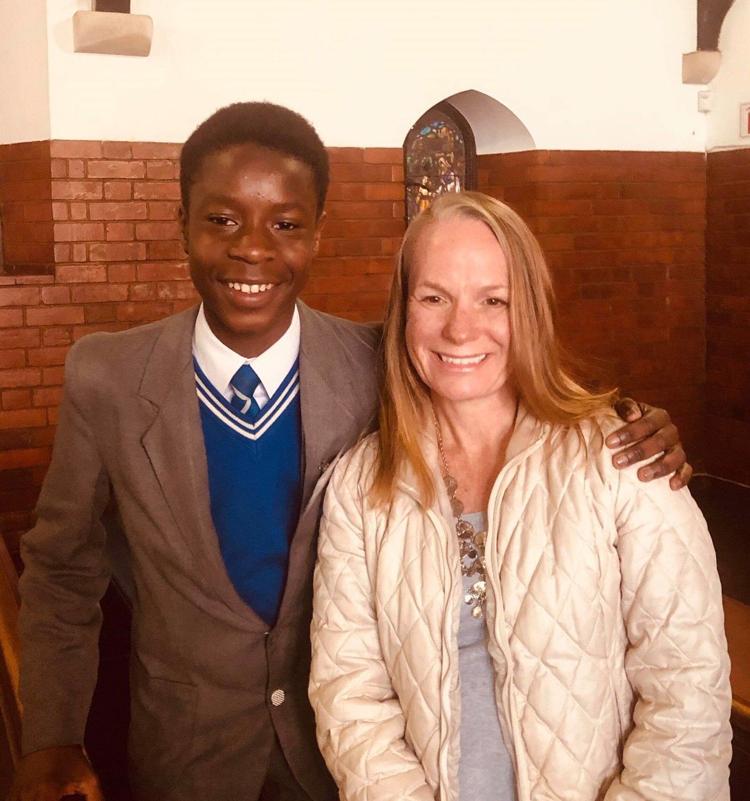 "The biggest thing that we can do is become better people in all that we do, and I think that when you meet people from all around the world, and you activate your own curiosity and you share where you've been and what you do, you are modeling that for kids--and that's really important."
She pointed to a recent family trip to Seattle and Portland, where she took photos and brought them back to her class.
"For instance, we did a unit on bridges, in second grade this year--it was engineering and science. We went over this incredible bridge in Washington called Deception Pass--it was an arch bridge--and that's the type of bridge we studied, so I took a picture of that and I sent it out to all my families to say, 'Here is something incredible that ties into our learning, and this is where it was.' And I want to spark that curiosity in them, and I think when you're braver in all aspects of your life, it transfers into being brave in your learning, you know we want our kids to not shrink away from challenges and to be able to persevere through tough things so I try to share and model that as I go."
Her students are psyched to hear about her trip. She's planning to journal while in South Africa and create a blog upon her return.
"One little girl, I remember, at the end of the school year, she said, 'I really want to go to Nigeria some day.' And so I said, 'You could, you actually could some day.' So would a typical second grader in Wilmington, Delaware, have said something like that without this experience? Maybe. Maybe, not."
This is Turner's first time to Africa, marking her journey to continent number five. All that's left for her, is Asia and Antarctica, and how lucky she is isn't lost on her.
"It feels incredibly exciting; I'm lucky to have a really supportive family who says, 'Go mom!' My husband says, 'Go Wendy, go do this.' I feel a little guilty because I'm leaving, but again I've always liked to explore other cultures and meet people, and so this is fulfilling that dream for me, and being able to tie it into schools ties it in with my passion, my career."
Her goal, in addition to piquing students' curiosity, is to make increase global competency among her students.
"Entertaining perspectives--thinking about empathy and perspective, then you want kids to communicate ideas. I think you actually want to start to introduce them to big problems the world is facing. The United Nations has a group of goals called the sustainable development goals, and there's 16 goals they hope to get rid of really big problems by the end of 2030, and they're things like ending poverty, zero hunger, responsible consumption, peaceful and just societies."
She also wants to encourage kids to take action both locally and globally.
"Once we found out our partner teacher was a Teach for Nigeria fellow, we sent over some supplies they could use in the schools they serve."