With schools gearing up for the coming year and presenting their reopening plans to parents worried about the welfare of their children, Nemours/AI duPont Hospital for Children gathered several doctors to address those concerns. 
"I am happy to be speaking to you to talk a little bit about COVID-19, some of the background on COVID-19, and what we know now, which is certainly a lot more than we knew six months ago," said infectious disease specialist Dr. Salwa Sulieman. "The name of the game here has been, really, flexibility and pivoting and changing and learning."
On Thursday evening, Nemours gathered Sulieman, Dr. Harry Lehmen of Nemours in Delaware, and Dr. Yamara Coutinho of Nemours in Pennsylvania to provide information as the year approaches. The doctors ran down what was known about the disease, some myths that are being circulated, how parents should engage their school districts, and fielded submitted questions during the virtual seminar. 
"So, many of you have probably already made a decision about in-person versus remote learning, because your school districts came out this week with some recommendations, but some of you will have to make that decision, maybe within the next few days," Lehman said. "I think most of us would agree that schools benefit children, but each child benefits from school in a slightly different way. So, for some kids, it's purely learning. That's all they're there for. But others, it's an important social outlet. For some children with special needs, that's their source of services. And for many children, to be honest with you, it's a focus for their athletic and artistic activities, as well."
Teachers and staff are likely more at risk than children, according to the panel. As new information is still being learned about the virus, the situation is ever-evolving, but doctors feel like children are currently in the lowest-risk category.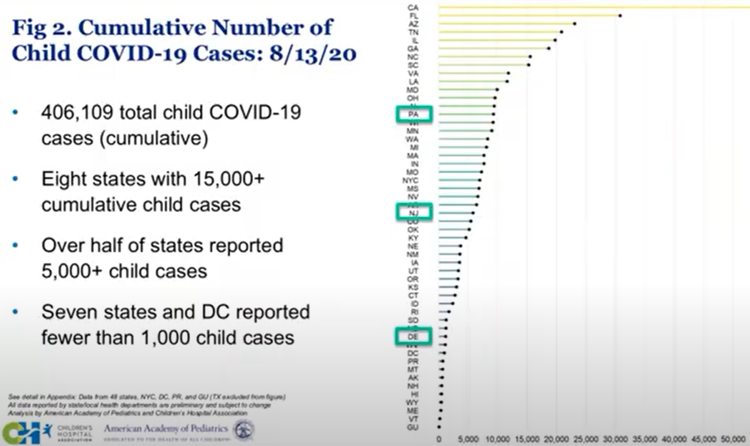 "We are learning a lot more about pediatric cases and, overall, we have much fewer pediatric cases than we do adult cases, which has been a really interesting thing," Sulieman said. "A lot of kids typically get the virus first, or are more susceptible than adults, particularly with respiratory viruses. [It's been] very different for SARS-CoV-2, or COVID-19."
"Unlike children, who most often will have asymptomatic or mild infections with COVID, adults tend to get more moderate and severe symptoms," Lehman added later. "So, prevention of COVID infection for teachers and staff really should be one of the primary aims for each of the school districts. Teachers must remain aware that it's their fellow workers and colleagues at school that probably pose the greater risk--more than their students do--and even contact with family members outside of the school may present a bigger risk."
Districts should also be focused on minimizing the outside contact other adults like parents of children make with inside school buildings--but it doesn't just fall to the schools. Parents should be proactive in ensuring schools are offering additional protections due to the circumstances. 
"It's really important to look at your school district, and look at your school, and what are they providing to...your children," Sulieman said. "What are they doing to prevent the spread of COVID-19? It's really important to make sure that you're able to identify that they can do these things, and they're going through all the measures."
Those measures include wearing face masks, providing hand washing and sanitizing stations, restricting outside visitors, ventilating rooms well, and increasing surface cleaning efforts.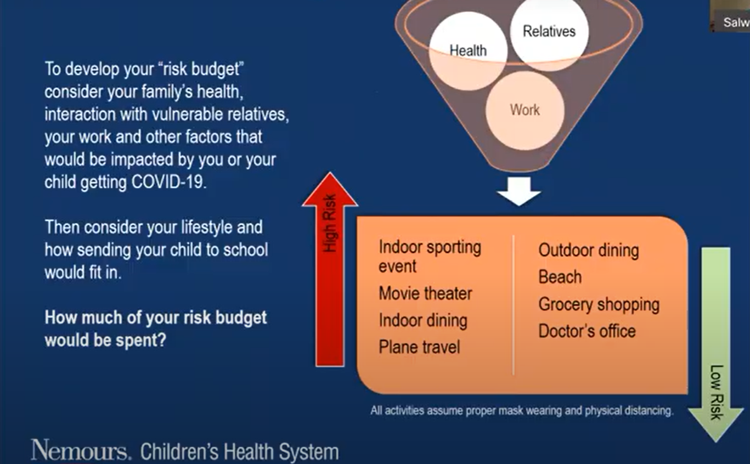 "Universal masking works, okay? We strongly recommend that masks are worn by all students, teachers and staff--and that, hopefully, mask use really should be made part of the requirement to participate in the school. I mean, now, there's just so much extensive scientific literature that supports the use...They're an effective means of reducing the transmission."
Coutinho spent most of her segment mythbusting various rumors circulating online about COVID-19 and its relationship with children. 
"Just like all of you, I also see these things on Facebook and sometimes it's hard for me, even, at first to tell, 'Is this real science? Is this real or is this just something going viral," she said. 
She clarified the use of ibuprofen was fine for people suffering from COVID-19, and said even the World Health Organization was caught up in initial reports against its use, but eventually they retracted the statement. She also said there's anecdotal evidence linked to the suggestion that an additional MMR vaccine might prevent COVID-related deaths, but that there's not enough evidence to support that claim completely. 
"I think, at this point, there's not enough evidence really to say that this is true, and we're not recommending getting that extra MMR vaccine at this time," Coutinho said. "However, we do know that the MMR vaccine is very effective at preventing measles, mumps, and rubella, so you should get that MMR vaccine."