An unsuspecting home in the Bear area was actually a cover for a drug distribution ring with links south of the border, according to federal authorities.
Inside that home, federal agents said they found a first-of-its-kind seizure in Delaware--a 2,000 sq. ft. tunnel with 20 ft. ceilings, housing a significant pot-growing operation with ties to a Mexican drug cartel.
"That tunnel is something that the DEA usually deals with out in the southwest part of our country," said Shawn Ellerman, DEA Acting Assistant Special Agent in Charge. "It was well-made and well-constructed...it concealed...a sophisticated hydroponic marijuana lab, which can produce hundreds of pounds of high-grade marijuana."
The tunnel was accessed through a false fireplace in the residence.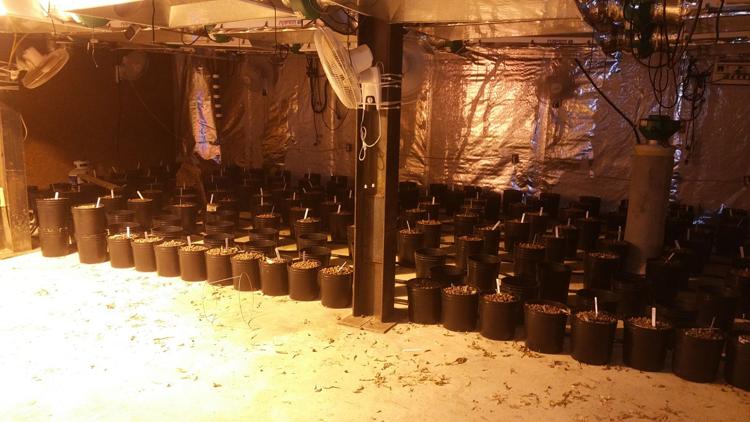 Authorities said the operation was being run by Omar Morales Colon, of Bear--also known as "El Tigre."
Colon and his associates Roque Valdez, of California, and Mohamed Aviles Camberos, also known as "Peditros," of Mexico, are part of the well-known and established Sinaloa drug cartel, authorities said.
All three were charged in a federal indictment with knowingly and intentionally distributing cocaine.
The indictment alleged all three conspired to distribute more than five kilograms of cocaine. Colon is also charged with attempting to possess with intent to distribute cocaine, manufacturing of 100 or more marijuana plants, and possession with intent to distribute marijuana.
Between December of 2016 and May of 2017, authorities said Valdez and Camberos made four trips from California to Christiana, Delaware, to transport cocaine.
"On each trip, they stayed at the same hotel in Christiana, Delaware; on each trip, Camberos and Valdez drove a pick-up truck with cocaine concealed in oxygen tanks that were welded shut," said Acting U.S. Attorney David Weiss.
Authorities said, on the first trip, they delivered 20 kilos of cocaine to Colon.
"[Colon], in turn, distributed that cocaine to customers, many of whom reside in the state of Delaware," said Weiss.
On their fourth trip, on May 6, 2017, agents said Camberos and Valdez met with Colon in the Christiana hotel parking lot, where they were arrested. Authorities refused to release the name of the hotel where the bust happened.
"Agents seized oxygen tanks containing 17 kilograms of cocaine and $382,000 in cash, which represented Colon's payment for the 17 kilos for cocaine," said Weiss.
The arrest was a joint effort made possible through federal High-Intensity Drug Trafficking Areas (HIDTA) intelligence sharing program that involved various police agencies, including the Delaware State Police, Newark Police, New Castle County Police and the Wilmington Police Department.
"They assist us--not only in combating the poison of narcotics in our communities--but...gun violence in our neighborhoods," said Ellerman. "We are in a crisis today more than ever with the opioid and heroin crisis that we're dealing with--one that took 308 of our citizens in Delaware last year alone."
A total of $1 million in cash was also seized in various raids on residences located at 4010 Kirkwood St. Georges Road in Bear, and 614 Rogers Avenue in Aston, Pennsylvania.