Even though the opioid crisis has hit the state hard, the Office of National Drug Control Policy director believes Delaware has had a positive response to the crisis.
James Carroll cited that the response of first responders is to get survivors help after hearing multiple officials discuss the county's Hero Help program.
Carroll said that will eventually lead to success in fighting the crisis.
"I think that's why there's going to be success here. You have the leadership of the senators, of folks in the governor's office, the attorney general, but more importantly the people in the community," said Carroll. So I think we're not going to arrest our way out of this; we're not going to treat our way out of this, we're not going to prevent our way out of this we have to do all three simultaneously."
Attorney General Kathy Jennings wants to launch the county's Hero Help program statewide. Providing Naloxone to targeted areas was also highlighted at the event hosted by Senator Chris Coons at UD's STAR Campus.
Dave Humes with AtTack Delaware, who lost his son to a drug overdose, believes a recovery high school program is needed in Delaware.
Reading, Writing, and Recovery: The Lifelong Journey of Students Combating Addiction
Humes added that more Naloxone is needed in homes communities where there's use and suspected use.
"The tragic reality is the numbers have gotten worse," said U.S. Senator Chris Coons.
Despite the increase in overdose deaths, he said there has been positive momentum.
"We've made real progress in terms of understanding the nature of the addiction crisis in our state; we've made real progress in terms of coordination between law enforcement and treatment and to living resources," said Coons.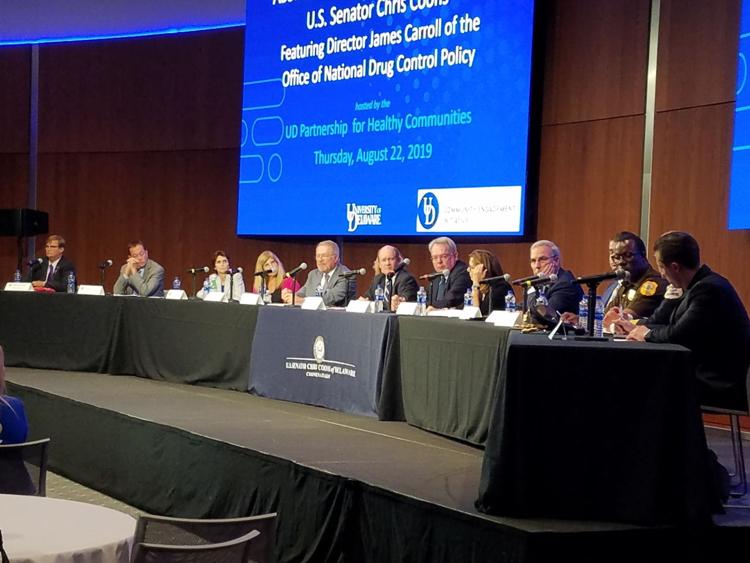 Other positives mentioned at the event were the progress of the Hero Help program in New Castle County focusing on getting help for those who need it instead of just sending them to jail.
Even with those positives, Coons added more work needs to be done.
"We have not yet turned the corner," said Coons.