Storms rolling through the area late Monday afternoon have knocked out power to thousands of customers.  
"Mother Nature is putting on a really impressive show with cloud-to-ground lightning across the area, and of course, the effects of that are power outages, lightning strikes on trees, transformers; we've got wires down in a number of areas," said WDEL Breaking News reporter Mike Phillips.
Live wires were down on an occupied vehicle on Linden Hill Road in Pike Creek.  Mill Creek firefighters were on scene, but couldn't act until Delmarva Power arrived and cut power to the line in order to get those occupants out safely.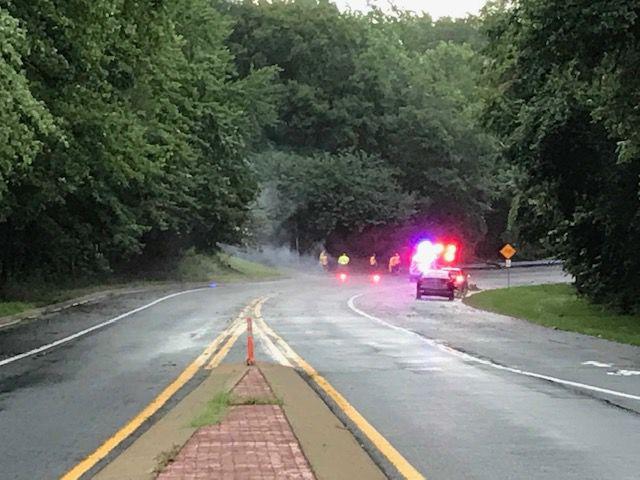 Traffic lights are also out reportedly along Route 4 from Ogletown down towards Newark and Kirkwood Highway.  
A motorist traveling southbound on Route 72 disregarded a Delaware State trooper who was directing traffic at the intersection with Route 4 where the lights were dark due to a power outage.
More than 16,516 customers are in the dark in New Castle County, according to Delmarva Power's outage map.
Those numbers breakdown to:
4,560 customers in Newark
6,322 in the Bear area
3,582 in Pike Creek
A handful of homes are also in the dark northwestern New Castle County.
The lights are slowly turning back on Elkton, Maryland, in Cecil County, where at the height of the storm as many as 4,000 customers were in the dark.  As of 6:06 p.m., 1,407 customers were without power in that area.
A wind gust of 78 miles per hour was recorded at the New Castle Airport at 5:04 p.m., according to The National Weather Service.
Wilmington, DE airport (KILG) just measured a 68 kt (78mph) wind gust! These are dangerous storms, exercise caution this evening and take shelter indoors as they pass! #NJwx #PAwx #DEwx #MDwx

— NWS Mount Holly (@NWS_MountHolly) July 22, 2019
A Severe Thunderstorm Warning in New Castle County and Cecil County, Maryland, has been extended until 6:15 p.m. A watch for those areas remains in effect until 10 p.m.
Flash flooding and damaging winds are also possible with this storm system. Up to three inches of rain could fall in some neighborhoods already made vulnerable to flooding by other recent storms. 
An NBC10 First Alert is in effect until noon Tuesday, July 23, 2019.
These storms follow days of oppressive and dangerous heat that gripped the East Coast through the weekend.
Once the rain clears out Tuesday, expect cooler conditions with highs only expected to near 80. Partly cloudy conditions then on Wednesday with highs in the low 80s.
--
NBC10 contributed to this report.