Plants grow in rows from floor to ceiling under bright, LED lights in otherwise empty warehouses, free of pesticides and immune to the weather.
It's called vertical farming, and the area's first-of-its-kind venture is opening in Wilmington with a broader mission of turning former felons into farmers. 
"We can produce locally grown food without carbon footprint, without pesticide and herbicide" said Ajit George, founder of Second Chances Farm.
The process was illegal in Wilmington until Wednesday, when Mayor Mike Purzycki signed a law allowing these kinds of farms with a prototype nearby of the indoor farm that's currently growing lettuce.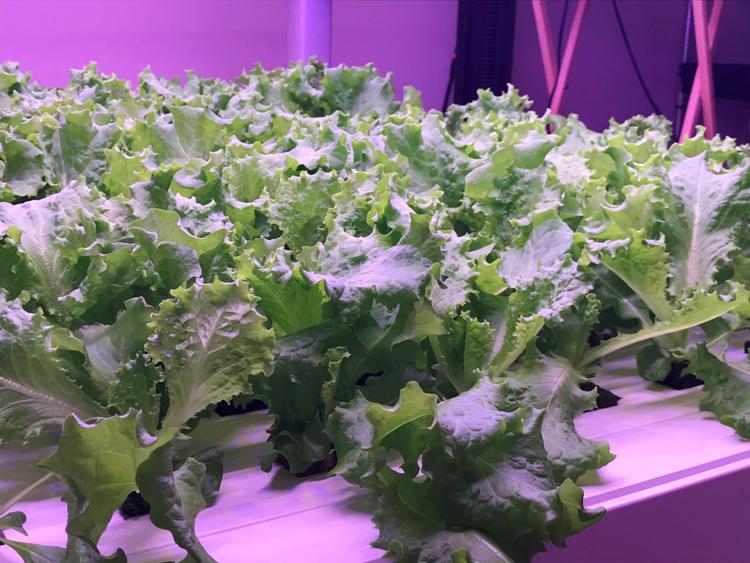 "It's just extraordinarily exciting, and to see that we were able to change the city zoning to make this happen, and it looks like it's really going to become reality," said George, whose envisioned the farm about three years ago.
From 2011 to 2018, George was an organizer of Wilmington's TEDx talks. Three years ago, he first heard about urban, vertical farming, and separately, about the value of second chances for ex-offenders. He combined both ideas in an effort to reduce recidivism.
"Seventy percent of the people released [from prison] within three years are arrested, so we have a revolving door," he said.  
The farm will employ only ex-offenders, who will be paid a starting wage of $15 per hour.
"This whole idea by only working with people who come out of prison, we are not discriminating against them, and we're trying to give them a chance to break this cycle," said George.
Workers will be a part of what's called an "entrepreneurship in residence."
"At the end of the 12 months, they'll be given an opportunity--if they want to continue--to actually become our partner and they will get equity, and we've reserved 15-20 percent of equity in the farm. Our goal is to create compassionate capitalists," George explained.
George, is planning to grow all kinds of crops inside a 10,000 sq. ft. warehouse space in Northeast Wilmington, near Riverside. They're also buying a second building--all of it--as part of a $3 million investment in the first phase of the initiative.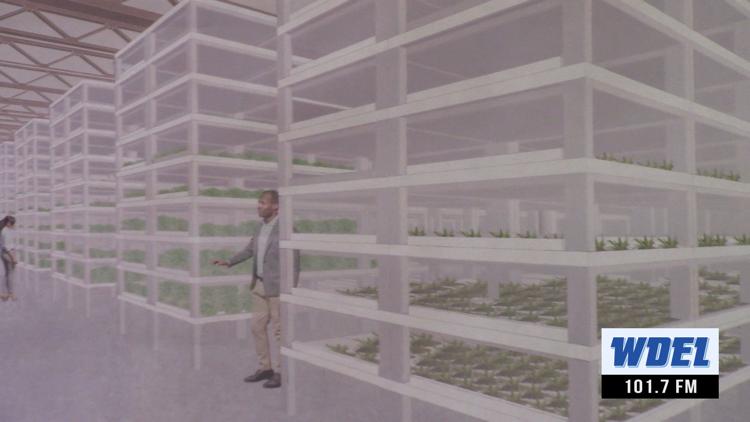 "We can grow strawberries if we want, but the real truth is we will grow what our customers want, so it will be kale, arugula, mustard greens, micro-greens, and all kinds of stuff that our customers want," he said. "We will always be situated in opportunity zones, and we will be situated where there's disadvantaged people, and so it's re-purposing old buildings and breathing new life."
Second Chances Farm's customers will be restaurants, grocery stores that sell organic foods, and a corporate community-supported agriculture (CSA) program.
"We can deliver it to a company's headquarters, every week, 52 weeks, a bunch of produce for their employees, in different packages, and for every package they buy, we'll give one free to a non-profit in a food desert," said George.
Plastic containers of freshly harvested, bright green lettuce were handed out at the bill signing on Tuesday, July 17, 2019. Even the mayor tried a piece.
"Where's the dressing?" he joked before taking a bite.
"Amazing, outstanding," he said while crunching.  
George said his product will be a real boon for farm-to-table restaurants and organic grocers.
"The great thing is because there's no herbicide or pesticides, and because it didn't travel from California, 1,500 miles, it absolutely is nutritious," said George. "The challenge of 1,500 miles of travel is lettuce and all plants lose their nutrition level by traveling that far--so what you see is green--but the green doesn't have as much nutrition. So when you taste within 24 hours of our harvest, it's pretty remarkable."