At his most recent update on Delaware's latest efforts to address the novel coronavirus COVID-19 pandemic, Governor John Carney signed off on the Fiscal Year 2021 budget--the last possible day he could have, the final day of legislative session. 
Joined virtually by Joint Finance Committee Chairs state Senator Harris McDowell and state Representative Quinn Johnson, Carney signed a General Fund Operating Budget of $4.547 billion with $54 million in Grants-in-Aid and a $708 million Bond and Capital Improvements Act, with $344 million of that going to state projects, and $363 million going to Transportation needs.
"I think between us all, we can be proud of the budget we have produced," McDowell said. "There is almost no growth, but there are no cuts. There are no taxes. We have maintained the things that have been put in the budget over the years. All-in-all, I think it's a very, very good budget."
With all of the scrambling done down the home stretch to prepare a viable budget was the most difficult thing John said they've ever faced.  
"We could not have encountered any more of a challenging situation than this, that showed that the budget process that we now have in place in Delaware works," he said. "It definitely will provide a bridge that we've talked about to get through to the next, better phase--which there will be, a better phase. We will get through this."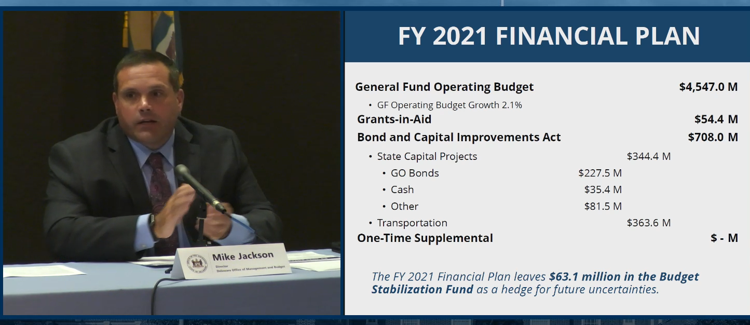 The budget appropriates 98% of the state's available revenues, Director of the Office of Management and Budget Mike Jackson said. 
"[It] just gives us a little bit of a cushion should we experienced any sort of revenue downturn once we move into the fiscal year," he said. "And it is a constitutional requirement to do as such--but in a year such as this, being able to continue to maintain that level of discipline, but also fully funding the state's rainy day fund is a pretty, I would say, remarkable achievement versus the revenue forecast we were facing, as revenue losses that total over half-a-billion dollars across the current Fiscal Year that we're about ready to close."
Jackson had previously described the approach to the new budget as one where every government organization worked together to ensure there were no winners or loses among state services. Everyone sacrificed and saw modest investments where possible which allowed for slightly more than 2% in growth for the coming year.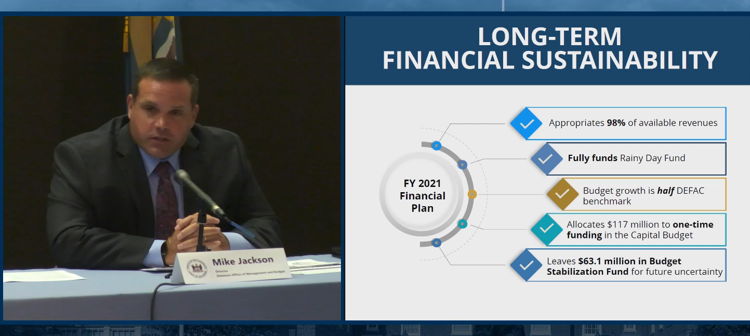 "Much of that budget growth is attributable to costs that are required in our budget, such as changes in our school enrollment, plus a few other areas around debt service and pension costs," he said. "Our Grants-in-Aid Act--which is an appropriation bill that supports fire companies, veterans, a variety of community service providers--is at a funding level that is very similar to Fiscal Year 2020, but it also provides a slight increase in being able to support our paramedic programs throughout each of our counties."
An initial capital and bond proposal from Carney in January of more than $900 million, which would've been a record for the state, was cut to $700 million--still a significant achievement while facing economic fallout from the global pandemic. 
"About half of that will be for roads, and about half of that will be for state agency infrastructure projects," Jackson said, highlighting a number of the things that will remain in the budget. "The Opportunity Fund, which came as a recommendation from the governor several years ago..[to set aside] $75 million over three years to be able to make investments towards English language learners, as well as children living in poverty--the second year of funding remains intact. The third year funding, also at this point, remains intact, to being able to continue to make progress in a critical need within our school system. Investments within the city of Wilmington continued to be maintained on the operating budget side, particularly with the Christina School District...So just to finish up, given that school construction is such a significant part of the capital budget--you will see on this chart that there is construction occurring in every county--I would say the majority of school districts in every district who had passed a referendum is receiving funding based upon the construction schedule that they have. So, it is a capital budget that maybe does not have the same level of funding [as] in the past, but will also allow for some much needed progress."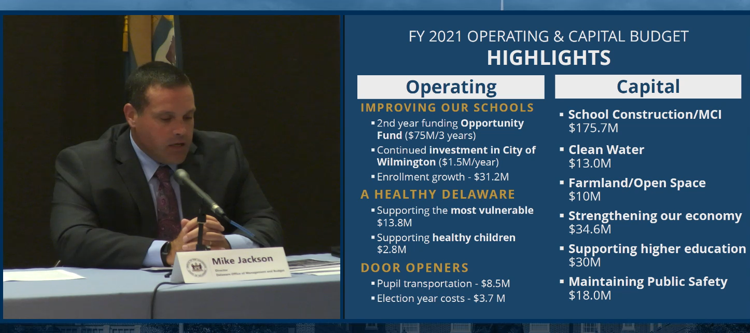 Carney was pleased with all the agencies were able to accomplish given the time constraints and the minimized resources. 
"A year that could have been disastrous from a budget point of view, we were able to meet our commitments and fund the priorities in education, and the health of Delaware in capital construction, which is critically important, as we try to get Delaware's economy moving again," the governor said. "These public construction projects are going to be incredibly important to construction companies in our state and putting people back to work...We were able to get through it without position cuts, tax increases, and while maintaining our commitments to the priorities of the people of our state."