Wilmington Mayor Mike Purzycki sits in his office, staring at a black and white photograph of Rodney Square in its heyday, in the late 1920s.
"It's beautiful, and it's dignified, and it is such a positive, powerful reflection of our city, how we felt about ourselves...there was something really magical about this."
That photograph served as his inspiration for the major revitalization that the central business square is about to undergo.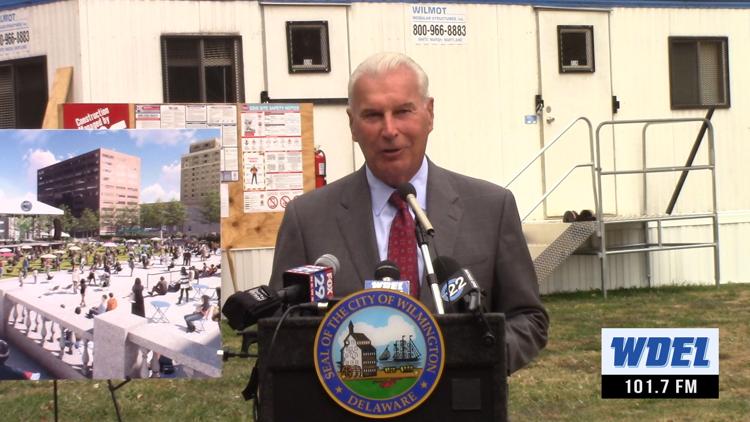 "I found myself coming down here to the square, and thinking how sad that it has been neglected...that it had deteriorated the way it has in small subtle ways. But in my mind, as magnificent as the old photograph was that said this was a dignified healthy place, I got the sense that this is a place that lost its own sense of self," he said.
The $4 million project's phase one broke ground Monday, September 9, 2019, made possible through a combination of city, state, and private donations. The upgrades will include new benches and picnic tables, better lighting, an irrigation system, new masonry and paving, as well as new trees and greenery.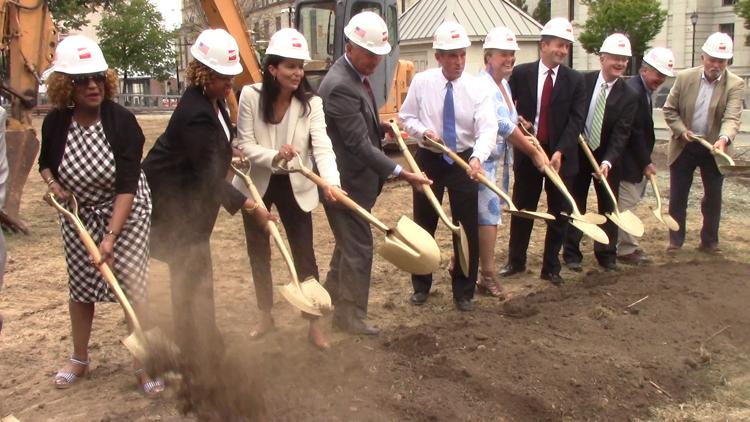 "We'll have a fountain that we've never had before, it'll animate the square, it opens up to King Street--the way it was originally, not boxed in, the way it seems today," said the mayor. "It's going to be welcoming, and I think it's going to be very beautiful, and a place everybody will be proud of."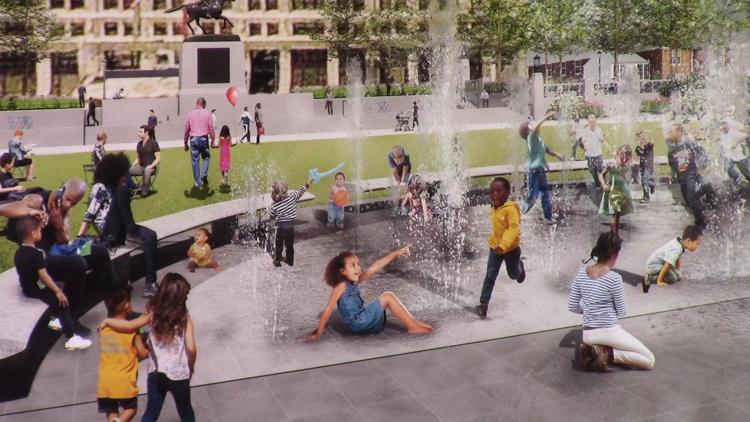 The second phase of the project will cost another $4 million, but Puryzcki called it one piece of an overall city revitalization. He pointed to massive amounts of money spent on revitalizing parks and community centers. Eden Park was the latest park to undergo a major rehabilitation.
"Because when you walk into them and they feel tired and neglected, you start to get a sense...first of all I think our kids internalize that too, but everybody does. Everybody looks around and says 'what's wrong with the city if they can't even take care of cutting the grass at the center square?'"
But it doesn't come without controversy. Last year, the city announced it would relocate its transit hub out of Rodney Square and closer to the Amtrak station, drawing the ire of commuters and city dwellers who say it was done to appeal to corporate interests of companies that surround the square. Purzycki said he'd like to move past that opposition.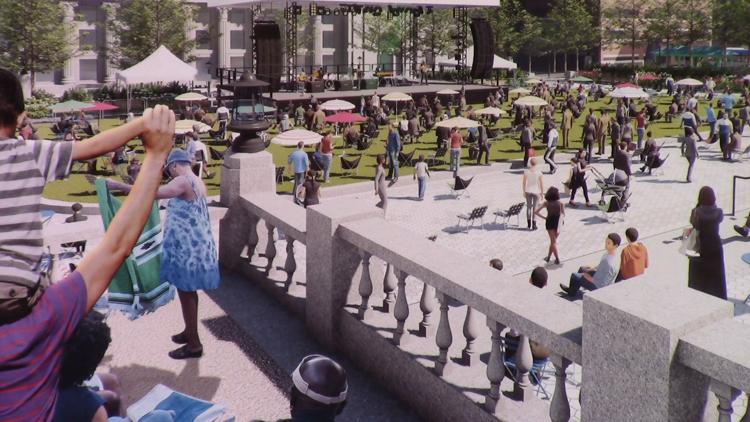 "The same people do the same kind of class griping, and I ignore it, at this point. We heard people who had legitimate complaints, and we respond as best we can," he said. "We have people who try make this about class; the corporate interests versus the traveling public, who they would characterize as poor...these are not mutually exclusive, it's got nothing to do with it, but that's the way the argument has been couched, and I think it's very unfortunate, but that's the world that we're in."
Among the dissidents, former mayoral candidate Kevin Melloy. Melloy took a photograph of Monday's groundbreaking through a chain-link fence noting:
"Im [sic] actually for this amazing upgrade of our central square in Downtown Wilmington Delaware. The way it is being done is example of the divisiveness that seems to continue to be perpetuated since the 1960's. #Weareonecity #Weareallneighbors #itstimewilmington for open doors not #behindcloseddoors #wilmlove"
In an interview, Melloy said he agrees with the decision to revitalize Rodney Square and move the buses out of the area and out of Rodney Square .
"So central squares in cities around the world, that's a place for people to gather, and it's a special space, and place for people to go, and I think when you have the buses its a negative," he admitted.
But, he said, the roll-out of the plan and the lack of a smooth transition showed a lack of sensitivity.
"The people that made this decision, probably may not even ride [the] DART bus, they're not economically disadvantaged or physically disadvantaged, and those were the people who most greatly affected by this change."
He said Governor John Carney's unwillingness to disclose emails surrounding the bus hub move shows the decision was driven by business leaders
"I think it was a lot of pressure probably put on my business leaders. Just because of that it's continues that divisiveness that seems to keep happening in Wilmington, the well-heeled versus the rest of it; I just think it's really sad, and that's something that has to be overcome."
Purzycki noted the revitalization would've happened even if the square remained a bus hub.
"If you look at some of the trees around the exterior of the square, they're dying, and they're dying because they were choked to death by buses that surrounded the square for years and years and years. There's no reason this has to be a congested bus hub. It still services buses, we still service riders, but it's just we changed the density of that use on the square," he said.
"At this point, right now, with the new transit center being built transportation in the city will be better than ever before, but we'll have a nice healthy center square."