Nearly a dozen proposed, and progressing, roadway projects will be the focus of a transportation forum in Wilmington on Wednesday night, as planners seek to promote public comment at related, upcoming workshops.
The Wilmington Area Planning Council (WILMAPCO)--in conjunction with the Delaware Department of Transportation (DelDOT), Delaware Transit Corporation (DART), and the City of Wilmington--will host the City of Wilmington Transportation Open House, on June 20, 2018, from 4 to 7 p.m., at the Wilmington Public Library (10 East Tenth Street).
Among the evening's initiatives, planners will introduce a pair of studies for two areas near the city's East Side.
East 7th Street Peninsula Study
WILMAPCO describes the purpose of the study is for development of "a master plan which identifies and prioritizes necessary roadway and utility improvements" on the land mass framed by the Christina River and Brandywine Creek.
"What we want to do is look at what we do for the future," explained Dave Gula, WILMAPCO Prinicipal Planner. "How can we set the peninsula up for development? And we don't really know what that development might be. There have been all kinds of things proposed over the years, from a casino down to just additional businesses. But we want to look at what parts of the peninsula we can actually use."
Most of the area is in a flood plain and part of a floodway, which has impacted existing development already located there.
"You've got the tidal issues [and] you've got sea level rise issues," noted Gula. "The problems we have are that we have flooding. And it doesn't take a lot of rain to have flooding. Streets, in some places, are lower than the surrounding land--two ducks [were] swimming on the street when I was out there one day after rain last week. And so part of [the challenge] is what should even be out here?"
With two aspects of First State National Historical Park already out there--Old Swedes Church and Fort Christina--better accessibility has become one of the goals for the peninsula.
"People don't even know that stuff is out there," Gula admitted. "And if you can't get to it because of bad weather, it makes it even more difficult to sell."
Some possible enhancements include adding another bridge for improved accessibility or reclaiming some spaces by converting them to soft parks, which have no infrastructure. 
Another possibility is letting some of the land return to nature, as wetlands, so that it acts more as a flood buffer.
A community workshop, to discuss the various options for the 7th Street Peninsula, will be held on Tuesday, June 26, 2018, 5:30 to 8 p.m., at the Kalmar Nyckel Foundation, located at 1124 East 7th Street.
12th Street Connector Alignment Study
Another area suited for a practical solution involves an extension for the 12th Street corridor, where its path east of the city is interrupted at Governor Printz (Northeast) Boulevard.
The issue for which the city, and WILMAPCO planners, would like to address there is how to redirect vehicles from Interstate 495 to the downtown and Brandywine waterfront areas. At present, they are forced to navigate routes through Riverside, Price's Run, and the East Side.
"The area that we're most talking about [for the proposed extension] ranges from the 16th Street Bridge down to the Governor Printz Boulevard Bridge," revealed Gula.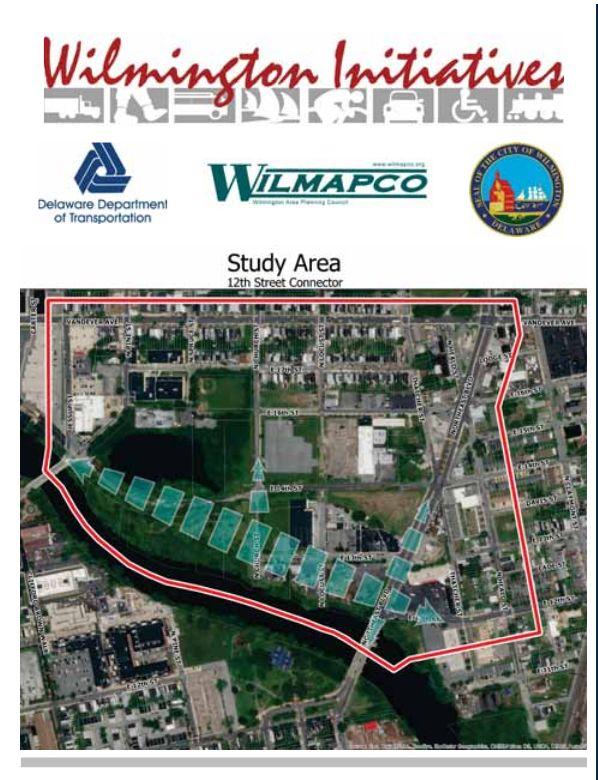 Like the 7th Street Peninsula, this area is also located in a flood plain, as it borders the Brandywine Creek, and has serious storm water management issues.
"But it also has a neighborhood that's impacted by traffic coming in from [I-495] and trying to get into downtown," acknowledged Gula. "So you have a little bit of extra traffic in the neighborhood areas that you don't really want."
The flooding issues, combined with years of neglect with respect to the area's roadway infrastructure, has ensured an incomplete street grid with limited opportunities for pass-through traffic.
"And more importantly, if you're a resident of the area, you can't walk down and enjoy the Brandywine River. It's almost impassible. There are some parks in the area but the pedestrian facilities aren't so good even to get you to those parks."
WILMAPCO's goal, then, is to both maneuver traffic better as well as provide a full multi-modal connection so that residents can get down to the river.
The idea for a 12th Street Connector was previously studied in 2004 and, aided by a grant from the Environmental Protection Agency (EPA), the city has explored the general area for development. The result has been various possibilities for a connective roadway.
"It may look like a boulevard, it may look more like just connecting the streets grids and adding all the sidewalks and bike amenities that the neighborhood really needs," offered Gula, "so that we have low speed, low volume additional traffic through here. We're not going to try to pipe through as many cars as we can [handle]."
The ultimate decision for how the connector will take shape might also be impacted by several vacant Brownfield sites, which are being explored through the EPA grant, as well as whether easements will be relinquished by property owners. 
"What's the best configuration there? I think what people are looking at is the opportunity for a greenway, along that north bank of the Brandywine, is a real possibility."
A public visioning workshop for this initiative is scheduled for Monday, June 25, 2018, 6 to 8 p.m., at the Fletcher Brown Boys and Girls Club, located at 1601 North Spruce Street.
Other Projects at the City of Wilmington Transportation Open House
Five Points: Safety and capacity improvement study
9th Street Enhancements: Phase 2
Brandywine South Pedestrian Improvements
Concord Avenue Streetscape: Phase 2


 

Old Brandywine Village Streetscape
Southbridge Streetscape: Phase 2
Walnut Street Pedestrian and Streetscape Improvements
Interstate 95 Viaduct Improvements