Replacement of a crumbled stretch of Route 141 begins a period of prolonged restrictions next week, as the multi-phase project resumes near Barley Mill Plaza.
The Delaware Department of Transportation (DelDOT) announced that the project's contractor, R.E. Pierson Construction Co., of Pilesgrove, New Jersey, will first close a single southbound lane on Centre Road, between Montchanin Road from Lancaster Pike, beginning on March 12, 2018. This temporary restriction is to allow crews to prepare the roadway for a long-term counterflow configuration.
"The northbound lanes are going to be completely closed, beginning on March 15th," revealed C.R. McLeod, DelDOT's Director of Community Relations, "and one lane of northbound traffic will be shifted over to the southbound [side]."
As a result of the shift, southbound traffic will continue to use a single lane of travel through the affected area.
"That [configuration] will remain in effect likely until sometime this summer," McLeod added, "when the new northbound road surface has been completed."
At that point, the process flips, closing both southbound lanes and allowing two-way traffic on northbound Route 141.
________________________________________________________
The need to reconstruct the roadway arose from the gradual degradation of a series of earlier repair efforts.
"What you're seeing here is just an example of how the joints in the road surface have failed," McLeod illustrated. "And we're at the point now where it's beyond patching.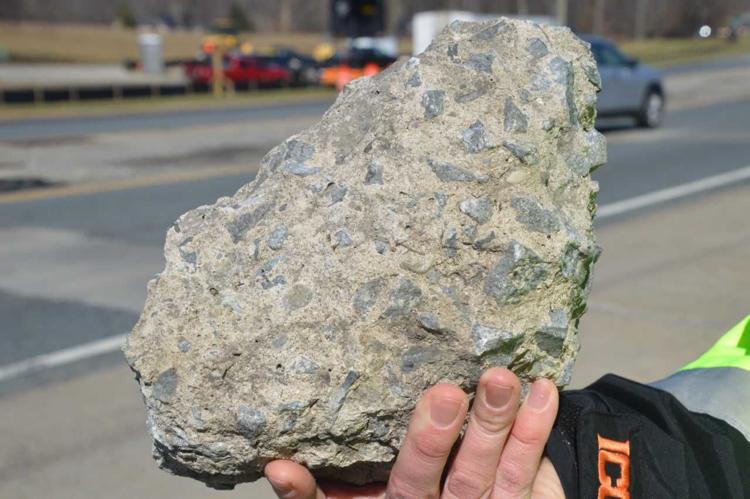 "As you're seeing, we've got large pieces of concrete that have broken out of the surface here. And after numerous years of patching, even putting a layer of asphalt down over top of the failing concrete, we're at the point where the entire road surface has to be replaced. There's no saving it."
In order to replace the pavement, crews will employ a technique known as 'rubblizing,' which completely penetrates the existing road surface into the underlying base, sub-base or sub-grade layers. The process is typically used in full depth reclamation (FDR), where the rubblized materials are reused. 
In this application, however, the rubblizing is being performed as a means to create a blank canvas for new road surface materials.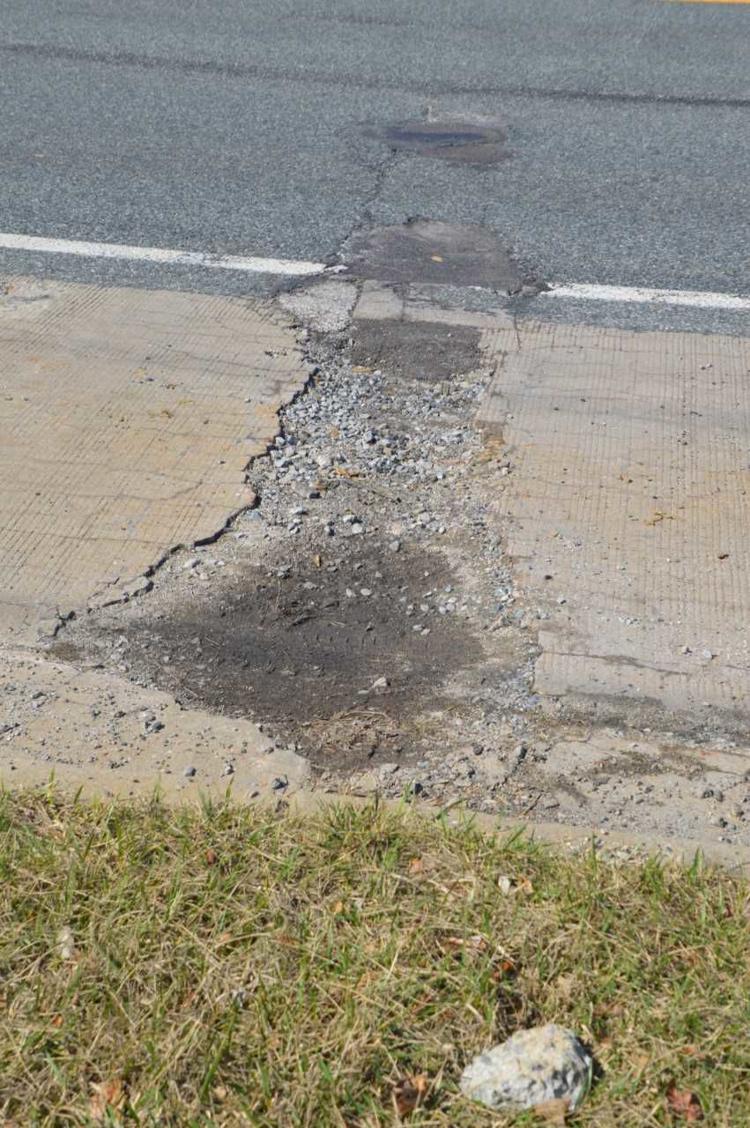 "On top of the lanes is hot mix, but there's concrete pavement underneath of that," explained Kevin Lindell, DelDOT area engineer. "That will all be coming up. The existing stone base underneath of it will be reused, because [we] took pavement cores and determined that it is good material underneath. But then we're paving back over top with the concrete pavement."
____________________________________________________________
In addition to the contraflow configuration, traffic will also be forced to endure several related closures. For example, the interchange ramps at DE-52/Kennett Pike, near Greenville, will be closed in relation to the directional closures on Route 141.
"Morning traffic that usually [takes] 141 and takes [Route] 52 into the city, that ramp will be closed," shared McLeod. "And then also, if you're on 141 north and you're trying to go to Centerville, or north up 52, that ramp will be closed."
Instead, motorists will access DE-100/Montchanin Road in order to gain access to Kennett Pike. Conversely, when the southbound lanes of 141 are closed to traffic starting this summer, ramps to and from Kennett Pike will also be sealed on that side of the interchange.
"We're anticipating two major choke points for this traffic," McLeod elaborated. "One being Montchanin Road, as that will be utilized for everyone that's trying to get to Route 52 (and vice versa). And then, as we saw during Phase 1, eastbound Lancaster Pike--coming up to 141--can expect major delays, possibly back towards Centerville Road. As again, the turn lane will be reduced to one left lane, and then they'll be merging into one lane on the contraflow, on the current southbound lane. So it's not going to be pretty; that's our message."  
Traffic will be encouraged to bypass the contraflow arrangement on Route 141 by using nearby collector roads between Routes 48 and 52, such as Hillside Road, Centerville Road, and North DuPont Road.
"Motorists should start planning ahead now," McLeod advised. "It is going to be a significant delay. They're quickly going to find that their commute time, along this less than two mile stretch of road, may double, or even triple, from what it usually takes.
Although the next two phases of the $17 million project are expected to last until November 2018, McLeod, and DelDOT, expects that the payoff of a new and sustainable concrete road surface will be considered worth any temporary inconvenience.
"Our hope is that motorists will quickly adjust, use some of the other roads to get around this during this period of time, and understand that this is really the fastest way for us to get this work done. So that we'll have a completely new road surface, and we won't have to come back out here for another 25 years or more."