Concerns about safety and mobility at a major intersection south of Newark has presented several proposals for reconfiguration of the problematic area.
The junction of the US-40 and DE-896 corridors became the focus for the Delaware Department of Transportation (DelDOT) long before it was the topic of a public workshop last May.
"Back in the early 2000s, there was a Route 40 steering committee that had formed, that looked from the Maryland state line along the corridor to [Route] 72," explained Breanna Kovach, DelDOT group engineer. "They identified different locations along the corridor that needed some improvements."
Planners began to develop revised designs for the intersection of Pulaski Highway and South College Avenue-Summit Bridge Road after recognizing such triggers as traffic operational deficiencies, which have since been projected to worsen by 2040, as well as crash statistics.
"We took a look at a three year time period, from October 2013 to 2016, [that showed] about 300 crashes," Kovach shared. "But within the intersection alone, there were 132 crashes in that three-year time frame, which ranged anywhere from angle crashes to rear-ends. And you see a lot of those front-to rear crashes on 896." 
Over one dozen alternatives were originally developed by DelDOT, in partnership with the Wilmington Area Planning Council (WILMAPCO), which addressed both at-grade and grade-separated solutions. The possibilities were then whittled down to the three proposals presented at workshop through a conflict point analysis.
"[With] safety being a big factor, we wanted to try to remove as many different conflict points as we could," Kovach admitted. "Which is what we have [now]. We've got three different solutions that are grade-separated (one portion elevated over the other)." 
Alternative #1
DelDOT has likened it to the interchange that currently exists at Pulaski Highway and Del. 1.
In this scenario, the Route 896 lanes would be elevated over Route 40, thereby eliminating the need for traffic signals on either of those legs. By reducing the number of traffic signals at the intersection from four to two, the number of phases for the traffic signals which remain are also cut in half.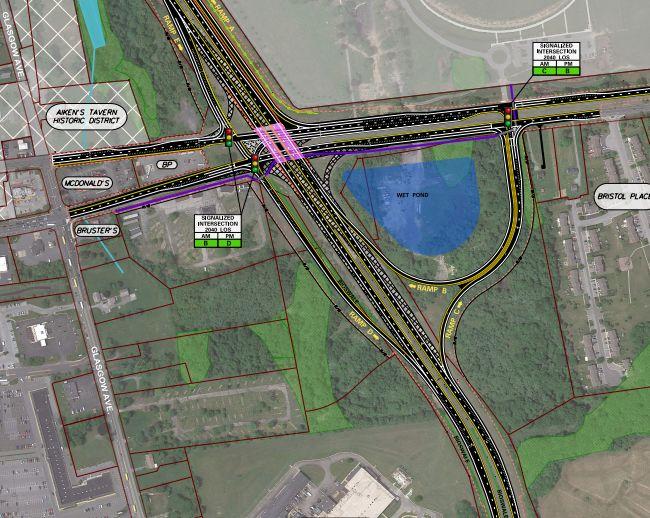 Another aspect of the configuration addresses excessive peak-time waits for left-turning traffic from eastbound US-40 to northbound DE-896.
"Right now what we're proposing is you actually go through the signal on eastbound 40 and you continue to a new light across from Glasgow Park," described Kovach. "[At that signal is] a single loop ramp which takes you to 896 northbound." 
The loop ramp will also employ a corresponding exit from northbound 896 onto Pulaski Highway and,  even with an additional signal, planners expect traffic to flow seamlessly throughout the configuration.
"There's less movements that are occurring at these signals," reminded Kovach. "And when we do our models, we take a look at the signal timing and how these signals talk to one another. And with having less movements at each of these signals, we're able to push traffic through much faster than what you see today."
In consideration of the cost for such a design, DelDOT has projected this alternative would carry a price tag of $56 million, which translates to the cheapest option.
Additionally, it would be likely the easiest to construct, resulting in a two-year duration, require limited to no property acquisitions, and best satisfy the needs for bicycle and pedestrian traffic.
Alternative #2
This option is known as a Single Point Urban Interchange (S.P.U.I.) and, much like the first alternative, incorporates a full elevation of the Route 896 lanes.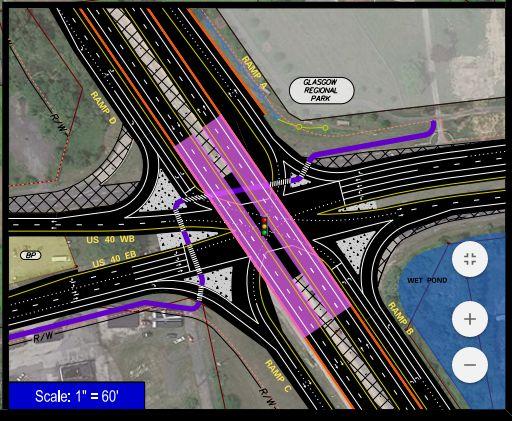 One signal would then control all of the other movements underneath the 896 bridge, and the design would still effectively accommodate bicycle and pedestrian traffic.
The tighter footprint necessary for such a design would likely increase the project timeline beyond a two-year duration and would bear a cost of approximately $67 million.
Still another factor for DelDOT to consider would be the necessary acquisition of the BP gas station located inside the divided highway property on Route 40, just west of Route 896.
"That's necessary because, again, the way that the footprint aligns, if you were to provide access to the BP gas station, it would be conflicting with several of the movements [at the intersection]."
Alternative #3
The last alternative is what Kovach described as "unconventional," since it incorporates two levels of traffic signals.
"[Route] 40 eastbound, starting at Glasgow Avenue--at that grade at the intersection--that actually starts to get elevated," she indicated, "with eastbound US-40 and southbound 896 starting to go up in grade, and have this signal at almost a second level."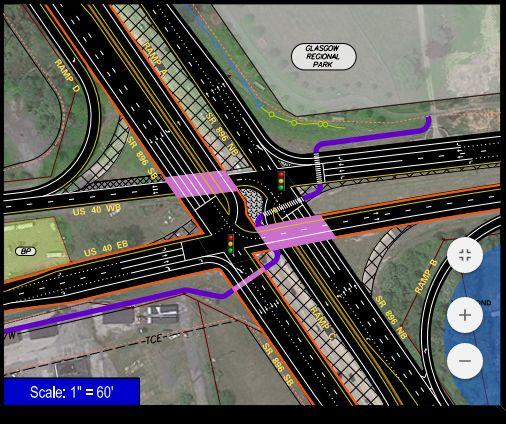 The opposing directions of both corridors would remain at-grade, however, which would still allow for safe movements for all directions, phased on two separate signal cycles.
This scenario would require a total acquisition of the BP gas station property as well as present a challenging construction schedule.
"It is, and would be, the most difficult to build, from a constructability standpoint," Kovach conceded, "trying to figure out how to maintain traffic through construction. Because of that, the construction duration would be a little longer--we're thinking three years." 
Furthermore, the cost estimate of this option would exceed the others, by at least $1 million.
Still, with what motorists and residents must endure presently, DelDOT found that workshop attendees were receptive to the various aspects of each alternative.
"Many of the people who live in this area are very excited for this to occur," Kovach revealed. "It is much needed. Some people [at the workshop] were concerned about the durations of construction. And we did hear a little bit about confusion with regards to Alternative #3. But overall, we had a good turnout. Again, I think people are just excited to get this project started.
"From an operational standpoint, people waiting in traffic every day, on the way to work, can be frustrating."
The preferred alternative, and its initial design, was expected to occur by the end of Summer 2018.