What is America's current place on the world stage? At the fourth annual U.S. Global Leadership Coalition Mid-Atlantic Regional Summit held Monday, officials from across the spectrum attempted to identify where the country stood, and how it could regain prominence again heading into the future.
At the top of the list of concerns addressed November 16, 2020, was the United States' struggling response to the novel coronavirus COVID-19 pandemic. 
"Our president's failed leadership in terms of being a role model; of spreading reliable information; of listening to his COVID advice team; of deploying the resources of our national government and engaging our nation in an effective response has marked us both internally and externally in a way that has genuinely harmed, not just the American people, but also our standing of the world," said U.S. Senator Chris Coons, a featured panelist of the summit. 
Having America at the reins of a global response would help ensure an equitable response, especially in developing nations where any kind of special requirements for distribution would need to be handled with care.
"If you support a vaccine, [but] you cannot use it properly, it's going to be a major issue," said Dr. Agnes Binahwaho, of the University of Global Health Equity."[The] U.S. is a leader in health service, and also in guidance for health service delivery. Those vaccines will have specific guidance; how to give it, how to provide it. If some countries cannot protect--and we plan to protect health professionals around the world first--we will not, as a planet, be rid of this pandemic."
Coons assured attendees President-Elect Joe Biden would lead the country through the pandemic by taking scientific recommendations seriously, rejoining the World Health Organization, and taking a lead in the global public health response while doing so equitably. 
"The United States long had an earned position of global leadership in public health," Coons said. "But we've abdicated a fair amount of that in the last year, and by getting our own house in order, and engaging actively in a positive and engaging way with the world in our public health response, I think we can both turn the turn the tide of this pandemic globally and re-engage in a way that reimagines our role in public health."
Coons said internally remedying the hold-up in the transition of power would be beneficial not just for America's global image, but for the benefit of the population of the United States. Leadership that takes over with a clear picture of the overall landscape can begin addressing issues more quickly.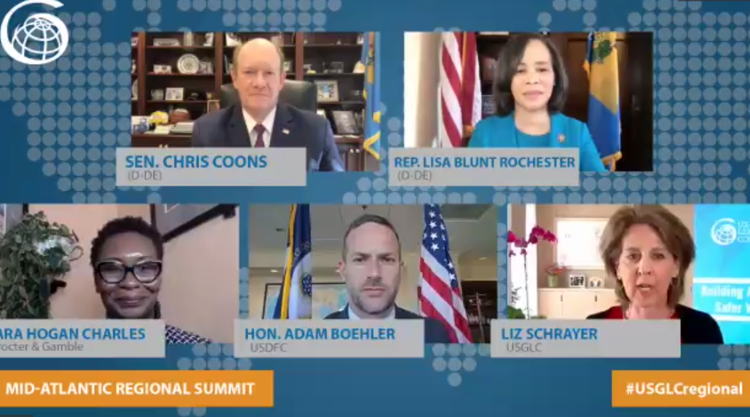 "President-Elect Biden and Vice President-Elect Harris should be getting the presidential daily briefing, which is the highest level of intelligence briefing that we have, and is traditionally given to a transition," he said. "We have to more tightly coordinate between the outgoing and the incoming administration, or we risk doing a terrible job at the handoff. Dr. [Anthony] Fauci spoke to this on television...where he said, think of it as a relay race where, if we continue on our current trajectory--where President Trump just refuses to engage in a real transition--you literally have the folks who are running the race stop, drop the baton, and then the Biden team has to route around and find it, instead of the sort of smooth handoff that would actually be in the best interest of the health of the American people, and our standing in the world."
It's also important to reinvest in those agencies and networks that provide an opportunity to protect lives, said. U.S. Representative Lisa Blunt Rochester. 
"The major thing is that we need to have a global focus again," she said. "That we are all in this together and that we're all connected. And that means investing in and supporting those development agencies that help...[like the] State Department, beefing it back up so that it can do the work that it does, as well as looking at a global strategy for how we deal with this pandemic and us, as the United States, really playing that part and being invested in that."
So many pieces of the puzzle are intricately fit together that managing to address one common issue helps address a number of others, which benefits everyone, the United States included. 
"When you look globally at the things that we can do to create jobs and wealth--which helps those emerging economies provide the capital that is necessary on the ground in other countries, but also create the environment for the private sector here to do business, look at our intellectual capital as well in the exchanges--that can happen there," she said. "It's a win-win. It's our health. It's the climate. It's our economy, as well as our security. All of those are intertwined together, if we get back in the game in the way that I believe we're about to, which makes me very excited."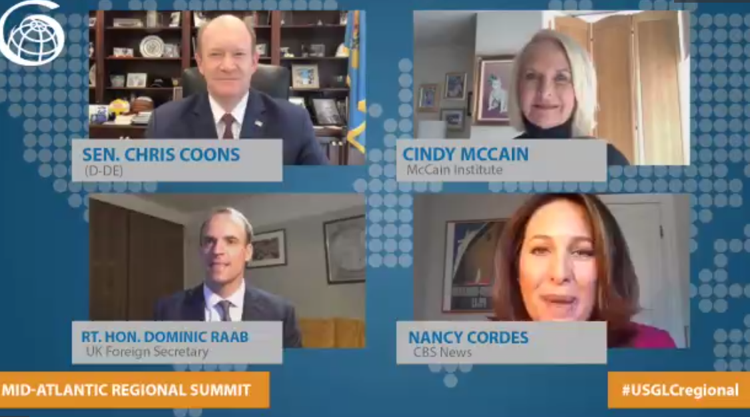 By adopting a "values-driven approach," international work becomes easier as isolationism is replaced with an ethic the the rest of the world sees as a genuine desire to better the world for everyone. 
"Right now, what's happening is, because we are so isolated, and because we've kind of stepped away from [working together,] those who are most vulnerable in this world are the ones that are suffering the most," Cindy McCain said. "So values-driven leadership in any way, shape, or form is a must and, I believe, something that we can work towards. Now, we have a long way to go...We've taken 10 steps backwards and, as a result of that--we see a lot of people that are that are very, very, not just vulnerable, but that have been affected by it completely--that we've lost to all this."
She said the coming administration should go a long way to healing some of the damage that's been done and putting the United States in the driver's seat when it comes to a global, unified response to any kind of threat.
"This new administration believes in not just working across the aisle, but making sure we talk to everybody on these issues, which is something we were not doing at all," McCain said. "So, with the help of Senator Coons and others within the United States, I'm not just hopeful, I'm excited, because there's been so much damage done. I look forward to mending and healing these international issues and moving forward."