The Delaware Attorney General's Office has opened an investigation into in-park trailer moves in Glasgow Court Mobile Home Park several years ago which a WDEL investigation revealed left some residents without heat, hot water, and even the legal ability to live there.
The revelation came to light during a meeting earlier this month between state and local elected leaders, including New Castle County Executive Matt Meyer, State Senator Bryan Townsend, State Reps. John Kowalko and John Viola, County Councilman Dave Tackett, other county officials, and representatives from the attorney general's office.
"I told the new attorney general, 'I believe we have a fraud crime here, people have been taken advantage of,'" said manufactured housing advocate Bill Kinnick. "It was verbally announced that there was an ongoing investigation, and they couldn't discuss anything further."
In a statement, Delaware Department of Justice spokesman Mat Marshall confirmed the investigation to WDEL.
"Our office shares the concerns of other state and local agencies about issues in Glasgow Court, and is reviewing them," said Marshall.
Landlord Kelli DiSabatino's attorney David Zerbato said he was unaware of any investigation, particularly one involving Glasgow Court. He added the attorney general's office had not contacted them.
"The moves were done by third parties with the payments being made directly between the [Delaware Manufactured Housing Relocation Trust Authority] and the homeowners," said Zerbato. "As is no secret, as she discussed at our last meeting, Kelli shares many of the same concerns as the residents and has taken substantive steps, including very recent action, to help alleviate and cure issues caused by others," said Zerbato in an email. "We are continuing to monitor the situation and intend to fully cooperate should we be contacted by the AG's office as we already have with NCC regarding similar issues."
Kinnick has called what's happened "criminal."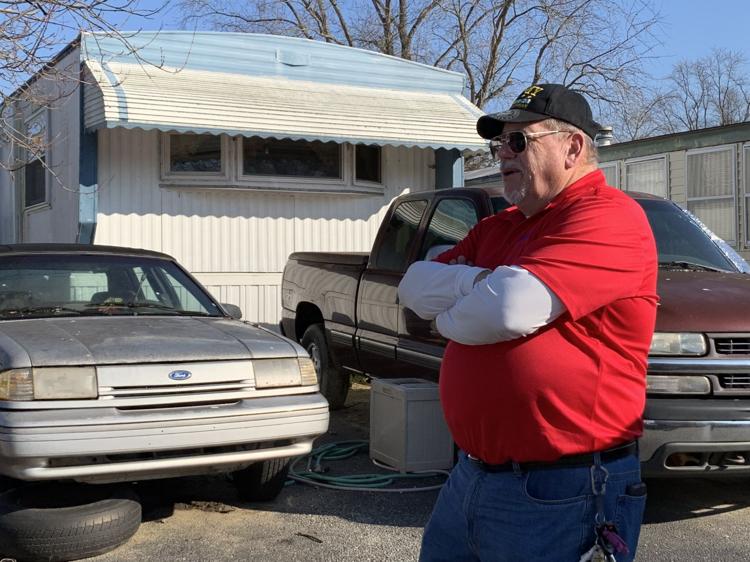 "The information that I provided is that these people paid money to be moved through a trust fund, and [the moves] were not completed," he said.
Greg Sutton, with the Delaware Manufactured Housing Relocation Trust Authority, confirmed to WDEL that he was aware of the investigation.
"The AG's office has asked me for certain information, records...but as far as fraud, I'm not aware of any fraud," said Sutton, who noted he assumed his role only two-and-a-half years ago, well after the in-park moves were made.
Kinnick insisted the moves should have never happened because they aren't legal.
"The [trailers] that [were] moved to a new location in her community should have been moved to another community...that was the option that they should've been given, but they weren't. They were only given an in-the-park move," he claimed.
But he noted there's a lot of blame to go around here.
"All the players had something wrong because one: there was no follow-up, no inspections, they just assumed that everything was done. They paid the mover, and the mover, basically, took the money and ran," said Kinnick. "Ninety-percent of this would be the mover because the mover made a contract with the resident to move them, relocate them, set them up as if they were never moved, and in a lot of those places that didn't happen. Senator Townsend said-- 'If it wasn't for Amy Cherry doing this investigation, we would've never known.' That's pretty sad."
Since WDEL's investigation, DiSabatino has stepped up and fixed the properties, meeting the hasty deadlines set by the county. In an exclusive sit-down with us earlier this month DiSabatino said she thought it was unfair she was being held responsible for many of the issues. Her husband, Robert Redick, of Capital Builders, had pulled the permits for the moves, but did not relocate any trailers.  
"I mean, they don't have heat, correct? Nobody else is stepping forward and taking responsibility or liability--not the county, not the individuals that moved the houses, and so what's left to happen? Should I just say, 'No, I'm not going to do it,' and let's go to court and fight it?" she said. "My residents are not able or capable of taking care of these matters themselves, which is one of the reasons why I've sat back and not said anything because I've tried to work with the county, and we've tried to work with our residents, and I'm in a position to do what I can do," said DiSabatino.
George Haggerty, Assistant Land Use Manager with New Castle County, detailed what's been fixed in the park from hot water heater and plumbing work to permanent heating sources being added.
"They sent another licensed contractor in to obtain the permits; they got the permits; he went out and...tightened down the tie-down straps that were there already, and he observed that here are some units that don't have heaters permanently working. All of the owners indicated that the heating system did not work before it was moved to our inspectors, and indicated that it did not work now. We said, 'We appreciate that, but we are certificating it to be inhabited, and it needs a permanent heating structure inside if it,'" said Haggerty. "What we're pretty much convinced of is many of them may not be working now...because what we found out through this process is the power company...Delmarva is generally a bit more forgiving, in terms of arrears payments, than say the propane company or the oil company is...they were all energized to the point that they were functioning."
Because the moves occurred years ago, it's virtually impossible to know what was functioning prior to the move versus what's functioning now, and Tackett had said, after so much time has gone by, erring on the side of the resident was the right thing to do.  
Meanwhile, the county is working to ensure something like this never happens again, including making changes to its computer system and procedures.
"The final Certificate of Use inspection...we would do that before they would release the money. If we're dealing with relocation funds of monies in the future, we think a good policy would be to have that sign-off from us at the end before [the RTA] releases the money. I think [the RTA] has embraced that idea, taking it back to their boards," he said. "We're actually still looking at some of systems, internally, and finding out how we can do it better. We have made some corrections from the computer standpoint to kind of ring the bell for us to make sure that we're not sitting out there a year-and-a-half, two years later...so we took our lumps and recognized what we needed to do to make this better...I will say that everybody that was there...had a unit that was livable, or they were living in those, but were the i's dotted and the t's crossed, you make a really good point that they weren't, so we went in and dotted the i's and crossed the t's."
"If there is anything to take from this, you found government and they screwed up," he laughed. "OK, that's good. Most people believe that's the norm for us. We try not to do it, but occasionally, it does happen, and we do that, we gotta put our big boy pants on, admit that we did it, and go about our business and try to get it corrected, which is what did," said Haggerty. "But the real issue is the poverty that exists in those areas...and it's kind of tugs at you a little bit, actually, when you see it."
But Kinnick said while residents' physical problems with their units may be fixed, they've still suffered.
"I mean, yeah, they took ownership, but it's kind of late, after five years. They had five years of living in devastation. Just because you fixed their problems, doesn't mean you fixed their mental problems--all the things they had to go through--and that was discussed in great length. The other thing that I see is the empathy and the sympathy for these people, the county as a whole, didn't really see that these people would lose their homes because they don't believe those homes really belong to them, but we discussed that those are people's homes--not Kelli's homes. Some of the lights started clicking on.
"They don't want this to happen again...we're making some headway this year," said Kinnick. "We're a little better than 2014, but we've got a long way to go yet."