When will Delaware move to Phase 3 of its reopening plan in the wake of the global novel coronavirus COVID-19 pandemic? It depends on how responsibly the state handled its Labor Day weekend festivities, Governor John Carney said Tuesday. 
"It's really going to be dependent on what we see and what the experience has been and the spread of the virus after the Labor Day weekend, in light of the kind of small uptick that we've seen in cases over the last week," Carney said. 
Due to those "small upticks," Delaware has found itself on the quarantine lists for New York, New Jersey, and Connecticut again. The on-again, off-again relationship those states have with travelers from Delaware--in light of their own COVID numbers--has left Carney frustrated for weeks. Despite them not making "a lot of sense" in their determinations, Carney said it does provide Delawareans with a reason to lean into the efforts to take safety precautions more seriously.
"We've got to really lean into these protections and restrictions and taking this simple measure of wearing a mask when in public and when around other folk," he said.
Depsite "flat metrics" for the previous 14 days, and the seven-day moving average, Carney said he wants to make sure there were no setbacks to the good work Delawareans have been doing during the holiday weekend. 
With many schools reopening Tuesday, virtually or otherwise, monitoring any potential fallout from Labor Day would help provide a small cushion to determining viral spread in Delaware and help guide further decisions on in-person returns to educational institutions. 
"We need to push it down further. So that goes to the question of, 'When are we going to move into Phase 3?' When we get better," the governor said. "So that we can know that we're good enough, healthy enough to bring our children back in the classrooms and the workers back to work--unlike other states that just didn't pay any attention to whether they were had improving conditions on the ground, and reopened, and then had a dramatic spike."
Of particular concern and currently under the most scrutiny are areas containing the most likely to disregard the rules. 
"The hardest demographic, I think, to reach is the demographic where the spread is the highest; that young adult, college age, just-after-college population that feels invincible, that feels like they're never going to get sick," Carney said. "But they will and they can if they're exposed to COVID-19."
A distinct lack of following precautionary measures makes them not just a danger to themselves, but to everyone around them, he said, but watching the rest of the country gives them a sense of what to expect. 
"The focus now on students returning to the University of Delaware mostly, Delaware State University as well, and all the activities in and around the university in the city of Newark are so critically important," Carney said. "We know from the experience of other college towns across the country what to expect and what to be concerned about. We've worked hard with Newark Police and University of Delaware campus police on enforcement, the most difficult part."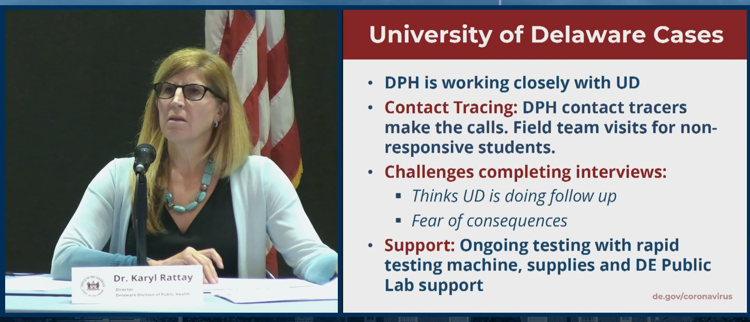 Division of Public Health Director Dr. Karyl Rattay said those zip codes where students tend to reside are showing the most increases, and they will be a focus of public health efforts to corral spread.
"University of Delaware is reported to DPH 41 cases since September 3, Rattay said. "Our case investigators are finding...there's no one single point of exposure, but a number of these young adults are either in group living situations or involved in off-campus social activities, some centered around a couple of sports teams but more so with off-campus social activities that seemed to be related to how these individuals are getting exposed." 
She said fear that they may be in some kind of trouble with the DPH has made it difficult to get UD students to respond to calls from officials, which has in turn made it difficult to contact trace and stop the spread of the virus. Additionally, that belief that because the virus seems to frequently only present mild symptoms--if any--in young adults has led to many ignoring calls from officials, she said. 
"We want to reiterate, if you get a call from DPH contact tracing, please pick up the phone. This is critically important," Rattay said. "We've talked about this before that people have a fear of consequences and I want to re-emphasize: We are not out to get anyone. We need information to stop the spread of this infection and that's what we're doing through these case investigations."
Zip codes of concern in Newark are 19711 and 19713 as well as 19702 in the Bear/Glasgow area. Wilmington's 19802, 19801 and 19805 are also reporting a small uptick along with 19720 in New Castle, DPH reported.