White men in the construction trade were among the highest rates of death from drug overdose in 2017, according to a landmark report by the Delaware Health and Social Services' Division of Public Health Wednesday.
The 50-plus page report, detailed the concerning rise of deaths in the First State tied to drug use--a more-than-140% increase over just the last five years, giving the state its first deep dive into exactly who is dying in the opioid epidemic.
From 2012 to 2017, drug overdoses grew from 142 to 343 cases annually with men twice as likely as women to be the victims of a fatal drug overdose in 2017. 
"The most eye-opening was we hadn't really looked at occupations before, in this way, and to see that among men who had died form drug overdoses, 36 percent were working in the construction industry--in some ways, that is not that surprising--but it really is an opportunity to work with professionals in that occupation to really see what opportunities there are to connect people to care, and also just to get Naloxone into the hands of people who might need it," said Dr. Karyl Rattay, director of the DPH.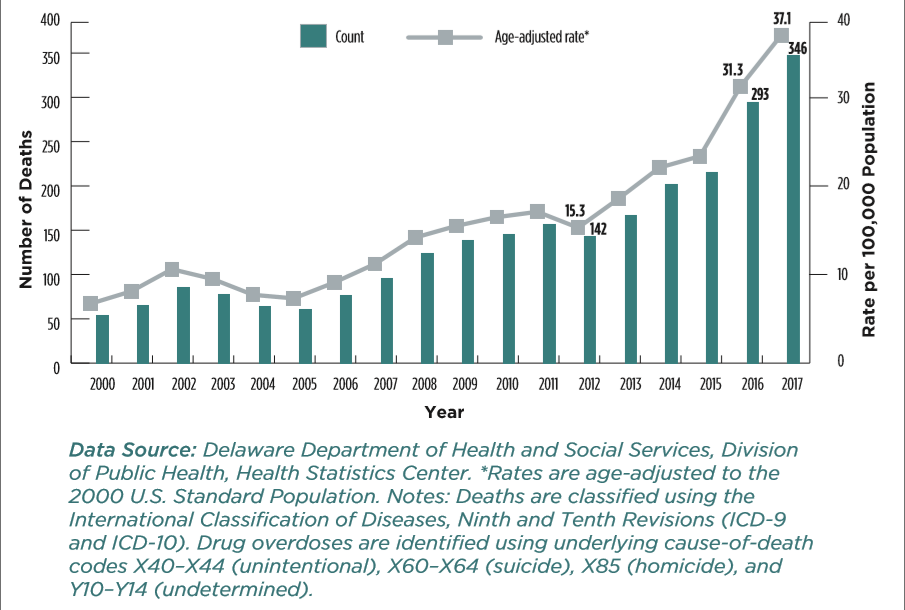 "Too many Delaware families are impacted by the opioid crisis," said Governor John Carney. "We are working across agencies to address this epidemic, and the data from this report will help us make informed decisions that guide us in developing effective interventions — with the ultimate goal of saving more lives."
Non-Hispanic white men between the ages of 25 and 54, who had never been married and achieved a high-school- or GED-level education, were the most frequent victims of substance abuse disorders. The top occupation held by those men was construction. For women, that occupation was food service. 
However, among the decedents, 11% of men and 33% of women were unemployed. 
The report also showed other occupations or job classifications that were high-risk included: students, the disabled, homemakers, and women in office support roles.  
But the report's biggest takeaway: 81% had visited a Delaware emergency room, required EMS service, taken part in a prescription monitoring program, received assistance from the Division of Substance Abuse and Mental Health, or were discharged from a Delaware hospital a year before they died. 
The startling statistic shows the need to intensify efforts to improve prescribing and ensure community health partners work better together.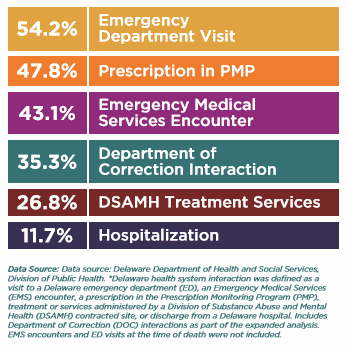 But how to reach the remaining persons, who've never interacted with a health agency?  
"That's harder, for sure" said Rattay. "How is that these individuals are completely slipping through the cracks?"  
Rattay said while the characteristics of that 20 percent are unknown, they've got to try to understand them better.  
"It's possible that within those occupational settings, there are people who are not in any way interfacing with the system, they're functioning in a way where they may not feel they need or need to reach out, or have acute enough problems to be getting supports, but there's still opportunities to reach them."
One in four had been released from prison the year prior to death, according to the report; more than 40% had achieved freedom in the previous five years. Those on probation and parole accounted for 30% of the dead.
"Certainly to improve...the way that the correctional system...identifies and manages substance use disorders," she said. "We have to keep it up...we have to continue to use data to know if we're making the progress we need to, and if not, to better understand why and what we need to do differently."  
More than a quarter of those who had died had a Hepatitis C infection, past or present. More than 60% were eligible for Medicaid, and close to three out of every four, male or female, had a claim for a mental, behavioral, and/or neurodevelopmental disorder in the year prior to death. 
New Castle County alone accounted for 238 of the 343 deaths in 2017, and Wilmington accounted for half of those deaths.  That total was more than Kent County's 40 overdose deaths and just shy of Sussex County's 64 overdose deaths. In each county, opioids were responsible for more than 80% of overdose deaths. That number reached as high as 90% in Wilmington. 
"It's a change from where we were five, six years ago, but yes, definitely Wilmington has become a hotspot in our state, and it's important information for us to know that that's a geographic area that really needs special support and attention," said Dr. Rattay.
She pointed to the need to work with more community partners and to distribute more Naloxone in the city.
"We're going to continue to do more of all of that to make sure....that we're doing all that we can," she said.  
While it's hard to pinpoint why deaths rise and fall, Rattay she'd been keeping an eye on the data, which has shown improvement in Sussex County.
"There have been times when Sussex County...has had much higher rates proportionately, and there have been some great grassroots efforts in Sussex County to raise awareness and decrease stigma; there's also been some significant improvements in treatment access in Sussex and some in Kent County as well, but it is interesting because we look at other states, rural access to treatment has been very problematic, and our more rural counties are still fairing better than the City of Wilmington for sure," she said.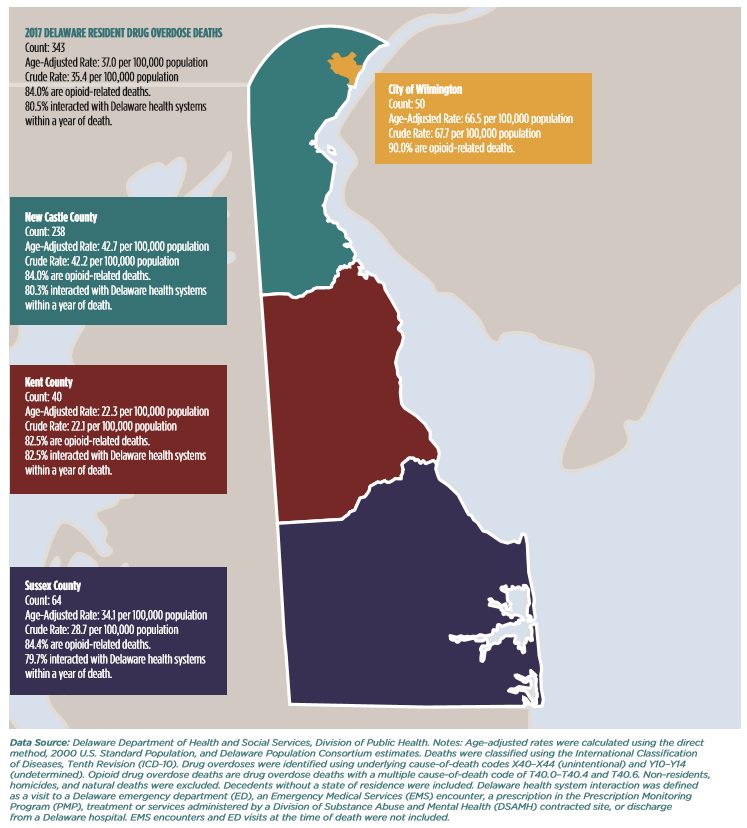 In 2009, prescription opioids were responsible for almost all overdose deaths. By 2018, fentanyl and other synthetic opioids account for 72% of the 400 overdose deaths. 
Beginning with a dramatic increase in opioid prescriptions dating back to the 1990s, the DPH broke out opioid-related deaths into three waves in an effort to display exactly how toxic those types of drugs have become to the community: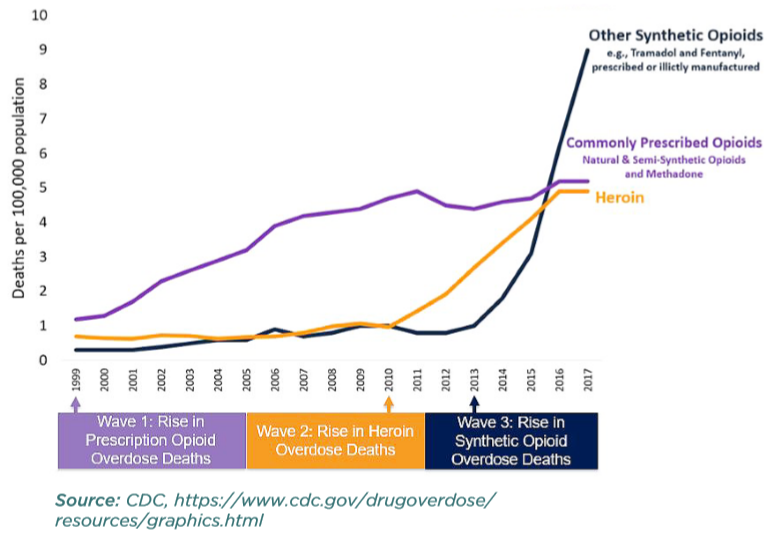 To treat the systemic issues faced by Delaware residents suffering from substance abuse disorders, health officials said prevention is a crucial first step. Earlier access to intervention could save time, money, and lives. 
Using data gathered during this study, officials will be targeting "outlier prescribers," and integrating their information with Electronic Health Records systems in the state to improve awareness and educational programs for prescribers, including surgeons and dentists. 
Delaware had already increased access to those who need treatment 500%, from 1,000 individuals receiving assistance in 2006 to 5,000 receiving treatment in 2017. Strengthening Delaware's options through the Substance Use Treatment and Recovery Transformation initiative and the Delaware Treatment and Referral Network are priorities for DHSS.  
Increasing access to Naloxone also helps to save lives. In 2018, First State first responders administered the overdose-reversal drug 3,728 times, up 30% from the 2,861 administrations in 2017. 
"I am thrilled that so many state agencies were able to pull together and provide critical data related to behavioral health for this report," said Lieutenant Governor Bethany Hall-Long, who chairs Delaware's Behavioral Health Consortium. "This was one of the BHC's goals and the results will allow us to focus our efforts, reduce stigma around the disease of addiction and save lives."
Check out the full report: