A school and a church in Dover were condemned by the city's Fire Marshal Wednesday after sustaining serious damage in Tropical Storm Isaias.
The news about the destruction at William Henry Middle School on Carver Road came in a letter posted to the district's website from acting superintendent Sylvia Henderson.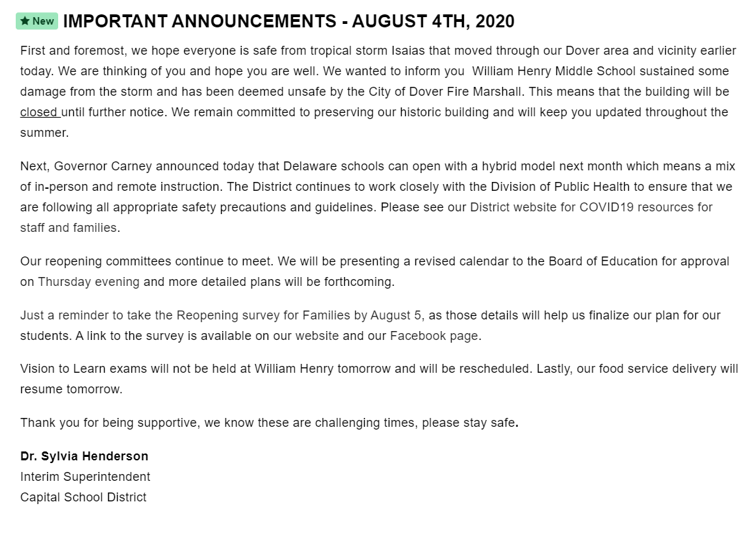 A wide swath of the roof was torn off William Henry Middle School and flooding and debris were seen scattered in the school's hallways.
"This means that the building will be closed until further notice. We remain committed to preserving our historic building and will keep you updated throughout the summer," said Henderson in the notice.
The building, while not total loss, according to the Delaware Emergency Management Agency, will require major, costly repairs.. It's unlikely that work can be completed before the school would reopen its doors next month, if the Capital School District so chooses under Governor John Carney's hybrid remote and in-person learning plan. 
Union Missionary Baptist Church on Lincoln Street in Dover was also condemned by the city's fire marshal, according to several media reports.
Several suspected tornadoes were spotted in Tuesday's storm, but the National Weather Service has said one tornado crossed Kent and New Castle counties. A final determination is still pending.
Isaias--and its heavy winds and driving rains brought down trees and power lines, flooded roadways, and left thousands of customers in the dark. State police believe the storm is also responsible for one death. A Milford woman was found dead on North Shore Drive late Tuesday morning.