Wilmington's Millennial Summit is boasting some big numbers.
From 250, to 600, to more than 1,000 attendees over the years, the summit, after expanding to two days, is seeing significant growth.
"It's rewarding to see how it's all come together and how much it's grown in three years," said organizer Charlie Vincent.  
Vincent told WDEL that the statewide summit has become the second-largest conference for young professionals in the country.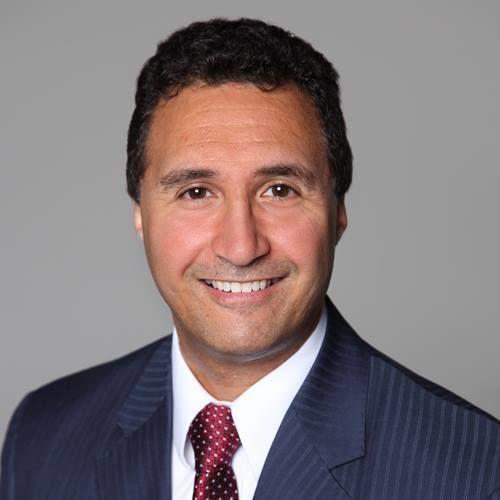 "A thousand really puts us in a different stratosphere in what we're trying to do," he said. "In almost every state there's something like this--they all handle it a little differently, a few statewide similar to us, but surprisingly to us, only in Nebraska is the largest."
The idea was sparked by Vincent said young professionals wanting to get involved in their community, but not knowing where to begin.
"You can only find so much in a Google search, so what we found is by bringing everybody together under one roof, we can really highlight and showcase what different groups are doing, and that really sort of educates and empowers these participants and attendees to seek them out and get involved beyond today," said Vincent.
Congresswoman Lisa Blunt Rochester served as hype woman for the crowd at Tuesday's lunch. She recalled growing up in Delaware.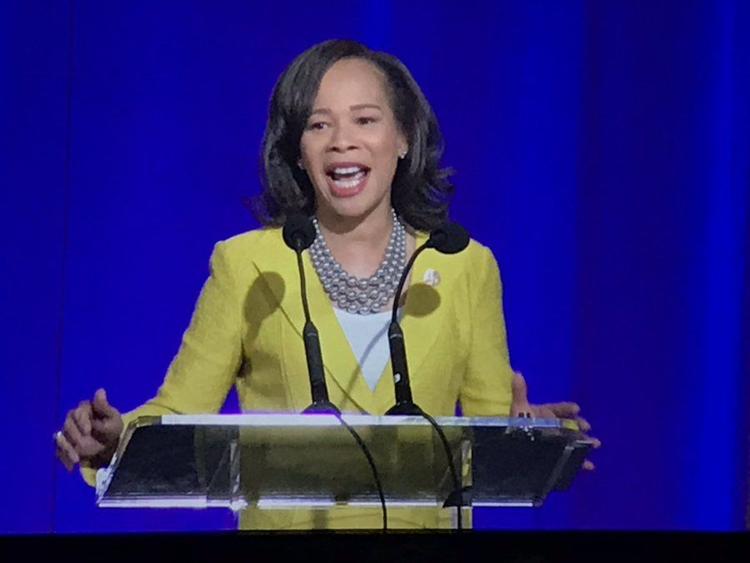 "I remember I felt like it was just so boring.  It was just like ugh we live in Delaware, ugh we live in Wilmington," she said. "And I wanted it to be exciting, and I wanted to feel excited about being home. There's this myth out there that people go to school, they grow up, and they leave and they don't come back to Delaware."
She said the MILLSUMMIT is defying that myth.
"The goal is really to say we are a place where things are happening, and that we have an active, engaged, intellectual, cultural mecca, and so the goal is to really make Wilmington, to make Delaware a mecca for millennials because millennials rock!"  
She posed a powerful question to the audience: "You've only got one life, what are you going to do with it?" 
She said millennials give her hope and energy to tackle the world's challenges.
"What are you doing in this present moment when people are trying to figure out where their health care is going to come from and how much it costs? When people are filling up our prisons and don't have an opportunity to re-enter into our communities? What are we doing in this present moment? When kids are going to school, and they're afraid that they might get shot, and people are getting shot in all kinds of places, synagogues, everywhere, what are we doing in this present moment?"  
WDEL's Rick Jensen also broadcast live from the summit Tuesday, hosting a panel of millennials who debunked stereotypes like "millennials are entitled."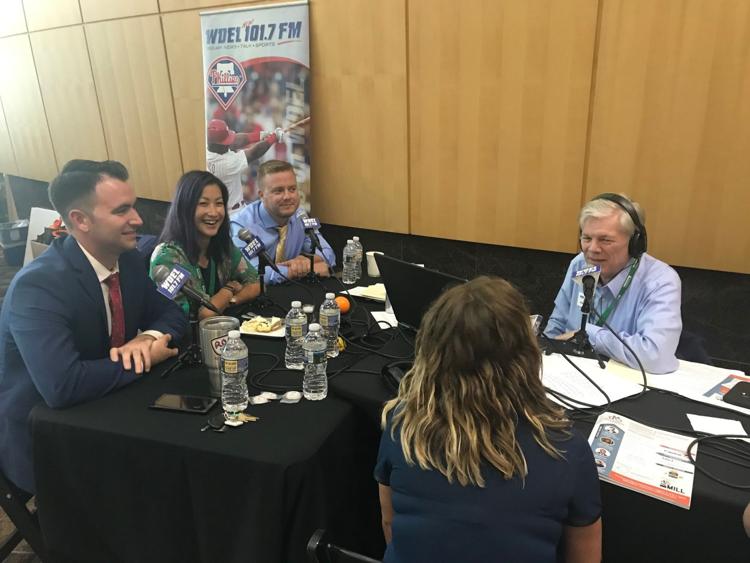 "I don't know what that feels like, to be entitled, I just want to know where all these really bad impressions of millennials come from, because I've had a job since I was 15 and, most of my life, I had three jobs. And a lot of people I know are in similar situations...you old people are making stuff up," said Brooke Chase, 35, social media director for the city of Wilmington.
Denee Crumrine, 31, communications manager for the Delaware State Chamber of Commerce, said she sees more entitlement among the Gen Z generation.
"I do know that I was not raised that way; [I have a ] "hard work pays off" mentality, but a lot of the college students I work with come out kind of like, 'Oh, well, I have an early event, does that mean I get to leave early? Or they get an internship because they know somebody and getting them to work hard and work autonomously can be difficult," said Crumrine.  
Neil Shea, CEO and owner of Bellefonte Brewing Co., said too many millennials and Gen Z are spoon-fed that if they want something bad enough they can obtain it.  
"I think a lot of people were told do what makes you happy instead of what makes sense sometimes...it's harder to tell people: 'You're going to have to pick up a shovel and take a hard job,' or 'you might not be cut out as an astronaut, maybe you're better as an accountant.'"
Crumrine volunteers with Exceptional Care for Children in Newark, working with kids who have technological dependencies. While she loves her job, she finds fulfillment volunteering too--something the millennial summit promotes.
"I hope they're able to make at least one new connection...and really find the group that they hadn't heard about or that they heard about and wanted to learn more, and really just get involved...because these groups want younger people and they need new blood," said Vincent. 
Inspirational Keynote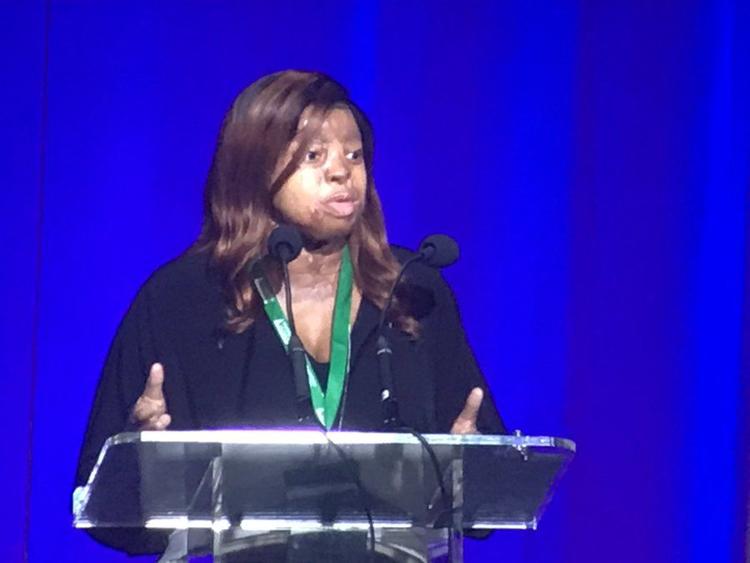 Keynote speaker Kechi Okwychui also inspired the crowd. The burn survivor and advocate and America's Got Talent star spoke of her triumph over tragedy, showing resilience and strength. Kechi was one of just two survivors of a plane crash in Nigeria that killed her classmates. She suffered severe, third-degree burns over 65 percent of her body.
"I don't remember the actual impact of the crash; I don't remember anything further than one of us saying something about praying," said Kechi.  
She opened her eyes five weeks later in a hospital in South Africa, which saved her life. Kechi, now 29, recalled the first time she saw her reflection, months after the crash.
"I expected the worst, I could see I was bandaged head-to-foot, so I knew it wasn't going to be pretty, but I wanted to see. I wanted to know because I wanted to make sure that the things about me that I liked on the inside would not change based upon what I looked like on the outside."
She saw the disfiguration and the scars, but looked beyond them.
"A face that didn't look anything like Kechi, somehow there was still something familiar. That was when it hit me--that my scars do not define me. That became my life motto," she said. "This freed me in such an amazing way."
Kechi said her faith became a key part of her recovery, and she drew strength from the tragedy.
"There was no reason anyone could ever give me that would justify the loss of so many lives, so spending my life, this life, this miracle that was my life, searching for an answer that I would probably never find seemed like it would be such a huge waste of time and a waste of this life that was saved when so many were not," she said.
Music also helped save her life and became a part of her therapy at Shriner's Hospital in Galveston, Texas in 2007.  
"Music was an escape, it became this like huge distraction, it was the one thing I had that wasn't surgery-related or hospital-related so I could have fun with it and do whatever I wanted with it," she said. "And my voice did change after the accident, no one really understands how or why, and so that gave me confidence."
She hadn't planned to take her career to the professional stage, but a friend signed her up, unknowingly, for America's Got Talent.
"I definitely did not see myself as good enough to be on a show like AGT...but she obviously saw something in my voice that was worth putting me out there. She believed in me in a way that I didn't, so support system matters for sure, guys, because she changed my life single-handedly, as far as I'm concerned."
Being a finalist in the competition changed her life.  
Kechi sang "Don't You Dare" for the audience to a standing ovation.  
Amazing + inspirational are words that describe burn victim advocate + America's Got Talent star @Kechi, who sang "Don't You Dare" at the #MILLSUMMIT. #netDE pic.twitter.com/p4aj4C58fJ

— Amy Cherry (@acherry13) August 6, 2019
"I want to be living proof to people, especially burn survivors, but all people really, that there's life after trauma," she said. "You can look how you look, you can go through what you go through, but you can still not just live after that, but you can thrive."  
The summit continued Tuesday with Leadership Day.