Wilmington City Councilman Vash Turner has been publicly reprimanded by the Wilmington Ethics Commission over comments he made last year,  threatening the city auditor's job.
The public reprimand is the result of an ethics investigation, delayed by COVID-19, that stemmed from a complaint filed in November of 2019 by city auditor Terence Williams after Turner threatened on live television to reduce Williams' six-figure salary to $1.00 for failing to act in accordance with a council vote to conduct a forensic audit of the non-profit Wilmington Housing Partnership. 
"What I'm going to do is put a resolution up--until you do what we say--put a resolution up to reduce your salary to $1.00, so if you don't want to do what the majority say, then we'll reduce your salary to a dollar, and see if that motivates you to do what we said," said Turner.
Williams defended his decision, saying he must act independently of council and was advised by the city's Law Department not to conduct the audit.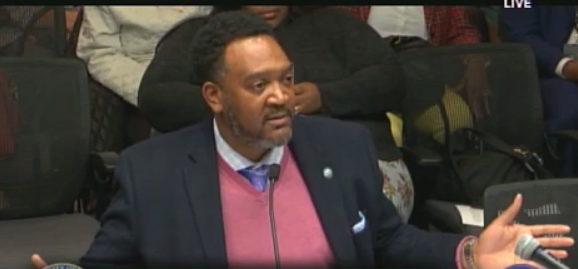 And Turner fired back:
"I'm going to tell staff to write me up a resolution for a $1.00 of your salary until we get it resolved. And we go ahead and move forward on what we need to move forward, so we all need to get to the table while you make a dollar, until we get it resolved, and then we'll put you back to the salary that needs to be done," Turner said at the 2019 meeting.
In its determination, the ethics commission found Turner's repeated threats were in violation of city code.
"City employees must not be threatened for doing their jobs, by any other city employees; or any elected or appointed officer attempting to pursue a political or personal agenda."
Further, the ethics commission said there's "no reasonable doubt" that Turner intended to penalize Auditor Williams. 
 "There is incontrovertible evidence that Council Member Turner threatened to reduce Auditor Williams' salary to one dollar," the findings said. "The threat was 'for the sake of enforcing obedience' to Council's improper resolution. That dressing down and threat constituted discipline under the City Code."
During the Zoom hearing Williams echoed comments he previously told WDEL about how Turner's threats frustrated him both personally and professionally.
"Co-workers made jokes about it. Even members of his church brought it up to him. He was embarrassed and humiliated. Further, he was devastated and found it hard to concentrate for a time. Mostly, he was worried about Council following through on the threat, when he was just doing his job as a public servant to the best of his professional abilities," the reprimand stated. "Further, he took a substantial step in effectuating that action by requesting that a resolution or ordinance be drafted to effectuate the salary reduction."
In an interview with WDEL Wednesday, Williams said he's satisfied with the process and the outcome.
"I don't feel as though any city employee or any government employee should have to tolerate that type of behavior for doing their job."
The reprimand notes Turner did not show up for a Nov. 10 Zoom hearing on the complaint. The ethics commission said he also did not respond to the charge or present any relevant evidence.
"I'm not surprised," he said. "He was wrong, and I'm sure it was a difficult pill to swallow knowing that he was wrong. He made a decision to go forward and try to have legislation passed to decrease my salary, and it was one thing to make the threat--which i did not like--but it's another thing to follow-through and actually try to put it into action."
Turner, who was initially running for re-election to his city council seat, was part of a last-minute switch-up, where he abruptly withdrew from the council race and filed to run for city treasurer. That decision came after City Treasurer Velda Jones-Potter withdrew from her re-election bid to run for mayor. Turner ultimately lost to DeWayne Sims, and Jones-Potter lost to incumbent Mayor Mike Purzycki. 
Turner did not return WDEL's request for comment.
Read the full public reprimand from the Wilmington Ethics Commission: