Jennifer Jeffries walked away from her job as a critical care nurse at ChristianaCare's Wilmington Hospital Monday - at a time when nurses like her are needed more than ever - saying her employer isn't taking the necessary steps to keep her and her colleagues safe during the COVID-19 pandemic.
Jeffries, 30, who's been a nurse for four years and treated ChristianaCare's first positive COVID-19 patient, said she's been forbidden from wearing an N95 respirator on the job and primarily wears only a surgical mask when dealing with most patients who've contracted the deadly virus.
That's in contrast to ChristianaCare's initial procedure, which required nurses to wear N95s and suit up when treating COVID positive patients, according to Jeffries.
The Centers for Disease Control recommends doctors and nurses on the front lines of the pandemic wear N95 respirators to protect from both airborne and fluid hazards (splashes and sprays) when dealing with COVID-19 patients.
"Most [health care personnel] caring for confirmed or suspected COVID-19 patients should not need to use surgical N95 respirators and can use standard N95 respirators," the guidance states. But that guidance also changes when shortages of personal protective equipment exist - like the one we're seeing now across the nation.
Jeffries worked on the only floor of the hospital that can accommodate COVID-19 patients, who are suffering from acute respiratory failure and require heavy amounts of oxygen through the use of high-flow nasal cannula.
"It was written on our huddle board in the morning that airborne precautions are no longer needed for high-flow nasal cannula, which is very concerning for me, because it is a very high amount of oxygen that's being forced into the nostrils. We don't know enough...we're in the middle of a pandemic. We don't have time to be testing new things, and I feel like we're almost lab rats," she said.
ChristianaCare: "We've had to adapt"
Dr. Marci Drees, ChristianaCare's chief infection prevention officer, said while we're still learning more about the virus, several months of experience worldwide has led to some conclusions.
"The epidemiology of how this disease is spreading really supports that it is spreading primarily through close contact with the droplet spread of transmission rather than through airborne because you would see a really different pattern if it were being spread routinely through airborne use. You'd start to see cases that are distant from the primary case--several rooms down without any other exposures. The rate of secondary cases in households would be much higher if it were airborne, so it really doesn't support that using an N95 is necessary for all patient care," said Drees.
Drees said the hospital's policies are also modeled on evidence from the World Health Organization and the CDC, which she admits "has been a bit of a moving target."
"As we've learned more about this organism, some guidance has changed, and so we've had to adapt and re-educate everyone around what those guidelines are," she said.
PPE in high demand
Dr. Karyl Rattay said at Tuesday's news conference that Delaware's health care systems and first responders are using a "conservation approach" to personal protective equipment.
"It can feel a little uncomfortable to staff to use PPE in a conservative way...which often entails reusing," she admitted.
But Jeffries claims ChristianaCare is not experiencing a shortage of N95 respirators. Though she hasn't seen the so-called abundance of masks, she said staff were refitted for an 1860 model N95-style respirators because they had so many.
"We actually were told we're in an abundance. That's concerning to me. Why are we hoarding N95s? Why are we instilling fear in your nursing staff and out healthcare providers?  Because I can't tell you how many doctors I have encountered these past two weeks that have either went in with an N95 on--against our ChristianaCare policy recommendation--and how many are refusing to actually take it off."
But Drees noted due to major demands and breakdowns in the supply chain, the hospital system must take steps now to conserve PPE.
"We have to really prioritize the situations that are at the highest risk for our caregivers, and our caregivers' safety has really been first and foremost through all of our planning.  So we really focus on those procedures that we know may aerosolize, or think may aerosolize, the COVID-19 virus, and really kind of put our maximal protection around that. Then, kind of the next level down is all the other more routine care where it seems that the most important thing is covering your eyes, nose, and mouth.  We call that using droplet and contact precautions, and that's what we do for the bulk of our care."
Drees said the hospital's supplies are in good shape; but with an expected surge approaching, they've had to keep a close eye on it.
"We know that we cannot continue to order.  We're on allocation, which means we can order the amount that we normally get--not anymore, but we know that our utilization is up. So that means if we don't do any mitigation strategies, we will run out. And I certainly don't want to get the point in two weeks or two months...we don't have any, or we can't use them for the procedures that we know are high-risk. So we've been very cautious around not using them now so we can maintain our supplies throughout the duration."
Drees said there's been a focus on supporting front line staff so they know what they're supposed to do and how to wear their PPE, including how to take it off safely without contaminating themselves. 
Jeffries said she understands the policy that requires the N95 masks to be reused due to potential shortages down the road, but can't get behind not wearing them at all.
ChristianaCare policy questioned
Jeffries has worked inside the intensive care unit at ChristianaCare's Wilmington Hospital since November. After working in fear for these past three weeks, forbidden from wearing an N95, she told her manager she doesn't feel safe or supported at her job. She said her manager told her that ChristianaCare wouldn't do anything to put its employees in jeopardy and would do everything possible to keep nurses and doctors safe.
"This is something that we should be following. If [the CDC] believes we should be treating this as airborne, and other countries are treating this as airborne, why are we not treating it that way?" she asked.
She then asked why she couldn't wear an N95 mask when exclusively treating COVID-19 patients like she does at a hospital in South Jersey, where she also works.
She shared internal documents, written by Drees, which were provided to her by her manager and were also read aloud during nurse huddles:
"There has been a lot of debate about whether COVID is transmitted via droplets or is airborne. Looking at studies of how this has spread in China and now in the US, it is quite clear that it is NOT behaving like an airborne disease...but rather it is mostly spreading via close, unprotected contact, mostly within families and very little in health care when PPE is used. And as we now have been taking care of these patients for several weeks, it has been clear me that the PPE we are using (contact/droplet precautions, with airborne/N95s for aerosol-generating procedures) is effectively keeping our staff safe," Drees wrote.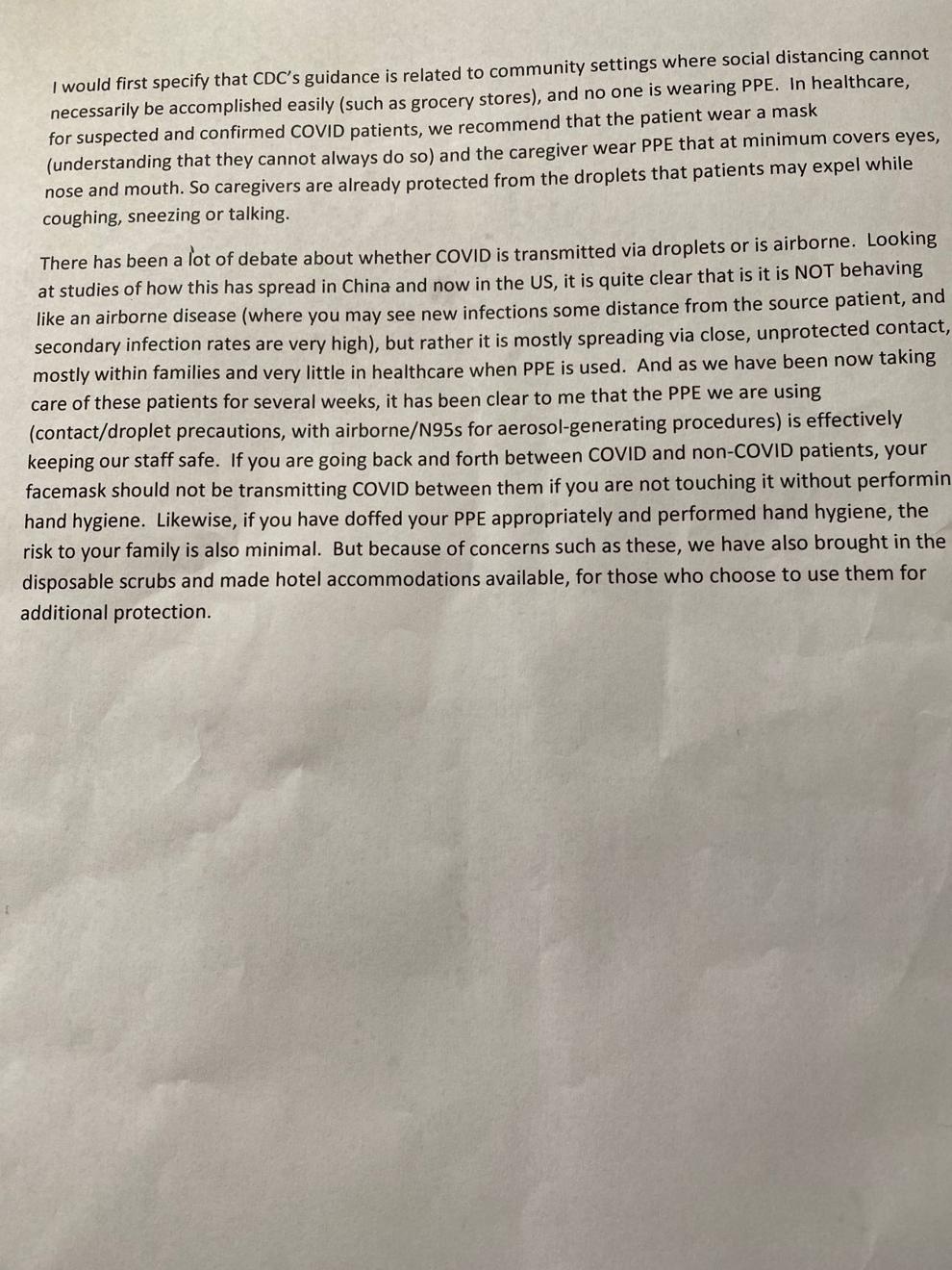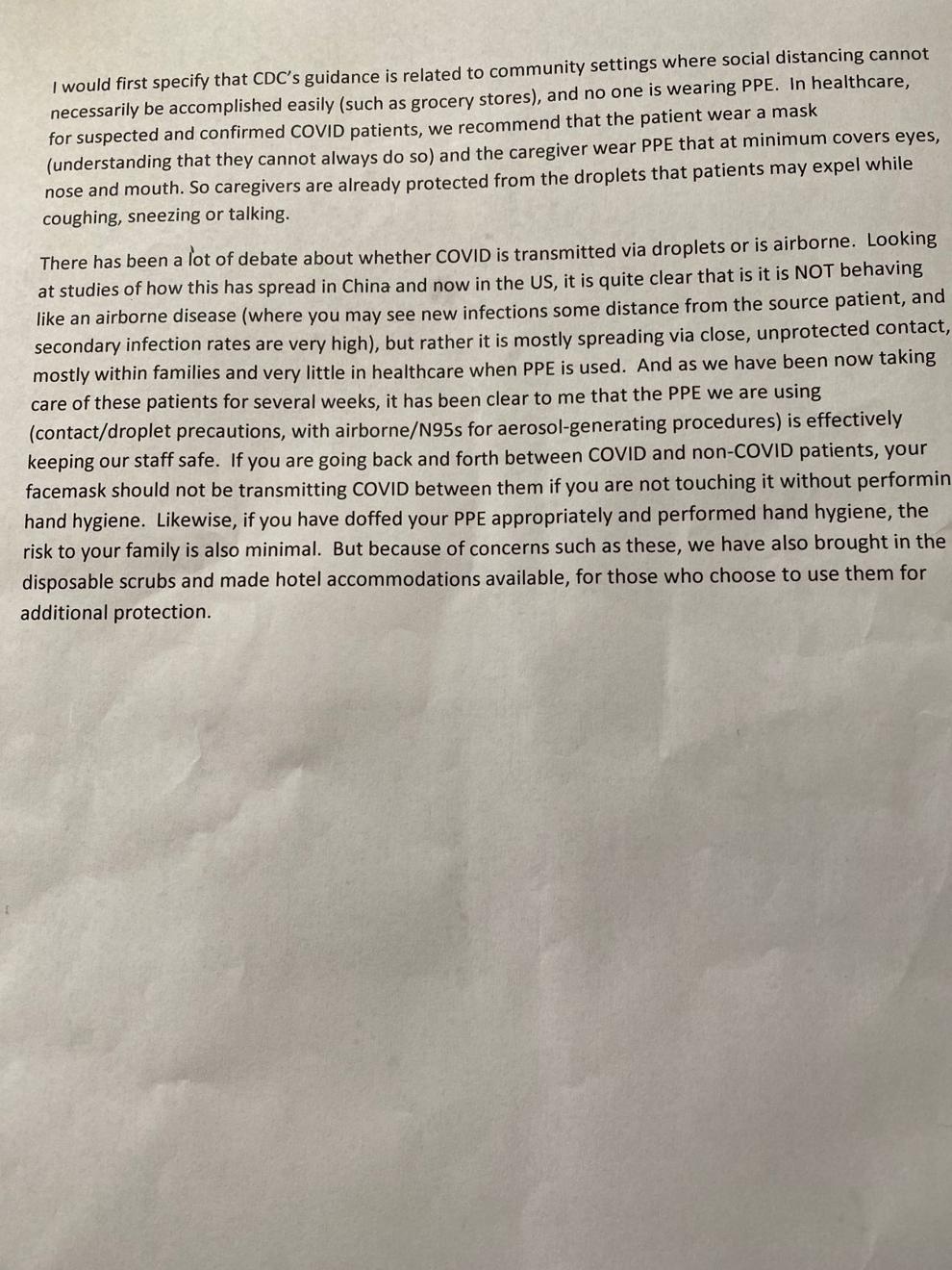 But a study in The New England Journal of Medicine by scientists at Princeton University, UCLA, and the National Institutes of Health found that airborne transmission of COVID-19 is possible with research concluding the virus could remain airborne for up to "three hours post aerosolization."
The study found SARS-CoV-2 was viable on plastic and stainless steel for up to 72 hours, and for lesser periods of time on copper and cardboard.
"I didn't really feel like I was being heard because what I was told is that Christiana has made this decision to make this high-flow nasal cannula positive COVID patients droplet on their own.  It is not the CDC's recommendation. The CDC's recommendation is very clear that we are to be wearing an N95, unless N95s are not available," said Jeffries. "I feel like they're testing this droplet precaution based off of their own research that they're doing on us.  And when I asked my manager about that - 'Where is your rationale that this is just a droplet-type spread for these patients?' The response I received, from not one, but two of management team, is that there's a board within our system that's monitoring symptoms from all of our health care workers."
Drees said every organization has a list of processes and procedures that can aerosolize COVID-19, which can be confusing.
"Our respiratory therapy team has really researched all of the literature and felt that it was not an aerosolizing procedure, so it's not on our list," said Drees.
Bayhealth's policy requires all members of COVID treatment team to wear PPE that may include a surgical or procedural mask, an N95 mask, a face shield, and protective eyewear.  
"The N95 mask is specifically used for aerosol generating procedures and must be fit tested for each employee," said Pamela Marecki, assistant vice president of marketing for Bayhealth.
St. Francis Hospital, which responded to WDEL's request for comment overnight, called the safety and well-being of its health care workers "paramount."
"All colleagues now wear masks, and the level of the masking is aligned with the type of care and function they serve and is aligned with current CDC standards. Additionally, we are continuously monitoring our PPE supply for daily use as well as our reserves, and we are working with various vendors to increase our supplies," said Ann D'Antonio, Vice President, Marketing & Communications, Trinity Health Mid-Atlantic. 
St. Francis did not specify which masks are worn under which circumstances.
Fearful times for healthcare workers
Amid her concerns, Jeffries said her manager offered to re-assign her to a different unit, but she feared she'd be forced to take care of COVID-19 patients under unsafe conditions if the hospital reaches capacity. It's currently unclear when Delaware may see a peak from COVID-19, but so far, hospitalizations have remained under conservative state estimates of 20 percent.  However, Governor John Carney cautioned, "The last couple of days doesn't a trend create."
Veteran critical care nurse Maureen Seckel, who was semi-retired but returned to the front lines during this pandemic to work in the ICU at Christiana Hospital in Ogletown, said Delaware is ready for the expected surge with a variety of plans in place.
"We are quite ready for a lot of different eventualities, which I hope do not occur," said Seckel.
Though she admitted some nurses in the ICU unit have been fearful.
"The way we're using the PPE at Christiana is based on science.  It's based on science and evidence.  So we do have to have faith that that's keeping each other safe," she said.
For Jeffries, the decision to walk off the job at a time when she knows how desperately her expertise is needed brought her close to tears.
"I want to take care of them. I'm not saying I don't want to care for these patients. This is my calling. I chose nursing, and I want to help, but I want to be safe when I'm doing it, and they're not giving us this chance."
She asked who decided that the hospital would act under "droplet precautions" similar to the health care response for flu season.
"This is a much different scenario than the flu. We don't close the economy every year when the flu season comes around. We don't ask the public to wear masks. That's concerning to me as a nurse. She pretty much just told me that they're monitoring us, and that no one who works in the cohorting units has tested positive, so they're continuing to do droplet precautions and no exceptions would be made for myself or anybody else," said Jeffries.
Drees acknowledges that fears around COVID-19 are real.
"We know that people want to feel protected, but I think we know enough about this disease now--that yes--it probably is a little bit more contagious than flu, but that doesn't mean that the same precautions we use for flu aren't effective. So I think we are trying to base our decisions on the best evidence that we have."
Jeffries said her manager told her that no other nurses have expressed these concerns, but she expressed skepticism about those claims after she noted one nurse was sent home after refusing to take off her respirator.
"I'm not the only one, and since I walked out, I've had several nurses reach out to me that have applauded me for my bravery," she said. "It's a shame that the company could be like that and allow their workers, front-line people, to be in fear at their job."
Since the COVID-19 outbreak began in Delaware, WDEL has received multiple emails from nurses and their loved ones, who wished to remain anonymous - fearing for their jobs - expressing concerns that they're being called heroes by the public, but not treated like them by their employers. They said they're not being provided the necessary personal protective gear on the job and what they are being provided must be reused amid the nationwide shortage. It's a grim picture being painted at hospitals across the country.
"I spoke to some colleagues in other states this weekend, who do not have the same luxuries that we do.  So, luckily, in Delaware, I think we're quite prepared for quite a long time in the future," said Seckel.
Jeffries trained for outbreaks like this, but in her four years as a nurse, she never imagined the COVID-19 crisis we're seeing today.
"You just never really think that this is something that's going to happen, but here we are. It kind of puts a little bit of panic in you.  There's not really much of a way to mentally prepare yourself for the crisis that we're in right now."  
She certainly never imagined not being permitted to use personal protective gear like N95 masks.
"I should not have to work in fear. I should be able to work for a company that feels like they want to protect their employees and that they are of value to them, and I don't feel like Christiana feels like we're of value," Jeffries said.
She recalls rushing out of COVID-19 patients' rooms because she felt so unsafe.
"I may take time to actually speak to them and have a conversation and get to know them and try to comfort them in a much more in-depth way if I felt safe. Having to leave - to protect my own and limit my exposure, that's an awful thing to have to feel.  I feel like I'm being less of a compassionate nurse because I'm not allowed to feel safe."
Seckel created a different picture of patient care. While she called the COVID-19 experience "frightening," she said teamwork is the crucial component to everyone's safety.
"I did feel secure in my PPE. You get a little nervous and you're kind of making sure that you're doing everything correctly, but what really helps is your colleagues.  We've got each other's back and want to keep each other safe, because we do care about each other," she said. "In any ICU, we're used to being family to patients, and even more so in COVID-19. We are their family because their families not there."
She said iPads are in the rooms for patients and families to connect.
"They're scared just to be in the hospital. It probably is a little more frightening because our doors are closed, and frankly, we look very bizarre. We're approaching them with a mask on, and a shield, and a gown, and the gloves...so we do look bizarre," she said.
Seckel said nurses are always wearing masks -- but the type depends on the patient's degree of isolation. Though she said she feels safe even when wearing just a surgical mask.
"I was in the patient's room today with a surgical mask, and the shield, and the gown, and the gloves, doing what I needed to do and was in the room for a bit of time, probably about 45 minutes. I do feel safe," she said, expressing confidence that her employer takes her safety seriously.
She noted no employees of Christiana Hospital's ICU, where she works, have contracted COVID-19 so far. ChristianaCare employees, overall, have, however, tested positive for COVID-19, the hospital system has said.
"Quarantines have been fairly light, and the exposures have been for multitude of reasons, and some of them have been community-based, not hospital-based. We've been pretty lucky with our quarantines in the medical ICU, and we've had enough staff at this present time."
While the majority of deaths in Delaware from the novel virus have been in elderly people, Jeffries said most of the COVID-19 patients she cared for are in their 40s and 50s. She said the most critical COVID-19 patients often need the extra attention because they're scared.
"To have them look at you...they know what's happening to them. They can tell that they are not doing well, and to just have them ask you--'Am I dying?' That is a very strong feeling to have to endure as a nurse. They sense that something's not right. They feel that impending doom, and to be a nurse and look at somebody that knows that this might be the end for them, it's terrifying."
Jeffries has seen the compassion and empathy she tries to share too. Often, less critical COVID-19 patients are more concerned about their nurses than themselves.
"They more so feel scared for us...that they're going to subject us to the virus and make us ill, and I'm sure that's a very fearful feeling for them."
Less than 24 hours after she submitted her resignation, Jeffries told WDEL that her health care benefits were terminated and that ChristianaCare is refusing to pay out any personal time off she had accrued. She said she's still been given no bonafide research to support ChristianaCare's policy. She continues to work at a South Jersey hospital which she said does provide personal protective gear for its employees working in COVID units.
"It's not even just about my safety. I want the people that I work with to feel safe," she said. "Even when I did go to her, there was no change.  It was 'this is ChristianaCare's way and that's it.' It's not acceptable. We shouldn't have to work in fear. Other hospitals are doing airborne precautions for these patients. They're letting their staff wear N95s. What harm would it do? Who's to say that we're not contributing to the spread of this virus?" she said. "I don't feel like they truly care like they say they do about their employees.

"It was a really hard choice to make, but I had to do it for my safety, and I hope I can make a difference."