Delaware health officials remain focused on their priority for equitable COVID-19 vaccine distribution and outlined ways of achieving that goal at Tuesday's weekly COVID-19 news conference.
"The five pathways that we want to highlight to the vaccine include federally qualified health centers. These federally qualified health centers that we have in our state play an important role in serving our populations, especially our higher-risk, lower-income Delawareans," said Division of Public Health Director Karyl Rattay. "We have three awesome federally qualified health centers in our state. La Red is in Sussex, Westside serves New Castle and Kent, as well as our migrant farm population, and Henrietta Johnson is in Wilmington, and these sites provide primary care in underserved areas."
Rattay said those locations were working with the DPH to get the vaccine out to both their direct patient population and the general community as quickly as possible. Additionally, just like vaccination sites, Rattay said they'd be establishing "fixed" community sites where people can be confident in just showing up to get the vaccine, though likely with an appointment.
"In, and easily accessible to, underserved populations, especially for those who have trouble with transportation, trouble traveling, she said. "Our state service centers are possible location for some of these, but also possibly community organizations and community centers. We have previously mentioned, as well, that we're focused on getting vaccine to pharmacies in some of these underserved areas, as well as to physicians, medical providers who serve individuals in these underserved areas."
At pop-up events, Rattay said 600 Delawareans have been vaccinated at low-income senior housing facilities already. In total, 182,000 First State residents have received their vaccine, with--as of Monday, so there's some lagging data--129,000 of those being first doses, Fifty-thousand of those are second doses. She also pointed out that of the 123,000 seniors 65-and-older on the vaccination wait list so far, 50,000 have received their first shot.
That leaves about 72,000 still waiting for that first dose. The Division of Public Health told WDEL names on that list are continuously cross-checked with the DelVAX system in case someone was able to successfully get their first dose by other means. The waiting list number shows many seniors and their loved ones have not had success navigating a complicated system that's primarily online with appointments scarce at local pharmacies.
From the Dover International Speedway vaccination site, Delaware Emergency Management Agency Director A.J. Schall said 250 individuals were out working to continue getting people vaccinated--which included 200 assistants sent by the federal government--at rates of 3,000 to 3,500 daily. The site is by appointment only.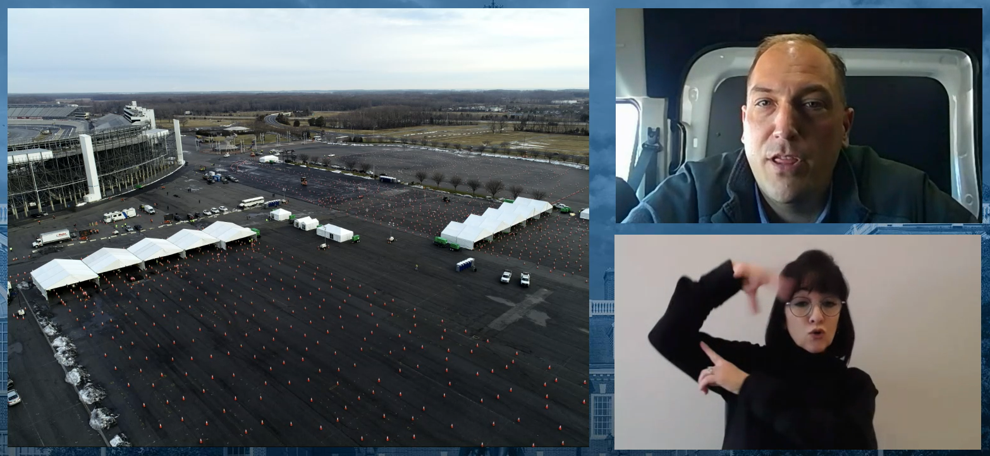 "Look at this site layout," Schall said. "You can see how big this is; We take this area that hundreds of thousands of people will come here for a race, and now we're using it to vaccinate 3,000 people. We think we can even easily increase that number to 4,000 to 5,000 when the supply is there to support it."
There are still roughly 3,800 spots available for those looking to sign up for a second dose, if you were vaccinated anywhere with your first dose on or before January 22, 2021. Appointments can be made at DE.gov/FEMA after 4,000 additional slots were added Monday. Due to some computer hiccups, those who don't find themselves in the system are requested to bring their paper vaccination cards to the site for confirmation, regardless of where the first dose was acquired. 
As far as testing goes, Schall said despite an influx of continual bad weather for a period, they'll still be over 80,000 tests conducted for the month, especially with the weather expected to be in the mid-40s for the next several days. Testing remains an important part of public health officials' strategy for vaccination as they continue to monitor COVID-19 hotspots. This week, just six zip codes in the state saw elevated levels of COVID-19 consisting of 250 cases per 100,000 people or a positivity rate of 15% or higher. Those locations are Hockessin, 19711 in Newark, Magnolia, Felton, Harrington, and Selbyville, Rattay said.
To address those still concerned about receiving the vaccination, Rattay said 14 million doses have been administered so far, with only 7,000 "adverse events" being reported in that time, and 90% of those being reported as "non-serious," with a majority of symptoms reported as soreness in the area, aches, and pains. Only 62 cases of severe allergic reaction have been reported. 
"There were 113 deaths that were investigated, to see if they might have been related to the vaccine, and among those there was no relationship identified between the vaccine and these deaths," Rattay said. "So, really, the serious reactions were those 62 cases of allergic reaction."
She also said, with the second dose, officials are reporting seeing an increase in fever and chills as a side effect, at a rate of four times as likely those would occur with a second dose. 
"[It's] really important to just recognize that you may feel a little under the weather the day afterwards."
-
WDEL's Amy Cherry contributed to this report.