A Southwest Airlines flight landed safely in Philadelphia Tuesday after the jet violently depressurized when a piece of an engine flew into and broke a window, according to passenger accounts and the pilot's conversations with air traffic control.
Robert Sumwalt with the National Transportation Safety Board said one passenger died as a result of the incident.
A woman was partially sucked out of the plane when the window imploded, a passenger's father-in-law said, relaying information from his daughter.
Todd Baur told NBC10 the woman was partially "drawn out" of the plane before being "pulled back in by other passengers."
View from #SkyForce10 shows window blown out of Southwest plane that made emergency landing at Philadelphia International airport. https://t.co/IkF0gEIpGa pic.twitter.com/bgiYUMcfWc

— NBC10 Philadelphia (@NBCPhiladelphia) April 17, 2018
The pilot, speaking to air traffic control via radio, asked for paramedics to meet the airplane to help injured passengers.
"We have a part of the aircraft missing," the yet-to-be-identified pilot said.
Asked whether the plane was on fire, she responded: "No, it's not on fire but part of it's missing. They said there is a hole and someone went out."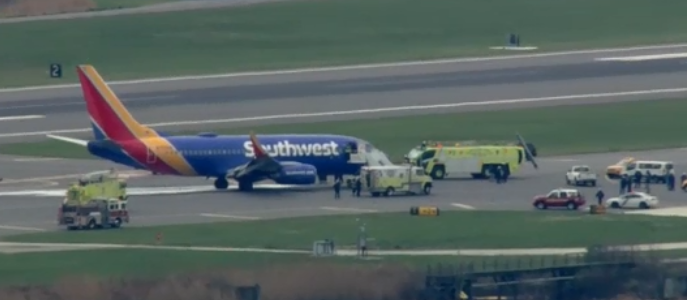 One passenger was rushed to a Philadelphia hospital with critical injuries, Fire Commissioner Adam Thiel said. It's not clear if that passenger was the one who died.
Twelve other passengers were evaluated by medics and seven of those were treated for minor injuries at the scene, he said.
The Dallas-bound Boeing 737-700 — numbered flight 1380 — made an emergency landing at Philadelphia International Airport around 11:20 a.m. Tuesday after taking off from LaGuardia Airport in New York City. There were 149 people onboard. A ground stop was put into effect at the airport as crews responded.
#BREAKING: Fire Crews Responding to Plane Emergency at Philadelphia International https://t.co/JY4mB8vlax pic.twitter.com/9ybODGJlaA

— NBC10 Philadelphia (@NBCPhiladelphia) April 17, 2018
The jet's left engine blew shortly after takeoff, passengers said. Pieces of shrapnel flew into the plane's fuselage and at least one window, the passengers and the FAA said. 
Passengers shared photos of the plane's left engine with major damage. The engine inlet was shredded with metal bent outward. The pane of a window just behind the left wing was missing.
The plane was flying around 32,500 feet when the incident happened, according to an altitude-tracking tool on Flight Aware. The plane descended by more than 3,000 feet per minute until the pilots leveled out around 10,000 feet.
Arthur Wolk, an aviation expert, said that is a modest rate of descent and indicated that the pilot had control of the aircraft.
Baur described the crew as "incredible," saying that the pilots and flight attendants acted quickly and calmly.
Still, a window bursting mid-flight left some passengers unnerved.