"As we sign this MOU, remember our vision: the most diverse, contemporary HBCU in America. In order for us to do that, we've got to do the little things, and the big things, well," said Delaware State University President Dr. Tony Allen. "Today is a big, big moment."
On Monday, October 18, 2021, USAID Administrator Samantha Power joined Allen and U.S. Sen. Chris Coons to celebrate the signing of a Memorandum of Understanding (MOU) between DSU and the government agency to "promote diversity, equity, and inclusion in the international development workforce, and to shape the research and technology agenda," as part of the USAID's Minority-Serving Institution Partnership Initiative. 
"Today, the world is at the dawn of another new age with the twin calamities...COVID-19 and climate change. With those calamities devastating communities and shuttering economies all around the world, it could be an age of peril as tens of millions are being pushed into a state of extreme poverty and hunger," Power said. "But it can also be a new age of promise, where fresh innovations and a new spirit of global cooperation usher in that more equitable and prosperous future for the 'sons and daughters of toil' all around the world."
Quoting U.S. Senator from Vermont Justin Smith Morrill (1867-1898) and his insistence that educating the post-slavery Black population would lead to a more prosperous America as long as those opportunities were funded to success, Power recognized USAID had failed on inclusionary efforts on that front for some time. 
"When it comes to engaging our nation's HBCUs, USAID is falling short. In a 2020 study we commissioned to look at how USAID and HBCUs interacted, it showed that we have distressingly little knowledge about the structure, capacity, and research expertise that HBCUs have to offer," she said. "Worse, when we commissioned the study, we learned we weren't even trying to remedy that lack of familiarity. We weren't reaching out to historically Black schools. And as a result, students and faculty at these institutions had limited to no knowledge of USAID and our mission to build a free, more peaceful, more prosperous world."
The MOU signing Monday was the beginning of changing that lack of open communication, Power said.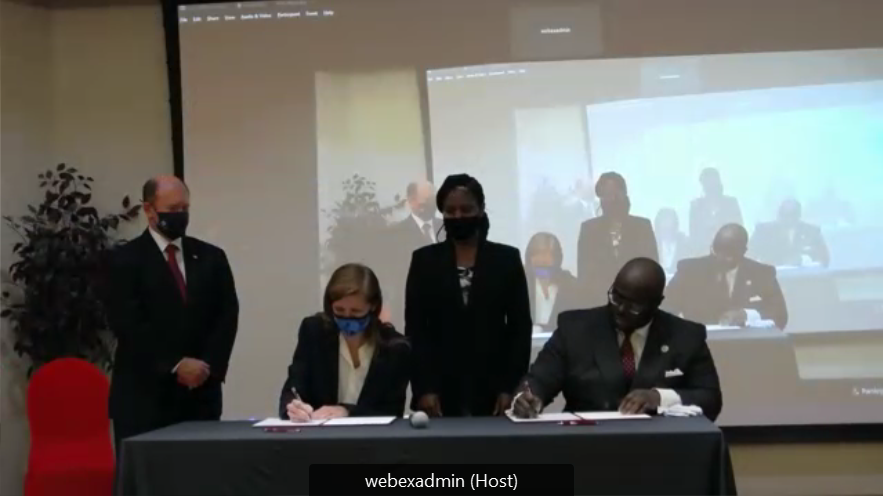 "Today's MOU between Delaware State and USAID represents an important first step in changing our approach to partnership," she said. "As part of this agreement, we are committing to hosting important conversations with Delaware State on topics of mutual interest, like climate change adaptation, fighting malnutrition, and strengthening water security...Delaware State University, I want to be really clear about this, you don't need USAID's help to make a difference on the global stage. You already have dozens of international partnerships with global institutions."
Noting their successes without USAID's help, Power explained the partnership, though itself a correction to previous lack of offers to build up a stronger connection between institutions, was more importantly about harnessing the innovation and creativity of HBCUs that has heretofore gone unrecognized in an attempt to help the world at large. 
"Even though you may not need our help, we need yours," she said. "Your expertise, your cutting-edge research, your willingness to anchor our engagement with other historically black land grant universities, that is going to strengthen the good that USAID--and the United States as a whole--does out there in the world. And it helps usher in this new age of promise."
One of their institutions' first collaborations will be supporting Feed the Future, where DSU and USAID will "share knowledge and learning about the development of...solutions to increase food crop yields of smallholder farmers, strengthen resilience in communities, and expand job opportunities on and off the farm," according to the USAID. 
"We know that growth in agriculture is up to four times more effective at reducing extreme poverty in low-income countries than growth in any other sector--four times more powerful," Power said. "It reduces inequality, it boosts the economic standing of women and girls, and it lowers food prices for everyone. What could be a better investment? But to deliver on that potential, the U.S. government--and USAID specifically--have to do a better job tapping into the brilliance of American research institutions, especially our nation's historically black colleges and universities."
A partnership like this, and the evolution of the overall relationship between the government agency and HBCUs, could not have arrived at a more critical moment, Coons said, pointing out there's perhaps a greater need than ever before as the world stares down these looming issues. 
"We are in a very difficult moment," the Senator for Delaware said. "We are facing the real existential risk of climate change; We're facing the greatest refugee crisis in decades; And we are seeing hunger and instability and violence grow around the world. And as we look inward as a nation, we've come to recognize in the last few years, that the undone work of racial reconciliation, of addressing equity and justice and opportunity, is urgent."
And he hopes that the partnership ultimately lead to a diversification of the agency as DSU's students age out of higher education and into the workforce. 
"I hope one of the things that will come out of this is that USAID will diversify its talent pool, its recruitment pipeline, and that you will see a career--if not at least an internship or a fellowship at USAID--as an exciting and important part of your personal future," Coons said, addressing DSU students. "As well as a partnership with USAID being an exciting and important part of this institution's future."
Allen expressed an understanding of the momentous moment in history. 
We're in this together. We know how important this is for you to be here, for USAID to be in place with us, and for our students to benefit in time. My friends, this is a big deal," Allen said. "I'm proud to say today, on this day, we are the first HBCU in the 61-year history of USAID to sign a memorandum of understanding."