Undefeated Appoquinimink is the top seed for the 2019 DIAA Baseball Tournament that gets underway on Thursday.
Appo is one of the top 8 seeds who have earned a bye to Saturday's second round.
The other 16 teams will play in first round games at the various higher seeds' home field.
The semifinals and finals will take place at Frawley Stadium. The DIAA has traditionally also hosted two quarterfinals at the stadium, but that was not announced in the initial release of the bracket.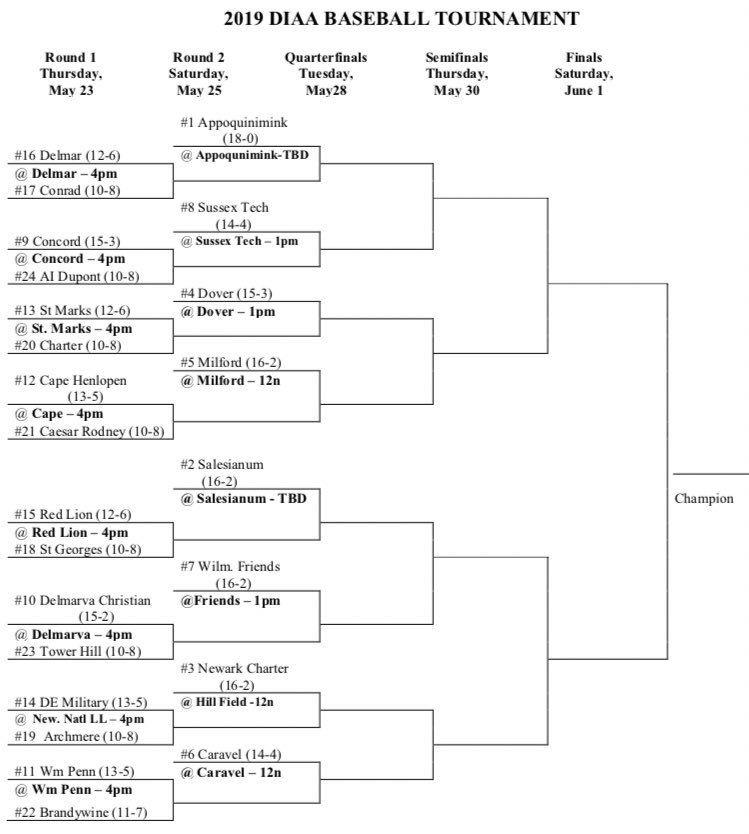 FIRST ROUND - Thursday, May 23
No. 17 Conrad (10-8) at No. 16 Delmar (12-6) - 4pm
No. 18 St. Georges (10-8) at No. 15 Red Lion (12-6) - 4pm
No. 19 Archmere (10-8) at No. 14 DMA (13-5) - 4pm (at Newark National LL)
No. 20 Wilmington Charter (10-8) at No. 13 St. Mark's (12-6) - 4pm
No. 21 Caesar Rodney (10-8) at No. 12 Cape Henlopen (13-5) - 4pm
No. 22 Brandywine (11-7) at No. 11 William Penn (13-5) - 4pm
No. 23 Tower Hill (10-8) at No. 10 Delmarva Christian (15-2) - 4pm
No. 24 A.I. duPont (10-8) at No. 9 Concord (15-3) - 4pm
SECOND ROUND - Saturday, May 25
Delmar/Conrad at No. 1 Appoquinimink (18-0) - Time TBA
Red Lion/St. Georges at No. 2 Salesianum (16-2) - Time TBA
DMA/Archmere at No. 3 Newark Charter (16-2) - Noon (At Hill Field)
St. Mark's/Charter at No. 4 Dover (15-3) - 1pm
Cape Henlopen/CR at No. 5 Milford (16-2) - Noon
William Penn/Brandywine at No. 6 Caravel (14-4) - Noon
DMV Christian/Tower Hill at No. 7 Friends (16-2) - 1pm
Concord/AI duPont at No. 8 Sussex Tech (14-4) - 1pm
QUARTERFINALS - Tuesday, May 28
Appo winner vs. Sussex Tech winner
Salesianum winner vs. Friends winner
Newark Charter winner vs. Caravel winner
Dover winner vs. Milford winner
SEMIFINALS - Thursday, May 30
At Frawley Stadium - 4pm & 7pm (order unknown)
Appo quarter vs. Dover quarter
Newark Charter quarter vs. Salesianum quarter
FINALS - Saturday, June 1
At Frawley Stadium - Time TBA