Exactly one year ago, Wilmington's Erwin Church was going to the pick up track sneakers for two of his nine children when, he said, he was violently assaulted during what his attorneys have called a racially motivated attack by the son of a prominent developer.
"What happened to Mr. Church is something that you would expect to happen in the 1960s, at a time when African Americans were attacked, and there was no justice for them. But, unfortunately, it's still happening in today's society," said attorney Emeka Igwe.
WARNING: This video contains graphic content and/or language.
But the case against Frank E. Acierno Jr. was dismissed on July 29, 2019. Now, Church has filed a civil lawsuit, which details the allegations publicly, for the first time.
"Mr. Acierno tried to flag him down, Mr. Church wasn't sure why Mr. Acierno was approaching him, and he rolled down his window. When he rolled down this window, Mr. Acierno stated--and I quote--'What are you doing here n*****?' As you can imagine, Mr. Church was surprised. Mr. Acierno continued 'You don't belong here.' Imagine that. 'You don't belong here.' In the year 2018, a white man is telling a black man that in our beloved state of Delaware."
Igwe said, as Church turned his head to point towards the shoe store, Acierno Jr. punched Mr. Church in the back of his neck; Acierno Jr. then fled the scene, according to court documents, but Church managed to take a photograph of his license plate.
Charging documents contain the allegations against Acierno, who would ultimately face a third-degree assault charge in connection with the alleged attack--a charge never publicized by Delaware State Police. Troopers don't publicly disseminate information on misdemeanor crimes, according to a police spokesperson. 
There were two witnesses to the attack, according to police documents. Attorneys said there's also surveillance video. 
A woman who answered the telephone at an Acierno business said he would not comment. Attorney Thomas Foley, who represented Acierno in the criminal case, did not return WDEL's request for comment.
Church suffers from permanent and severe physical injuries, including traumatic brain damage and diminished vision, according to his attorneys, but they said there's a more damaging aspect: 
"The emotional impact has been even more severe. Could you imagine being called a n*****, being told that you don't belong here? How can you stand for this? In today's society, how can we not bring Mr. Acierno to justice?" asked Igwe.
"This past year has been extremely difficult for my family and me," said Church at a news conference Wednesday, November 13, 2019, surrounded by his children. "I never would have imagined that a simple outing would turn into something unimaginable. For an entire year, I have not received any justice in my case. During this encounter, Mr. Acierno also called me a racial slur, which hurt me to my core."
Troopers refused to shed further light on why Acierno wasn't charged with a hate crime and referred comment to the attorney general's office. 
"At the end of the day, this is about wealth, and it's about power, and it's about what those who have many resources are able to get away with," said Church's attorney Chris Johnson. "If Mr. Acierno was a regular person, he most likely would be in jail right now, but because of who he is and what he means to Delaware, he was able to circumvent the justice system, which often traps those who are impoverished."
Igwe and Johnson called for the Delaware Department of Justice to re-charge Acierno in the case with aggravated assault and a hate crime.
"I am asking the attorney general's office to intervene on my behalf by providing equal justice under the law. Due to this incident, I have been left permanently scarred and emotionally distressed," Church said. "Me and my loved ones have suffered this past year without any justice, compassion, or remorse; it's time for the Delaware Department of Justice to work in favor of me and my family so that this tragedy doesn't happen to anyone else in the future."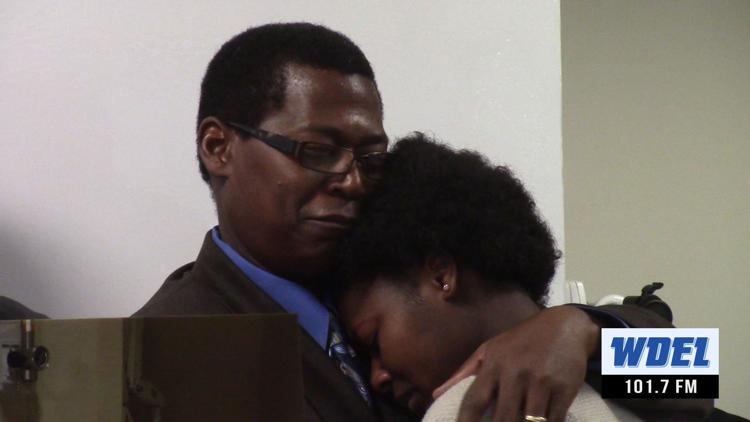 "What is the message that is being sent, that he can go around and call people n*****?" That he can go around and attack people and there be no consequences?" asked Igwe. "There's nothing that prevents the Delaware Department of Justice from re-arresting Mr. Acierno, and not just re-arresting him, charging him with a hate crime, for his crime was motivated by racial bigotry, by racial bias, and fits the definition of a racial crime."
The case, which was continued multiple times in 2019, was pushed back for what would be the final time on June 10, 2019. Trial was scheduled for July 29, 2019. That day, Church said he wasn't given enough time to get to the courthouse.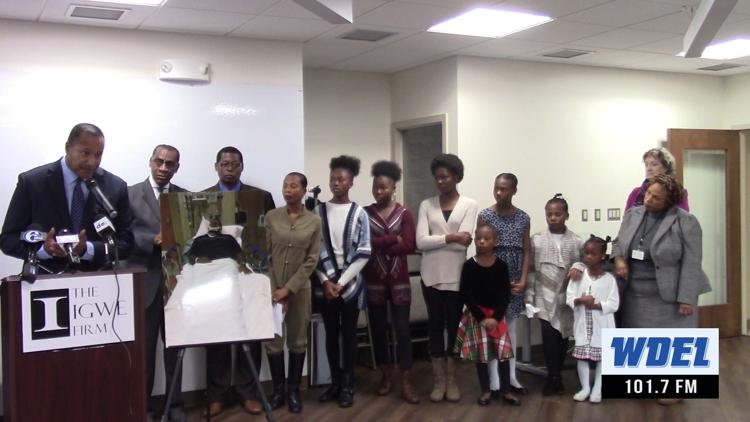 Delaware Department of Justice spokesperson Mat Marshall pointed to Court of Common Pleas policy, which allows victims and witnesses to not be present and instead be on-call to report within an hour for a trial that has been continued.
"We agree that this victim was treated badly by the court, over our objection...and the social worker called and spoke directly to the victim about 10:47 a.m. [on July 29]. The victim said that he would be in court by noon, which we relayed to the judge. The defense attorney moved to dismiss the case, saying the victim needed to be there by 11 a.m. instead of noon. We objected, but the judge dismissed the case rather than waiting one hour for the victim to arrive," said Marshall. 
Marshall said the calls from the victim and his attorneys prompted his office to begin reviewing the case. 
"The victim was rightfully upset at the court's decision, and we tried to reach him afterward to discuss a path forward. Had he or his attorneys ever called us back, we would have done what we are now doing: reviewing the case," said Marshall in an email. "Our review began when we were alerted today through the media that the victim wished to potentially re-open, as that had not been conveyed previously."
The office didn't answer questions on why Acierno wasn't initially charged with a hate crime.
"That review will determine how to proceed," said Marshall.  
Igwe reiterated his call for justice in the case.
"If the Delaware Department of Justice will not act, then we ask for the United States Department [of Justice] to act, since it was a hate crime," said Igwe. "We will not stop until we get justice for Mr. Church."
Read the full civil complaint: